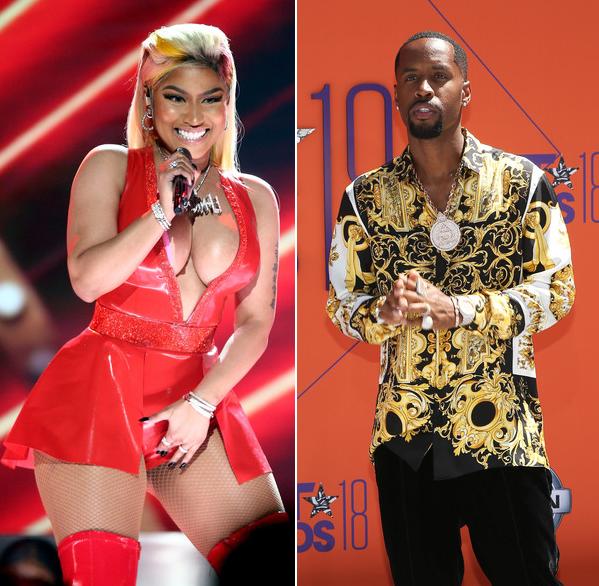 Nicki Minaj and Safaree Samuels are going AT IT on Twitter over ghostwriting rumors, a fake hairline, a stabbing and MUCH more. Sip the tea inside...
Nicki Minaj and her ex-fiancee Safareee Samuels BOTH had time today.
The NYC raptress is currently on the promo trail for her recently released QUEEN album and stopped by HOT 97 to chop it up with Funkmaster Flex. Nicki and Flex were at each other's necks at one point in time. Now, they have seemingly squashed their beef, so she came on the show to talk about a number of things.
Chick came to set the record straight about those longtime rumors that she doesn't write her own raps...or that someone helps her write her raps. Since she and Safaree broke up, there's been talk that he was the one helping the "Chun-Li" rapper with her wordplay. But, Nicki wants everyone to know she writes ALL of her rhymes and always has.
"How dare you bite the hand that feeds you?" she asked while sharing a story about how she had to be the one to step up and pay their rent one time. She said Safaree, his mother and his sister called her a "crazy b*tch" for wanting to pursue her rap career. Nicki said Safaree should be grateful she "pushed her pen" so that he can be allowed to enjoy the finer things in life.
"When we started the group, we all laughed at him, at Safaree. He couldn't rap," she said during the interview. Damn.
The "Barbie Tingz" rapper also accused him of stealing her credit cards to pay for prostitutes. Oh, and she also said she and Meek had been fooling around for years before they made it official. Oh? So that means she was cheating on Safaree? Damn.
Peep a few highlights below:
ZERO chill.
Well, the interview was enough to get "Love & Hip Hop" star Safaree Samuels riled up and then he started going IN on Twitter. He brought up how Nicki allegedly stabbed him and he had to allegedly lie to police that he had attempted suicide to keep them from locking her up.
In his tweets, he also said Nicki has a lot of hate that she needs to let go and even accused her of using HIM as publicity to help her first week QUEEN album sales. Bloop!
Check out his tweets below: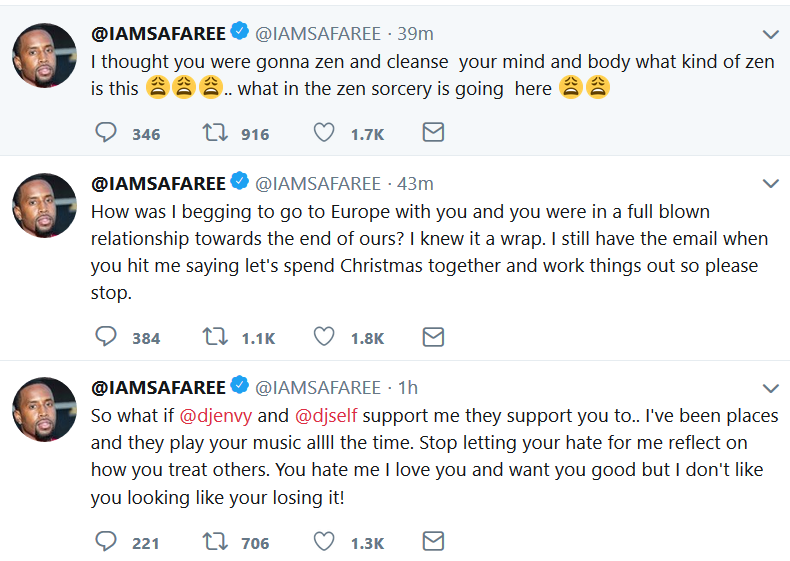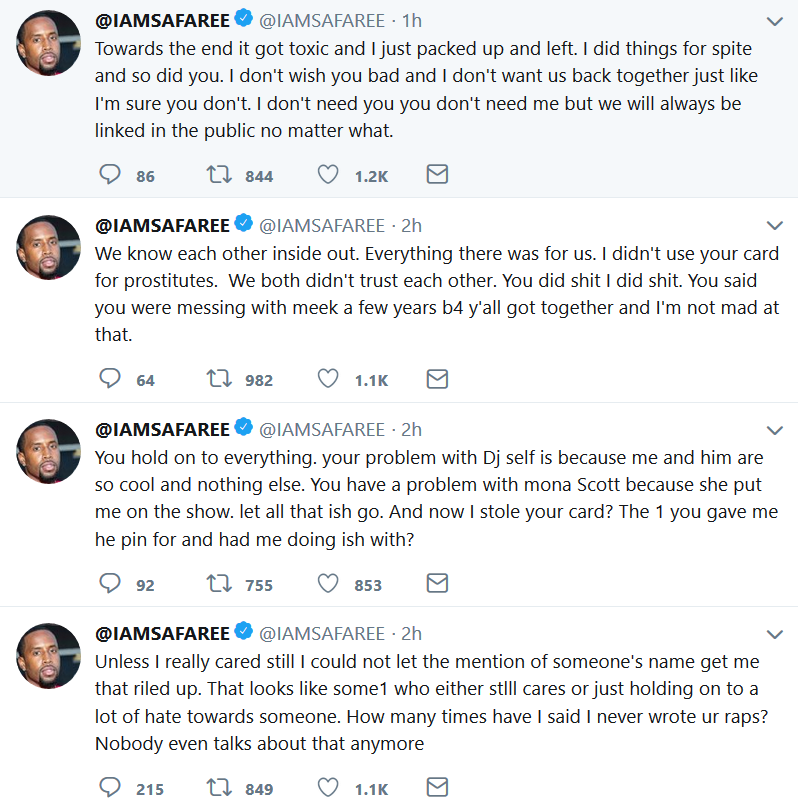 The Harajuku Barbie had some tea to spill of her own. She claims she paid $10,000 for Safaree's manufactured hairline! Lordt. She even threw Tyga in the mix. And she wasn't done there.
Nicki said Safaree came crawling back to her after her ex-boyfriend Meek Mill was released from prison. She also said that Safaree hit her and Meek up asking them to try and get his d*ck pic back from someone. Chile....
Read the tweets from the bottom up: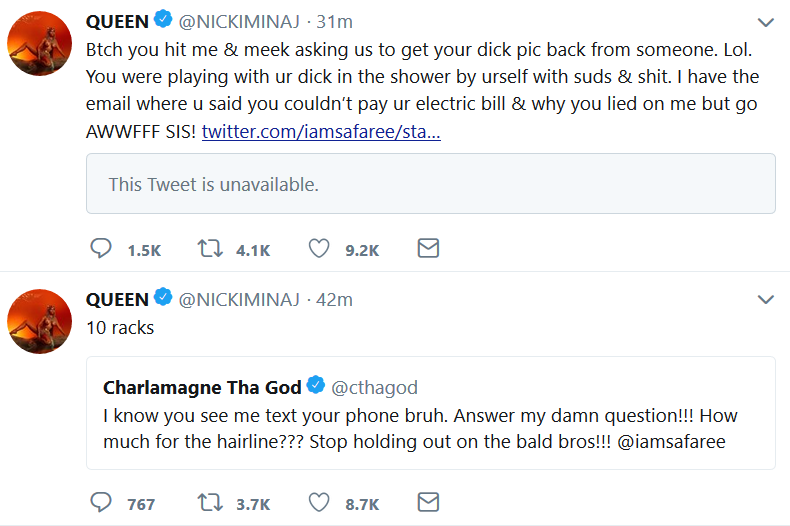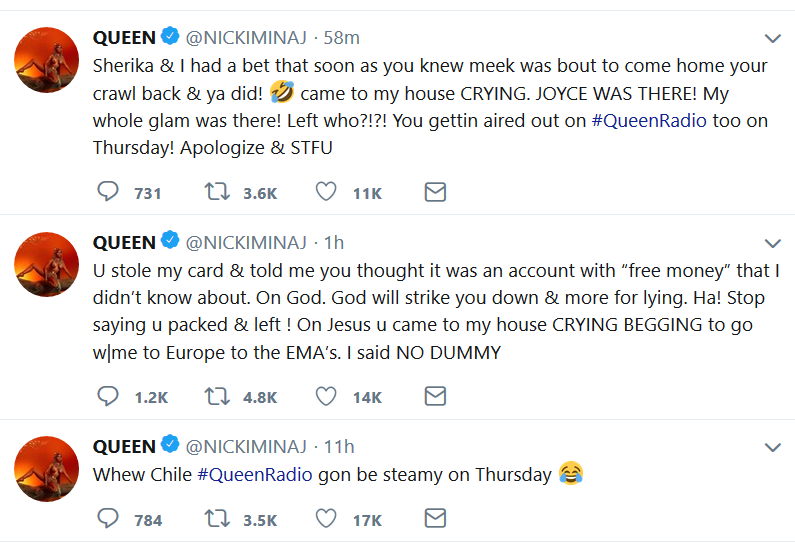 Yikes! Who knew hairlines cost $10K?!
Power 105's Angela Yee joined in on the shade-fest after her co-host Charlamagne Tha God asked Nicki how much she paid for Safaree's hairline: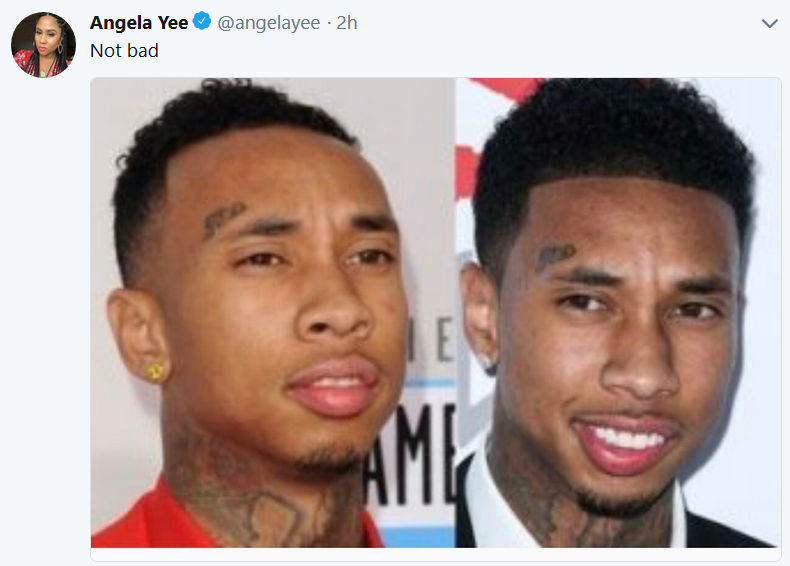 You can check out her full interview with Flex below:
Did anyone else notice she mentioned Meek's name quite a lot during this interview or is it just us?
First week sales for QUEEN will be in on Friday. FYI.
There's more...
Last night, Nicki got into it with Power 105's DJ Self, who also stars on "Love & Hip Hop," on social media after he said Cardi B's Invasion of Privacy album was better than QUEEN. He made the comment AFTER she left his radio show and that ticked her off, so she popped off on Twitter. She said DJ Self was trash talking Cardi behind her back in an effort to get her to like him.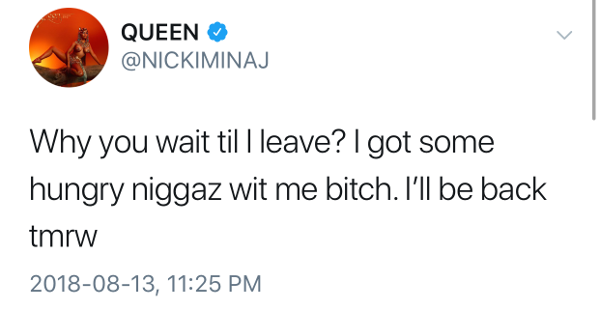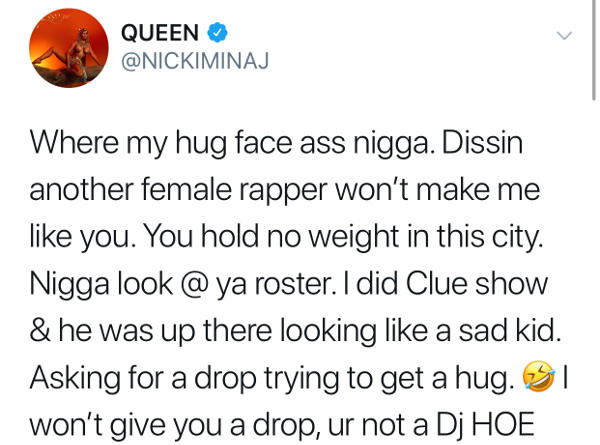 That line about the "Love & Hip Hop" checks struck a nerve with new mom Jessica Dime, so she hopped on Twitter to respond:
Yoooo @nickiminaj damn what's crummy about VH1 checks?

— JESSICA DIME (@I_amdimepiece) August 14, 2018
Damn I love Nicki but wasn't she just on black ink ? All money spend you can't shit on our hustle. Everybody gotta start somewhere ! Didn't she ??

— JESSICA DIME (@I_amdimepiece) August 14, 2018
And then Nicki responded:
Now Nicki's telling Jessica Dime to mind her damn business ... whew, today is different y'all pic.twitter.com/xqOopYUDUN

— Hell Cat (@_LynAP) August 14, 2018
Petty levels are at an all-time high today. Sheesh.
By the way, she also released the visuals to her track "Ganja Burns." Take a look below:
Photos: Getty