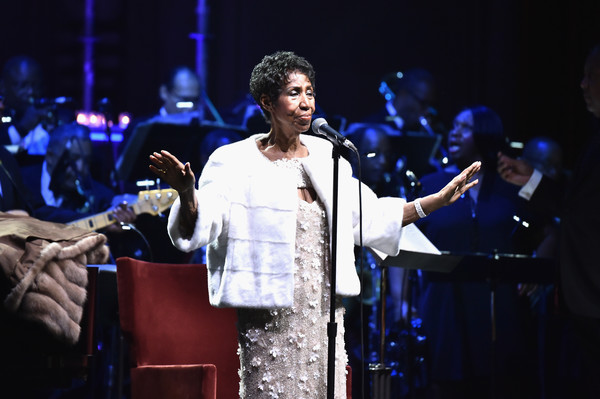 In very sad news, Aretha Franklin's family is reportedly gathering around her to say their final goodbyes. She's reportedly "gravely ill" from cancer. More inside...
This isn't the type of news we wanted to wake up to this Monday morning.
Aretha Franklin is reportedly not doing well and her family is asking everyone to send up prayers.
According to people in Aretha's camp, incuding relatives, the 76-year-old entertainer is "gravely ill" and her family is gathering to say their final goodbyes. Reporter/anchor Evrod Cassimy of WDIV Local 4 in Detroit (Aretha's hometown) first revealed the Queen of Soul was not doing well and asked for prayers.
BREAKING NEWS: I am so saddened to report that the Queen of Soul and my good friend, Aretha Franklin is gravely ill. I spoke with her family members this morning. She is asking for your prayers at this time. I'll have more details as I'm allowed to release.

— Evrod Cassimy (@EvrodCassimy) August 13, 2018
She's a close friend. I'll have more details on Aretha Franklin here and on our station website: https://t.co/6kInIGayhh#ArethaFranklin#Aretha

— Evrod Cassimy (@EvrodCassimy) August 13, 2018
Here's @EvrodCassimy's report on The Queen of Soul. pic.twitter.com/UqNyWLnFKT

— Local 4 WDIV Detroit (@Local4News) August 13, 2018
Details about her condition weren't immediately released, but new reports claim she has, in fact, been battling cancer.
TMZ reports:
A source very close to Aretha and a longtime dear friend tells TMZ he was told a week ago, "Prepare yourself, she's dying." The source adds Aretha was down to 86 pounds and her health was failing. The source says 2 weeks ago everyone in Aretha's circle was told "she could go any time."

Another source -- someone who has been close to Aretha for decades -- tells TMZ she has been battling cancer.

Franklin, who is 76, has been in poor health over the last few years.
It's reported the Grammy Award winner was diagnosed with cancer in 2010. However, the "Respect" singer denied she had pancreatic cancer in 2011. We're told by sources close to her camp that she allegedly had a surgery to temporarily "cure" her and extend her life.  The cancer reportedly recently returned.
Her final public performance was in Philadelphia in August 2017. The last time she hit the stage was in November 2017 for the Elton John AIDS Foundation in NYC (above).
Throughout her career, The Queen of Soul blessed us all with her vocals, cranking out classics like "(You Make Me Feel Like) A Natural Woman" (1968), "Day Dreaming" (1972), "Jump to It" (1982), "Freeway of Love" (1985), and "A Rose Is Still A Rose," (1998), just to name a few. She has scored 18 Grammys, including one Lifetime Achievement, she's the first woman to be inducted into the Rock and Roll Hall of Fame, and she has the third-most Grammy Awards for any female artist in history.
Last year, Aretha declared she was retiring after the release of her new album.
Missy Elliott and Ciara took to Twitter to send out some love and prayers to Aretha Franklin and her family:
My prayers are with Aretha Franklin & her family during this difficult time LOOK BELOW @ what I tweeted at the top of the year we MUST CELEBRATE the Living Legends while they are here to see it. So many have given us decades of Timeless music...https://t.co/VVacLxcMSI

— Missy Elliott (@MissyElliott) August 13, 2018
Praying for Aretha Franklin and her family right now!

— Ciara (@ciara) August 13, 2018
Prayers up for the Queen of Soul!
Photos: Getty