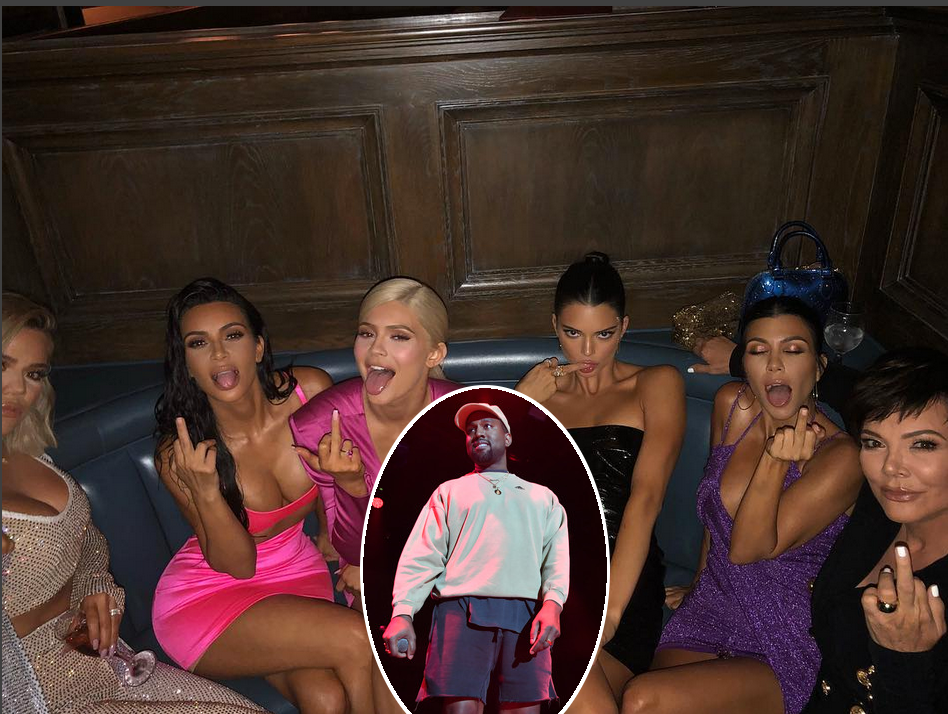 Kanye West's "creative" sex filled dreams just keep on coming.  Now, he's including his own sisters-in-law in his fantasies.  Check it all inside...
The newest song from Kanye, titled "Xtcy" kicks off with moans from Kanye himself (we think) and likely some other folks.  Then, he goes on to tell us all about his fantasies.
They're exactly what you would expect - porn driven, Kardashian driven, and narcissistic.  Just how he and his wife seem to like things.
Apparently Kanye, like so many black men apparently, doesn't just have an affinity for his other half Kim Kardashian West, he thinks ecstasy is smashing her four sisters - Kylie, Kendall, Kourtney and Khloe - too.
The first verse tells you everything you need to know:
"You got a sister-in-law you'd smash, I got 4 of 'em. 

Damn, those is the sisters.  You did something unholy to them pictures.

Damn, you need to be locked up.

Nah, we need a bigger hot tub."
We guess the Kardashians' mission to sell sex even works on family. Ugh.
You can check out the full DJ Clark Kent-released track below.
By the way, 'Ye's wallet can rest easy.  He just copped lifetime memberships to top porn site Pornhub and its subsite Blacked.com after he name dropped them on Kimmel last week. 
How many of 'Ye's homies are about to ask for his password....
BONUS: About getting "stumped" by Jimmy Kimmel's question about whether Trump likes black people, Kanye says he simply needed time to think,
Oh.
Photos: Kourtney Kardashian's IG/Kanye's Twitter