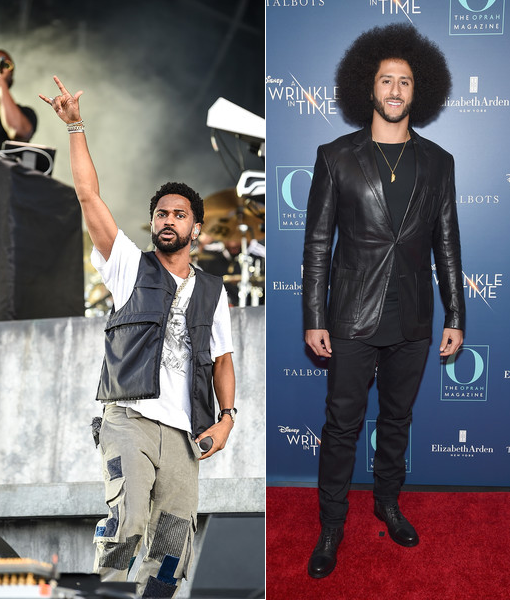 EA Sports is MAD SHADY! The sports video game company issued an apology for removing Colin Kaepernick's name off a track that's on the new Madden '19 game. Of course, they didn't apologize until after Big Sean called them out. More inside...
The blatant disrespect towards Colin Kaepernick CONTINUES. "They" hate when a black man (yes, we know he's biracial) stands up for himself and his community, don't they?
So here's what happened...
Rapper YG recorded a song titled "Big Bank" that is set to appear on the upcoming Madden NFL 19 video game. He tapped Big Sean to be featured on the track and the Detroit native gave a shoutout to former 49ers quarterback Colin Kaepernick.
However, EA Sports went in and censored his name off of the track along with the record's profanity, racial slurs and drug references.
Take a listen:
bad enough @Kaepernick7 still not signed, but now they even edit his name out in this year's @EAMaddenNFL during @BigSean verse, smh pic.twitter.com/3nvkB26z5r

— Mr. Changing Lives (@jeanclervil) August 2, 2018
Big Sean's lyric was supposed to say: "Feed me to the wolves, now I lead the pack and shit. You boys all cap, I'm more Colin Kaepernick." Once the "I Don't F*** With You" rapper got word about it, he hopped on Twitter to call out EA Sports and made it known he did NOT approve the version that's currently on the game:
It's disappointing and appalling @NFL& @EA took @Kaepernick7's name out of my verse on Big Bank for Madden 19, like it was a curse word. When he's not a curse, he's a gift! Nobody from my team approved any of this.

— Sean Don (@BigSean) August 2, 2018
YG also responded to the track, saying he didn't know about the censorship either:
— Mr. Changing Lives (@jeanclervil) August 2, 2018
And he also made a video talking about it:
"EA Sports, NFL, whoever — y'all owe me, Big Sean, 2 Chainz, Nicki Minaj, and the homie Kaepernick and an apology"

- @YG on Madden removing Colin Kaepernick's name from a featured track pic.twitter.com/0MnKHJvUWL

— SB Nation (@SBNation) August 3, 2018
Kap's girlfriend/HOT 97 personality Nessa also hopped on Twitter to repost the clip and called EA Sports shady:
Oh!!!!! @EAMaddenNFL who told you to edit Colin's name out???? @nfl ? @NFLPA Curious minds want to know