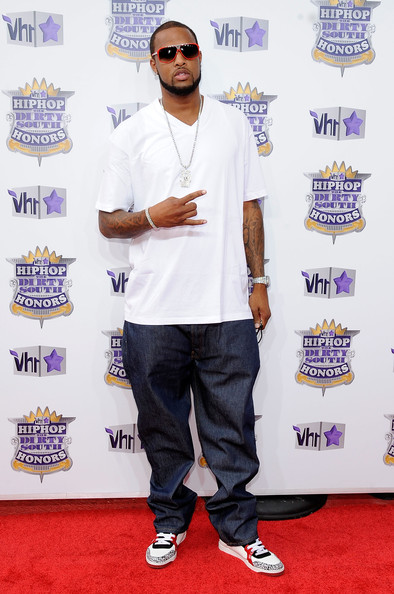 Slim Thug is sharing his two cents about Ciara and Russell Wilson's relationship that no one asked for. Find out what he had to say...
Apparently, Slim Thug must believe he's a relationship expert of some sort because he def has more than enough things to say about Ciara and Russell Wilson's romance.
The (former? - does he still rap?) Houston rapper stopped by the studio of 97.9 The Box to give his opinion on the singer literally leveling UP from rapper Future to marrying the Super Bowl winning Seattle Seahawks quarterback.
It's unclear how The Wilsons became the topic of discussion, but Slim Thug didn't mind dishing what he THINKS about their relationship.
"Do a woman who used to talk to Future really want a Russell Wilson?" he asked. "I don't believe it I think it's all for financial stability." Excuse me? So, Ciara doesn't have her own coins? Have a seat sir.
CiCi and Futurecalled it quits in 2015 after cheating rumors surfaced. The two had gotten engaged in 2013 and welcomed their son, Future Wilburn in 2014. Soon after, the "Level Up" singer got involved with Russell Wilson and it's been nothing but #RelationshipGoals since. They started dating in 2015, got married in 2016 and welcomed baby Sienna Wilson in 2017.
As great as that all sounds, Slim Thug said he's still not convinced. He feels like CiCi couldn't possibly want someone like Russell, who he dubbed as "corny," after dealing with a street dude like Future.
"No hate, I bought his shoes the other day…I'm just saying I have no personal issue with him, or her, God Bless them. He's just a corny dude, ain't nothing wrong with it," Thug says. "I ain't gonna say corny cause that's hatin' but he's just like a square...I don't believe a girl coming from a street dude could even adapt to that."
Sir, it's called MATURITY. People grow and when they do, they want and need different things in life. Since when has there been a rule that you can't change your preference? Dude is reaching.
Not only that, since splitting from Future it's been hell for Ciara. The singer and rapper were in and out of court over custody of Future and they both pulled the trigger of libel/defamation lawsuits. The custody case has been resolved, but Future looks to sneak in petty moments when he can. Like that time he dropped his Beast Mode 2 mixtape on Ciara and Russell's wedding anniversary this year (July 6th).
Then, the Houston rapper backtracked on his earlier "financial stability" comment by saying she's not a gold digger. However, he still doesn't believe their relationship is the real deal.
"I ain't gonna say shes a gold digger, because she got her own, but at the end of the day I don't believe it's real."
Boy, BYE. Ciara is living her BEST LIFE, f*ck boi free! When you know better, you do better. Simple as that. Folks hate when women intentionally marry their equal.
Check out the clips from his radio interview below:
Oddly enough, Future tweets this out today:
She not wife material. Can't u tell

— FUTURE/FREEBANDZ (@1future) August 2, 2018
Another reason Ciara made the right decision.
Photos: Getty