Terry Crews put toxic masculinity on blast while advocating for sexual assault victims on Capitol Hill yesterday. Find out all he said, plus find out why fans are dragging 50 Cent and Russell Simmons inside...
Terry Crews mustered up the courage to testify before the Senate Judiciary Committee on Captiol Hill yesterday as he advocates for a bill that will give sexual assault victims certain resources to help them.
The "Brooklyn Nine-Nine" actor shared his own personal story about how he was sexually assaulted by a high-powered Hollywood executive (William Morris Endeavor talent agent Adam Venit) at an industry party in 2016 and how the encounter made him feel.
"The assault lasted only minutes, but what he was effectively telling me while he held my genitals in his hand was that he held the power. That he was in control," he shared with the committee.
Terry was there to speak on behalf of the Sexual Assault Survivors' Bill of Rights, which he said said "gives survivors the right to have time to distance themselves from the immediate trauma before making the difficult decision to report the assault to law enforcement.
He put toxic masculinity on blast, specifically pointing out how this way of thinking is destroying our society.
"This is how toxic masculinity permeates culture. As I shared my story, I was told over and over that this was not abuse. This was just a joke. This was just horseplay. But I can say one man's horseplay is another man's humiliation. And I chose to tell my story and share my experience to stand in solidarity with millions of other survivors around the world. That I know how hard it is to come forward, I know the shame associated with the assault. It happened to me."
Terry Crews shared his #MeToo story while testifying to the Senate about the Sexual Assault Survivor's Bill Of Rights pic.twitter.com/DvVAjZPDre

— NowThis (@nowthisnews) June 27, 2018
The 49-year-old actor also said he wouldn't do an "Expendables 4" after a producer attempted retaliation. Sen. Chuck Grassley asked Terry if he received any retaliation for speaking out and he said the Expendables producer called his manager and "asked him to drop my case for me to be in the fourth installment of the movie, and if I didn't there would be trouble."
Oh, he tried it.
He previously revealed the producer is Avi Lerner. Not only that, he noted that Avi Lerner and Millennium Films were being sued by a former executive for sexual harassment. He decided to take a stand as well, launching a lawusit against Adam Venit after the Los Angeles County district attorney's office decided not to file charges against him.
He continued,
"I'm not a small or insecure man, but in that moment, and in this time following, I've never felt more emasculated," he said. "As I watched women and colleagues in my industry come forward to share their #MeToo stories, this shame washed over me again and I knew I needed to act."
Here's his full speech below:
Then, THIS happened...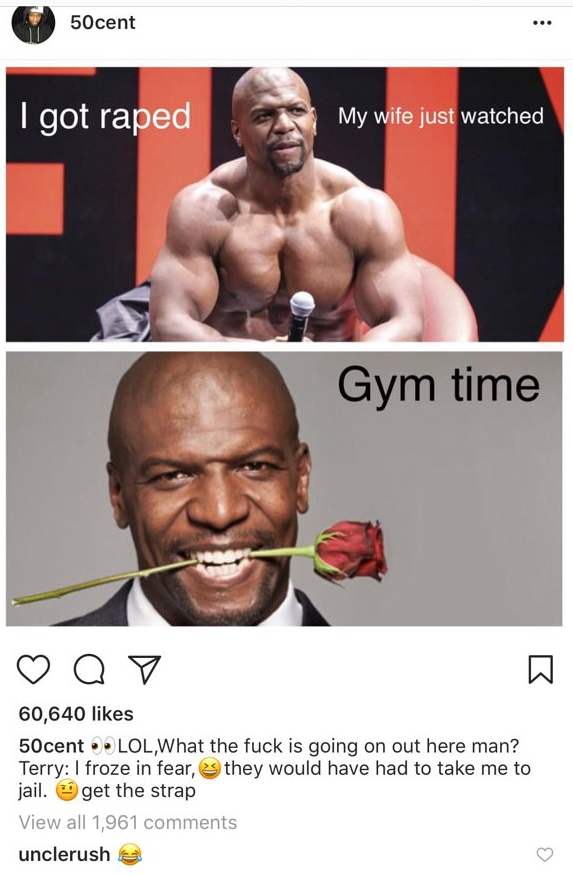 50 Cent hopped on social media to clown Terry and Russell Simmons (OF ALL PEOPLE) joined in on it.
The "Power" star/producer posted a meme of Terry that read,"I got raped, my wife just watched." And then below that, another pic of the actor with a rose in his mouth that said "gym time."
Russell, who has been accused of sexual assault by several women recently, had the audacity to post a laughing emoji under the meme. Umm..sir. Please have several seats. Oh yeah, and Russell actually asked Terry to drop his case against Adam behind-the-scenes. He dropped that bomb via Twitter, sharing the message the Hip Hop mogul sent him.
Fif also posted this: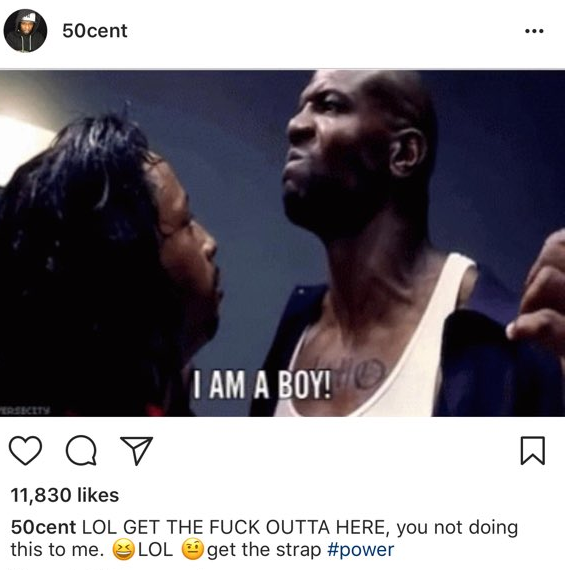 Folks are ripping into 50 Cent and Russell for their recklessness:
shit like this is the reason men don't come forward as victims of sexual assault often. 50 Cent is publicly mocking Terry Crews, allowing Russell Simmons (friends with Crews' abuser who tried to get him to drop the charges) to openly laugh at him. pic.twitter.com/J16TUvDUYi

— wesley (@wslymcln) June 26, 2018
Yo @50cent out here trying to test and questioning @terrycrews manhood like @terrycrews wouldn't wash this fucking cornball

— Moe Blunts (@gravetendencies) June 27, 2018
And you know what This cat @50cent is a shinning example of toxic masculinity and the reason a lot of brave men feel they can't share their feelings and trauma cause you niggas have antiquated world views. FUCK @50cent you mad Vivica aint pegging you anymore? And fuck @UncleRUSH

— Moe Blunts (@gravetendencies) June 27, 2018
Toxic masculinity is what is doing @50cent instead of showing support to @terrycrews he is mocking him.

Childish.

— Kelechi Okafor (@kelechnekoff) June 26, 2018
Toxic masculinity is what is doing @50cent instead of showing support to @terrycrews he is mocking him.

Childish.

— Kelechi Okafor (@kelechnekoff) June 26, 2018
You gotta be bigger then that @50cent@terrycrews is a hero to a lot of people who can't stand up for themselves. pic.twitter.com/w2OjnrBMdV

— John-a-thon Schaech (Sheck) (@JohnSchaech) June 27, 2018
I know Power comes back in a couple days @50cent but to use Terry Crews' situation to troll is very distasteful.

— . (@KHALEAL___) June 26, 2018
I am so ENRAGED at what happened to #TerryCrews and the fact that @50cent has the guts to make fun of him or what he went through, DISGUSTING, absolutely revolting, #ToxicMasculinity and people with the same mindset as @50cent are a huge part of what is wrong with this world.

— SpookyScaryFangirl (@SpookyFangirl) June 26, 2018
Terry isn't letting 50 get to him, he's taking the high road:
GYM TIME. pic.twitter.com/iOrP4y8qjF

— terrycrews (@terrycrews) June 27, 2018
Good for him.
Photos: Getty/Screenshot