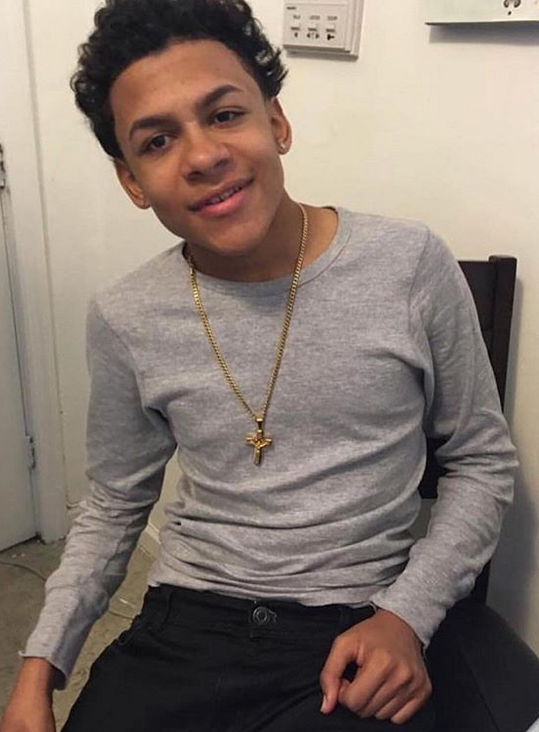 Family, friends and people in the Bronx community came out to lay 15-year-old Lesandro Guzman-Feliz, known to his friends and family as Junior, to rest after he was stabbed to death by gang members. The story has brought heart wrenching emotion to people all arund the county. We have the latest on his funeral, the now arrested suspects, Junior's incredible family, and the outpouring support from celebs and the community.
Hundreds of people came out to pay their respects at the funeral service held for the innocent 15-year-old teen boy, Lesandro Guzman-Feliz (affectionately called Junior), who was brutally murdered by a group of gang members. His murder was a tragic case of mistaken identity.
Junior's violent death was captured on video that has gone viral. Since then, it has touched folks from all over who are sick and tired of the senseless violence. Mourners joined Junior's family for his funeral held at Our Lady of Mount Carmel Church to say their last goodbyes. He'll be buried at St. Raymond's Cemetery on Southern Boulevard.
The pallbearers wore Yankees jerseys in honor of his favorite baseball team and Junior was dressed in one (an Aaron Judge jersey) as well. As they carried his casket into the hearse, the people lining the street outside chanted "Justice for Junior!" Family and friends wore t-shirts bearing Junior's face and the hashtag #JusticeForJunior on the back.
Junior's life was tragically cut short when a group of men - allegedly members of a large gang - dragged him outside of a Bronx bodega and began stabbing him with knives and machetes last Wednesday. We now know it was an unfortunate and completely senesless case of mistaken identity.
When the suspects stopped and escaped, Junior tried to run a few blocks to St. Barnabas Hospital, but unfortunately, he didn't make it. He bled to death on some steps right across the street from the hospital without any help from anyone standing nearby. The eartbreaking video was captured and spread online as well.
A total of eight men, who have been identified by police as members of the Trinitarios gang, have been arrested and charged with murder for Junior's death. Six of the men were captured in Paterson, New Jersey and extradited to New York. The other two men were arrested in New York.
After his death, it was reported one of the gang members posted a Facebook post saying they didn't mean to kill Junior. Apparently, they were after another boy who looked like Junior. Police believe they mistook Junior for a young man who posted a sex video that featured a sister of one of the gang members. Junior had nothing to do with it. He dreamed of one day becoming an NYPD detective and was a part of the force's Explorers Program.
It's impossible to watch the story unfold without feeling an overwhelming sense of hurt, disgust and anger. The NY Post spoke to Junior's parents at the wake:
"My heart is broken, really broken," said Lesandro "Junior" Guzman-Feliz's dad, Lissandro Guzman, at the teen's wake at the R.G. Ortiz Funeral Home in Mott Haven.

"He's my son, but he's also like my best friend."

On the 38-year-old father's left hand was a fresh tattoo depicting his son's face above the message "R.I.P. 2018."

Guzman-Feliz's mom said the seven reputed Trinitario gangbangers who hacked her son apart with a machete and knives "changed me inside."

"This changed my heart. I feel different, they kill me," Leandra Feliz wailed. "My heart is not the same."
Below are a few videos from the funeral and burial. The family also had an open casket viewing this week:
Before the funeral...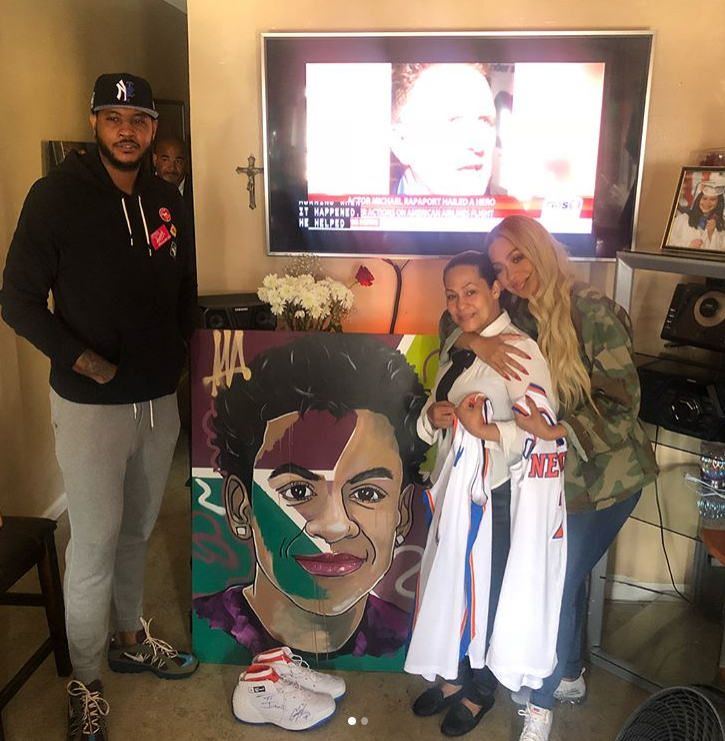 LaLa and Carmelo Anthony, who've both lived in NY most or all of their lives, came together to go visit Junior's mother at her home in the Bronx Monday.
And La La did so on her birthday.
Also, Melo was the teen's favorite basketball player.
"This is what I wanted to do for my birthday today," LaLa captioned."Thank you to the gram for connecting me to this family. I wanted to offer our love and support to Lesandro 'Junior's' family. His sister @__octobersveryown__ reached out and told me he loved Melo. So I asked Mel to go with me. I can't imagine this type of pain and sadness. His family is strong and may God bless them forever. Seeing his family smile when we walked through that door is something I will never forget. Putting my arms around his mom is something I will never forget. Being in his room is something I will never forget. Pls go to his sister in laws page @c0co__amor to donate to this family. (& before it starts...we did more than bring jerseys and sneakers) just do what YOU can even if it's $1.. this family will be in my heart forever #justiceforjunior #justiceforjunior"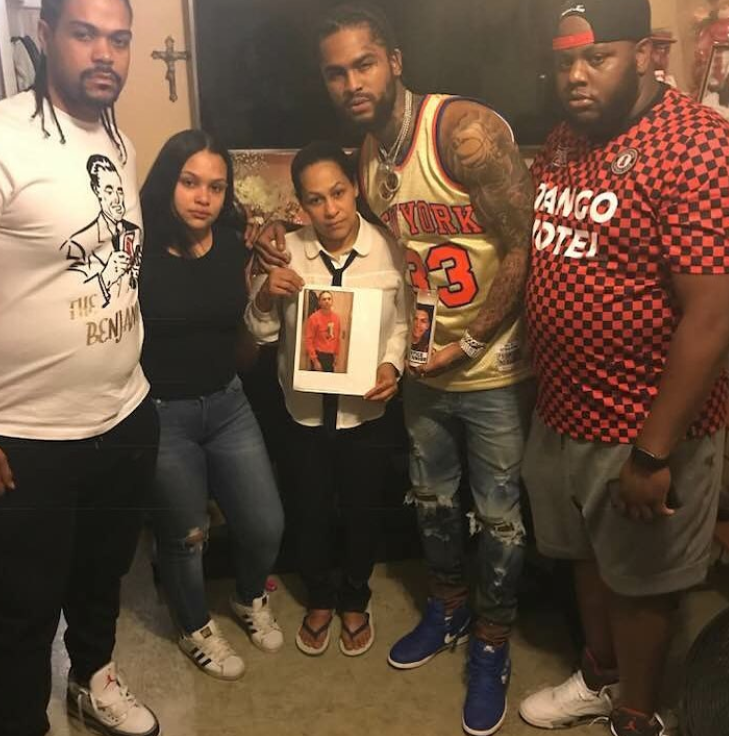 Harlem rapper Dave East also paid the family a visit.
So sad and senseless.
Photos: LaLa's IG/Instagram