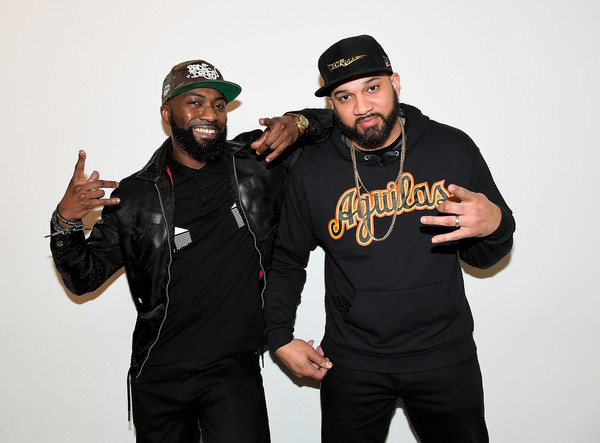 Comedic duo Desus and Mero are no longer on Viceland, but they've just secured a history making deal with Showtime. Get those deets, plus.... inside...
After two seasons of bringing us their comedy rundown on trending topics on Viceland's late night show "Desus and Mero," our fave comedic duo - who got  extra points for that DJ Envy "beef" - have shut down shop. Well, on one network.
Desus Nice and The Kid Mero will now bring their hilarity (and their rainbow) to another late night show that will air on Showtime. According to Deadline, the duo will front the network's first ever late night show after closing a deal. The half-hour program is slated to premiere in 2019 and they'll touch on pop culture, sports, music, politics and more.
Apparently, Viceland couldn't compete. It's reported the network tried to keep them onboard, but Showtime's deal was one they couldn't pass up.  In other words, COINAGE.
OFFICIAL ANNOUNCEMENT MY PALS!! FIRST OFF THANKS TO VICELAND FOR GIVING US THE LATITUDE AND CREATIVE FREEDOM TO HAVE OD FUN WHILE CREATING A SPECIAL SHOW THAT IS AND WILL BE ONE OF A KIND. EXTRA HYPE FOR THE NEW DOORS OPENING AT SHOWTIME JUHUURDD

— THE KID MERO (@THEKIDMERO) June 18, 2018
Viceland will air the finale of "Desus and Maro" on June 28th.
If you've never watched their show, it analyzes the pop culture stories of the day in a way that only two dudes from the Bronx can.  And we LIVE.
"We're honored and excited to be joining the Showtime family," Desus said. "The brand is stronger than ever and we look forward to continuing to make amazing authentic television that will make your wiggington explode."

"I'm excited to be joining a network with such a strong foundation and track record of producing fuegooooo and to break new ground with a late-night comedy show!," Mero shared.
Desus and Mero will also serve as executive producers. And they're keeping their Bodega Boys podcast too.  Nice! 
2019 is SET.
In other news...
It's Pride Month and one YBF celeb is celebrating to the fullest.
Amandla Stenberg just came out as a member of the LGBTQ community. The 19-year-old decided to declare her sexual preference in a new interview for Wonderland magazine. In the piece, she talked about growing up queer, who she was crushing on, and the lack of black queer women representation.
"I was so overcome with this profound sense of relief when I realized that I'm gay – not bi, not pan, but gay – with a romantic love for women," she said. "All of the things that felt so internally contrary to my truest self were rectified as I unravelled a long web of denial and self deprivation."

"I was flooded with a sense of calm and peace because everything that I struggled with or felt discomfort around finally made sense to me," Amandla said. "And once those floodgates opened and years of pent up pain and shame were released, I found the freedom to live my best life waiting for me just underneath."
On Instagram, she shared the news as well, writing, "OUT & PROUD. So happy to say the words Yep, I'm Gay in official print. Interviewed for @wonderland by someone I stan infinitely – the fiercest garbagio pop queen @kingprincess69. Thank you to KP for providing me with such a safe space to come out. We talk about gay sobbing, first encounters with lesbian masturbation, queer icons, Toni Morrison, disillusionment as a critical step, the art I've been working on, and the films that I have coming out this year. Full interview on newsstands now and available online Monday."
Good for her living in her truth.
Photo: Getty