It seems Kim Kardashian West is keeping her word when it comes to her fight for prison reform. She's about to tackle another case. Even if it is just for another PR opp on the back of another black person.  Get the deets, plus find out why Kanye West loves Trump and see a few super cute flicks of North West inside....
Just weeks after getting Trump to grant clemency for 63-year-old Alice Marie Johnson, Kim Kardashian West is ready to tackle her next case.
Now, she's looking into the case of of San Quentin death row inmate Kevin Cooper, who was convicted of a 1983 quadruple murder. He has been on death row for 33 years and will die of legal injection if nothing is done. He has maintained his innocence since the beginning.
According to the NY Times, Kevin found his son stabbed to death along with the bodies of Peggy and Doug Ryen (the homeowners), their 10-year-old daughter and their 8-year-old son, who was still breathing. He was picking his son up from a sleepover at the Ryens' house located in the Los Angeles suburb of Chino Hills.
Federal judge William A. Fletcher spoke out saying Kevin was on death row because "the San Bernardino Sheriff's Department framed him." At least 10 other federal judges have also expressed concerns about Kevin's conviction. But, Kevin is STILL on death row.
This certainly isn't the first case where DNA could free an inmate.  In fact, a shocking amount of guilty & death row cases were overturned decades ago when DNA first started to be introduced in murder trials.
The "Keeping Up With The Kardashians" star retweeted an opinion piece written by Nicholas Kristof of the NY Times that questions Kevin's innocence and whether or not he was framed. Kim asked California Governor Edmund Brown if they would have a DNA test re-run in the case in her tweet:
Governor Brown, can you please test the DNA of Kevin Cooper? https://t.co/RyDDOd9kEi

— Kim Kardashian West (@KimKardashian) June 16, 2018
In the article, journalist Nicholas Kristof wrote:
The evidence of police tampering is overwhelming. When lawyers working on Cooper's appeal asked for DNA testing on a T-shirt believed to belong to the killer, the lab found Cooper's blood on the shirt — but also something astonishing: The blood had test tube preservative in it! In other words, it appeared to have come from the supply of Cooper's blood drawn by the police and kept in a test tube.

When the test tube was later examined, it had the DNA of at least two people in it. It appeared that someone had removed some of Cooper's blood and then topped off the test tube with the blood of one or more other people to hide the deception.

What's extraordinary about the case is that not only is it likely that Cooper is innocent, but that we also have a good idea who committed the murders.

The 10-year-old victim, Jessica Ryen, died with a clump of light hair in her hands, and the 8-year-old survivor, her brother, Joshua, repeatedly told investigators that the attackers had been three or four white men. Mr. Cooper is black.
So, the surviving victim told them the attackers were three or four white men, but Kevin is the one sitting on death row? SMH.
It's also reported witnesses told investigators that they saw three white men driving a station wagon, which was believed to be the family's car, away from the home around the times of the murders. It's reported the police were more focused on Kevin since he allegedly escaped prison and was reportedly near by when the murders happened.
Sounds like a case where white privilegde needs to meet white priviledge.  Enter Kim K.
No word back from Governor Brown just yet, but we'll keep you posted.
Over the weekend...
Kim for President? "Never say never," @KimKardashian tells CNN's @VanJones68 on 'The Van Jones Show,' airing Saturday at 7 p.m. ET https://t.co/TA2E96Qw2cpic.twitter.com/ebZ1E7mZiD

— CNN (@CNN) June 16, 2018
Over the weekend, Kim K appeared on CNN to chop it up with Van Jones about her prison reform fight. She helped great-grandmother Alice Marie Johnson get out of prison after serving 21 years. She revealed how the process to get Alice freed was months in the making. Now, she wants to continue her fight.
With her new political stance, would she consider running for president?
"I don't really think that's even on my mind," she responded.
However, she also said "never say never." She explained Trump winning the presidency is why her husband Kanye West admires the president.
"I know, that's why Kanye [West] loves him," she said. "It's the idea that anything could happen," she continued.
Oh.
Peep the clip above.
Then there's this....
Just as Kim was soaking up the props from folks for using her priviledge for soemthing other than appropriation, this happened.  Magazine editor, activist, and writer Michaela Angela Davis was NOT feeling Kim K and her fulani braids that she rocked at the 2018 MTV Movie & TV Awards over the weekend. Bloop!
Also...
Hold me daddy!
Following her 5th birthday, North West headed out with her parents - Kanye & Kim - and a friend for dinner at The Polo Bar in NYC.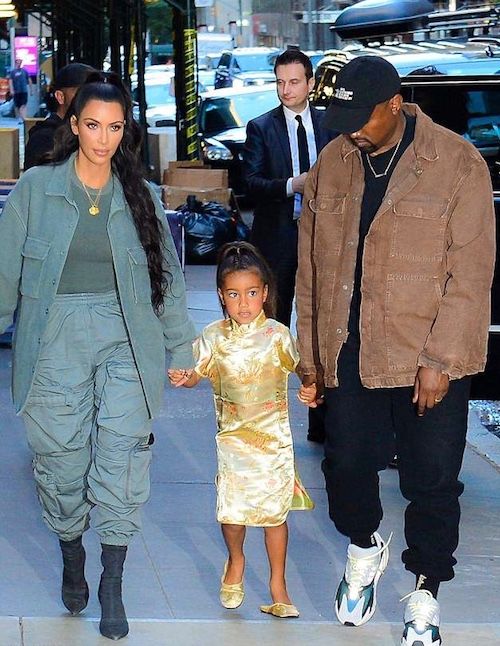 Nori was the cutest in her cheongsam ensemble. Look at her little gold shoes!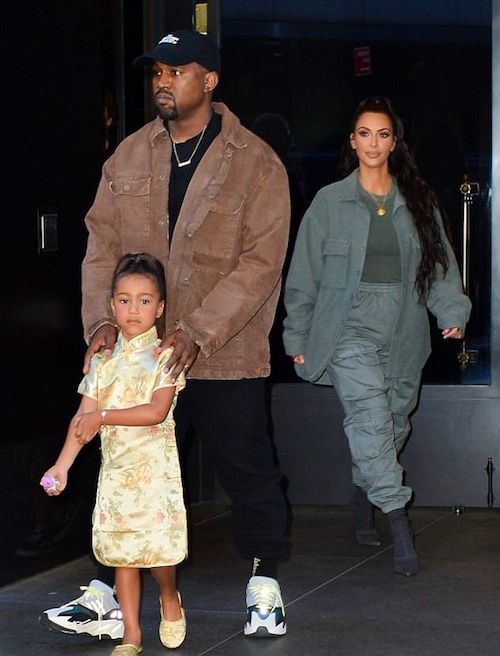 Kimmy's besties LaLa Anthony and Jonathan Cheban also came out to celebrate with North.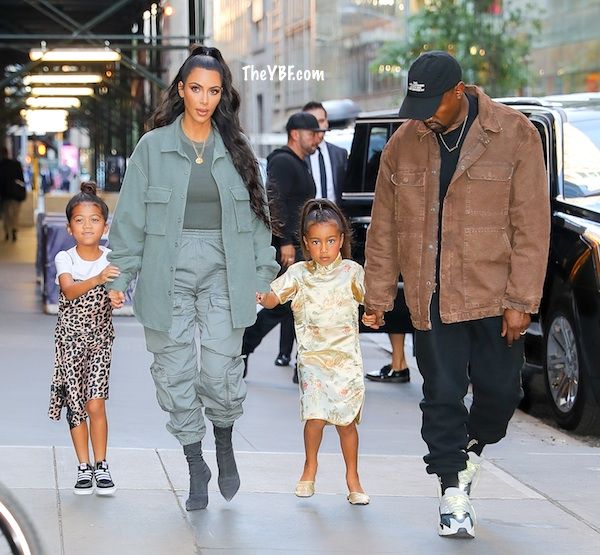 Looks like they had fun.
On Father's Day, Kim tweeted a cute photo of Nori at her unicorn-themed bash earlier this month with a message to her hubby: 
Happy Father's Day babe. Thanks for being such a good dad to our babies! Shout out to all of the amazing dads out there! pic.twitter.com/Kps9MPlqzR

— Kim Kardashian West (@KimKardashian) June 17, 2018
Photos: TODAY Show/MEGA/Backgrid