Actor Darius McCrary is addressing reports that he now only owes $29 a month in child support. Find out what he has to say about it inside...
Darius McCrary is having all his financial business put out in these internet streets and he's not happy about it.
Yesterday, The Blast reported the "Family Matters" alum is claiming he's broke and apparently had his child support payments cut super low. The site claims the legal documents filed in Los Angeles County reveal Darius will now pay $29 a month in child support for his two-year-old daughter Zoey, whom he shares with Tammy Brawner.
The 42-year-old "Star" actor supposedly told the courts he was having a hard time finding work (he had a role on this past season of Lee Daniel's hit show) and only brings in $462 a month.  So they gave him the "low income adjustment." Hmm...
The site explained:
He previously told the court that he was having a hard time finding work and wasn't even able to afford the required visitation monitor to see his child. Brawner and McCrary have previously filed restraining orders against each other in what has turned out to be a volatile breakup.

Darius McCrary's required $29 per month payment is based off his reported income of $462 per month. The county noted it applied a "low-income adjustment" to cut him a break.

However, the actor is also required to pay for 50% of Zoey's health and medical costs. He has a chance to oppose the proposed order from the county which was scheduled to become active June 1.

According to his IMDB, McCrary has a role in a film called "Way Out of Bounds," which is due out next year. It's unclear if the payment from that film will affect his child support obligations.
Darius caught wind of the report and decided to respond....on Father's Day. In so many words, he wants everyone to mind their business. He tweeted: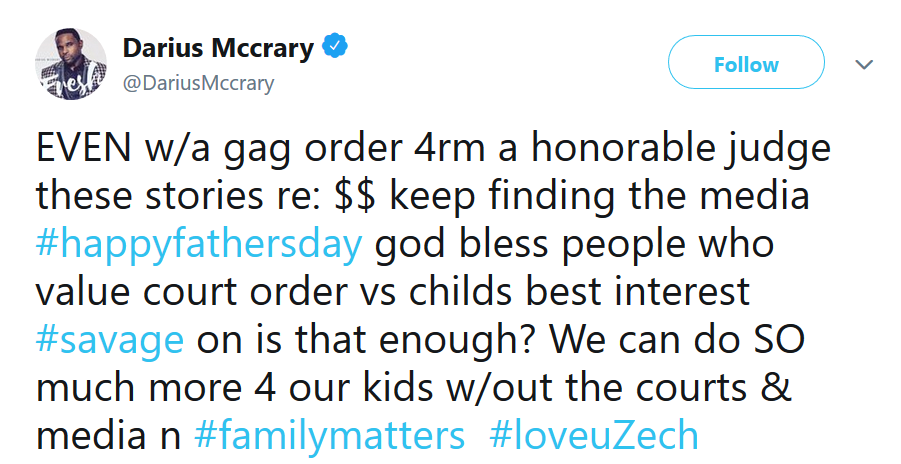 He didn't deny it. And he likely can't say much since there's gag order on the case, accoriding to him.
Last week...
Darius "Eddie Winslow" McCrary sat down with Power 105's "The Breakfast Club" to talk about how the media sometimes spins his words (like when TMZ reported he had been touched as a child), hanging out with Michael Jackson when he was 5, the #METOO movement, his failed marriage to Karrine "Supahead" Steffans (can she put some coins in his account?), and more. Check it above.
Photos: Getty