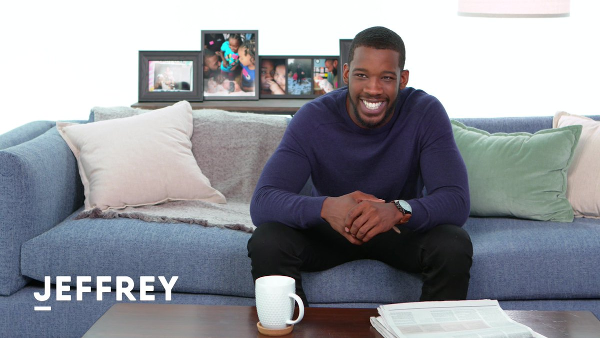 Grab your tissues! These Father's Day tributes are about to have your eyes filled with tears. More inside...
It's Father's Day and we're celebrating all of the amazing fathers out there.
Soul Pancake partnered up with the Responsible Fatherhood campaign to give props to a few amazing dads that do their best every day at being the best dad ever. The super cute series surprises dads when their kids unexpectedly pop in and share some words they need to hear.
In each clip, a dad reflects on his parenting triumphs, struggles and fears before he is surprised by his kids showing up and sharing what they love most about their dad. It starts as an interview and ends in an unscripted moment of laughter and tears of joy as they reunite with their little ones.
In one clip, Jeffery - a father to three daughters- opens up about becoming a dad at the ripe age of 19 when he and his college sweetheart got pregnant. She's now his wife. Now, they're raising three daughters and Jeffery is super involved. When his 7-year-old daughter and 5-year-old daughter come in and share why they love their dad, it's INSTANT water works.
Watch Jeffery and his daughters have a dance party below:
In another clip...
Derrex - a father to four boys - shared some of his struggles with being the father to his sons he never had. "I'm raising babies, to boys, to men," he said. He shared how he missed his son's high school football game due to traffic. After the game, he apologized to his son and his son assured him that it was OK. He said in that moment that's when he knew his kids hear him even though they act as if they aren't listening.
When his two eldest sons came out and shared why they loved him, he couldn't fight back the tears. And we couldn't either. Check it above.
We can't forget about the YBF celeb dads. Peep a few of their tributes below:
Happy Father's Day!