Jada Pinkett Smith and Willow Smith are talking about sex! And they're keeping it quite candid. More inside...
Jada Pinkett Smith has been making headlines ever since her Red Table Talk series launched. We're learning things about the Hollywood vet, above at Sirius XM radio moments ago and below arriving at NBC Studios for the "Megyn Kelly Show" earlier, that we never knew before.
For the latest episode, Jada, her mother Adrienne Banfield-Jones and her daughter Willow Smith sat down for a VERY interesting topic this week for their Red Table Talk show. This week's discussion was centered around SEX! And yes, 17-year-old Willow was a part of the conversation, along with her 21-year-old friend Telana Lynum, despite folks having an issue with it.
The ladies shared how differently they all grew up learning about sex and how it has evolved over the years.
The Girls Trip actress got very candid about her sex life, revealing her grandmother taught her how to "self-pleasure." And she did it when she was just 9-years-old.
"My grandmother taught me about self-pleasuring because she wanted me to know that that pleasure was from me," the 46-year-old shared. "She didn't want me to fall into the hands of a man — and if he gave me pleasure, to think that that was him. And she taught me at 9!"
Good idea...but do you think 9 is a bit young? Maybe she was mature for her age and her grandmother felt it was the right time. Lordt. Can't imagine how that conversation went.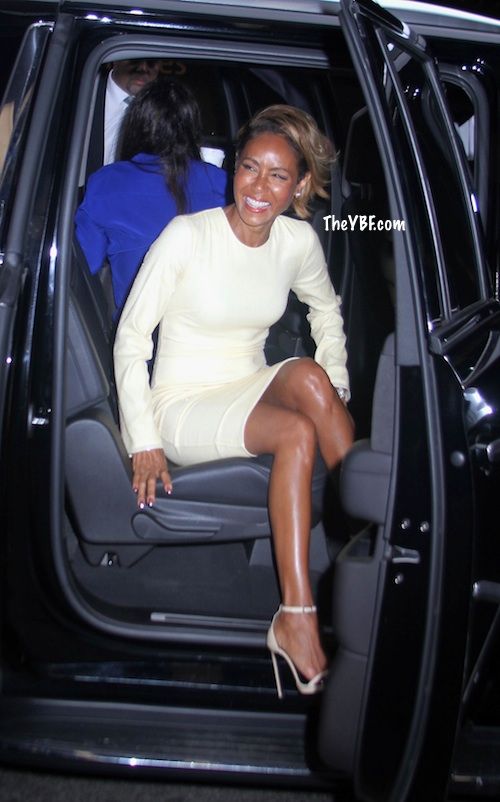 While her grandmother had taught her how to masturbate, she said she still struggled with her sexuality. Eventually, she got comfortable with it. Maybe too comfortable.
"I've had a lot of experience with sex toys," she explained. "I think by your age, I gave myself multiples first. Multiple orgasms. Yep, I did. I was really into it at one point, just because I was in an exploration state and I was abstaining from men. And I actually think I went through kind of like an addiction too with it. Then, one day I was just like 'Enough.' I was having like 5 orgasms a day."
Well damn.
Also, 17-year-old Willow revealed her first introduction to sex was when she walked in on Jada and her dad Will Smith. Jada had NO clue and you can tell she was shocked.
"My introduction to sex was obviously walking in on you and Daddy," Willow shared.

"When the hell did you walk in on us?" Jada asked in shock.

"I was in Utah… not Utah. Aspen," Willow said. "I was going downstairs to get some juice and I saw for a little moment and I ran away. I was like, 'Oh my God, this is so crazy. What did I just see?'"
Oop! Have you ever walked in on your parents?
Check out their full discussion below: 
BONUS:
Jada recently spoke out about her own battle with thoughts of suicide in the wake of Anthony Bourdain and Kate Spade's deaths. If you or someone you know are having suicidal thoughts, please call the National Suicide Prevention Lifeline at 1-800-273-8255.
Photos: Instar