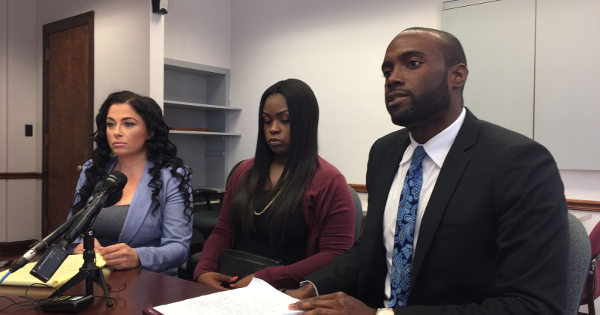 A young black woman is gearing up to file a lawsuit against Target after she was forced to strip in front of two male employees to prove she didn't steal a bathing suit. Get the deets inside...
A 20-year-old black woman is gearing to to take Target to court after she claims she was racial profiled.
Ashanea Davis said she was forced to strip her clothing in front of two male employees to prove she didn't steal a bikini.
Ashanea told the Detroit Free Press she went shopping at her local Target in Southfield, Michigan on May 22nd. It was a regular Target run until she was stopped by a loss-prevention officer (an African-American male) as she was leaving the store. She said he grabbed her arm to keep her from leaving the store after accusing her stealing a bikini.
Another officer (a white male) walked up on the scene and ended up putting her cuffs. And that's when they began to humiliate her.
"He pulled her through the store backwards by handcuffs as he yelled very loudly that she was, quote-unquote, that she was stealing the panty swimwear that she had on underneath her clothing," Ashanea's attorney Jasmine Rand said during a news conference. "And he said that over and over. Loud enough for other customers to hear and loud enough to publicly humiliate our client."
They escorted her to a loss prevention room and then they called a white female manager in the room. Ashanea said she was forced to lift her shirt and pull down her pants to show them she didn't have a bikini underneath her clothes.
"I was so scared," Ashanea said about the incident. "I had never had anything close or near like that happen to me. Two men that I never met before, never seen before. So I was very scared and sad."
Needless to say, they didn't find a bikini in her possession. Of course.
The two officers have been fired.
Target issued a statement addressing the situation, writing:
"We want everyone who shops at Target to feel welcomed and respected and take any allegations of mistreatment seriously. We're sorry for the actions of our former team member, who created an experience we don't want any guest to have at Target. Upon reviewing our team's actions, we terminated the team member who was directly involved and are addressing the situation with the security team at the store."
Now, Ashanae and her attorneys - Jasmine Rand and Maurice Davis - are planning to file a lawsuit against Target Corp., with legal claims of race and gender discrimination. They haven't filed it yet, but her attorneys said they would pursue civil damages and possible criminal wrongdoing against the employees. Since they were fired, they must have broken company policy, so she may very well have a good case.
On another note, Ashanae's attorney Maurice Davis isn't just a smart lawyer, he's fine AF. He's a Michigan State University graduate, a devoted dad and a member of Alpha Phi Alpha Fraternity, Inc. #BlackExcellence
Attorney Zaddy, or nah? 
Photos: Hasan Dudar via Detroit Free Press