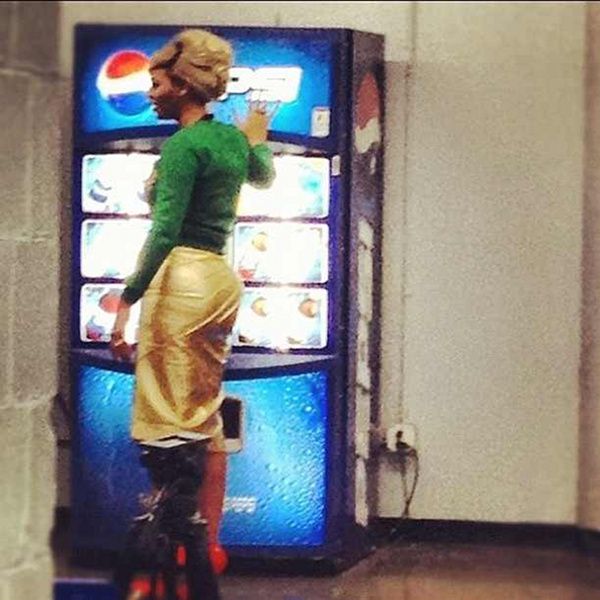 Beyonce Knowles is returning to her role as Pepsi spokeswoman, a role she took on back in 2002.  Check out the first pic of BKC shooting her fifth Pepsi ad inside...
Beyonce's been starring in plenty of Pepsi commercials, with her first directed by Spike Lee, and alongside fellow Pepsi spokespeople Jennifer Lopez & David Beckham.  But we're told that this time around, Bey's role won't be your typical front woman starring in ads, but it will be MAJOR.
Pepsi sponsors the Super Bowl Half Time show, which she will be rocking the stage for February 2013.
And The Carters may have lost that trademark for daughter Blue Ivy's name.  But we're sure they have a few tricks up their sleeves on how to brand their little munchkin.  And Bey's up to her own branding tricks as she dips back into work.  In her newest ad, the 31-year-old was spotted in a gold knee length pencil skirt, green sweater and blind hair pulled up as she stands against a Pepsi machine.  Time will tell what this all turns out to be...
Check out the flashback of Bey's first Pepsi commercial a decade years ago and another with Britney Spears, Pink & Enrique Iglesias:
The Randomness:
1.  Nicki Minaj will be one of the performers of the 40th Annual American Music Awards. 
2.  Without giving him anymore publicity for his 12p f**kery he just released about President Obama, it must be said that Donald Trump is one of the most disgusting people in America who has a platform to speak.  The level of disrespect, condescending demands & notions, and entitlement has reached an all time high today with his newest "demands" of our President.  Demands that must be met 'to Trump's satisfaction."   We get that it's insanely hard for you to respect a black man with more credentials and more class than you will ever have in any aspect of your life, but stop being a traitor to your country by making slanderous accusations out of thirst for your own fame.  Any respect for Donald Trump has been 100% LOST.  Respect Obama.  Respect the Office of President. Good day.