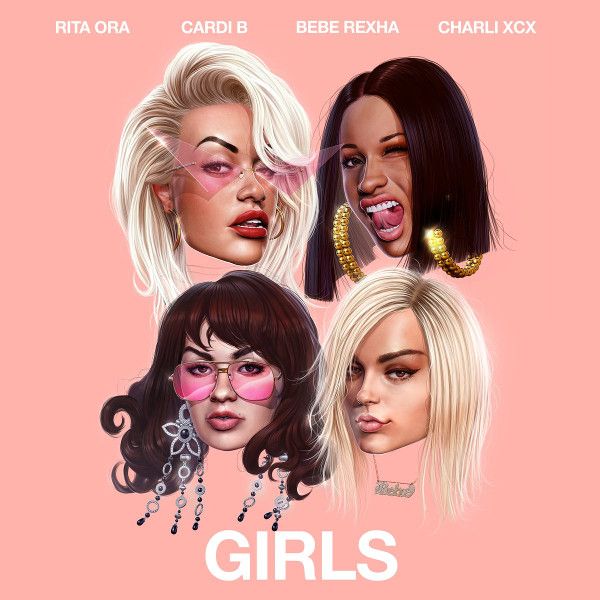 Cardi B has teamed up with Rita Ora, Bebe Rexha and Charli XCX for a flirty girls anthem, "Girls." Take a listen to the track, plus see Ciara and Russell Wilson raise $1.4 million during a benefit concert with the Seattle Symphony inside...
Sometimes some girls just want to kiss girls.
Rita Ora just released her new summer anthem dedicated to all the ladies who like kissing ladies. Cardi B, Bebe Rexha and Charli XCX join the British singer for the summer bop.
It almost sounds like a coming out song for Rita as she seems to be inspired by her sexuality on the track. "Sometimes, I just wanna kiss girls, girls, girls / Red wine, I just wanna kiss girls, girls, girls / Sometimes, I just wanna kiss girls, girls, girls," the ladies sing on the chorus.
The pregnant "Bartier Cardi" rapper served up a few girl-loving lyrics that she's no stranger to.
"Now I could be your lipstick just for one night (one night) / Girls just wanna have fun, they have their funds right (yeah) / I mean, say my name, say my name, say my name (say my name)/ It tastes good just running up your tongue, right? (hurrr) / I put this smack on your lips all so pucker up (mwah)"

"We ain't never heard of you 'cause you ain't gun enough / And I don't gotta introduce myself (Cardi) / I'm too sexy, I seduce myself (Bardi) / Seven figure, never need a n---a (nope) / I steal your chick, have her down with the scissor / Tonight, I don't want a dog, I want a kitten / I might french your girls and break bread."
Take a listen below:
Another artist putting her skills to use in a different way:
Ciara and Russell Wilson use their starpower to help raise funds for charity.
Last night, the R&B singer and Super Bowl winning quarterback joined forces with the Seattle Symphony for a benefit concert in support of greater equity and opportunities for youth, and access to the arts.
Russell was tapped to host the event and he even played conductor. Ha.
CiCi rocked the stage, performing some of her hits with the Seattle Symphony providing the music. Other performers hitting the stage include rapper Macklemore and DJ Ryan Lewis.
This unique event sprang from conversations between the artists and organizations as they explored fun and creative ways to come together in an effort to inspire and engage the greater community to support critical programs that are focused on youth, equity and access to the arts.
Peep a few clips of Ciara slaying the stage below:
It was a successful night - they raised $1.4 million!
"1.4 Million Dollars and Counting Raised Tonight! What an incredible time bringing our Foundations together to make a difference! Truly grateful! #WhyNotYou," CiCi captioned on Instagram.
All proceeds will directly support initiatives and programs of the Macklemore & Ryan Lewis Equity Fund, Russell and Ciara's Why Not You Foundation, and the Seattle Symphony. Nice!
We love seeing our YBF celebs giving back!
Photos: Instagram