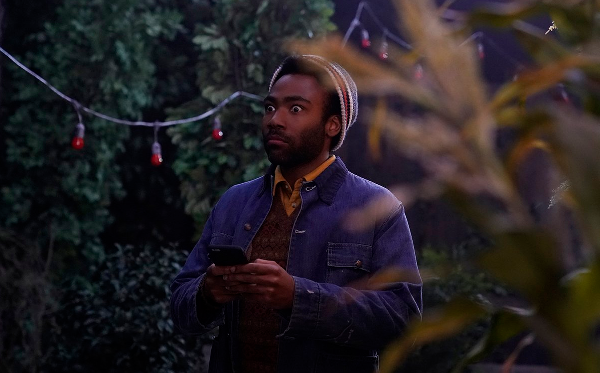 Donald Glover was tapped to host and perform for "Saturday Night Live" last night. And let's just say he served up one of the blackest episodes yet. Get into his hilarious Kanye West skit, plus his new video "This Is America" that has folks comparing him to Yeezy inside…
It was another successful night of laughs for last night's episode of "Saturday Night Live."
"Atlanta" star/creator Donald Glover served as both host and musical guest (under his rap moniker Childish Gambino) for last night's hilarious episode and he killed it from beginning to end. His skits were beyond hilarious, his opening monologue shed light on his past attempts at auditioning for the show, and he rocked the stage with performances where he was introduced by actress Zoe Kravitz and actor Daniel Kaluuya.
There was one skit that stood out from all the rest and it had us in tears while watching. "SNL" took full advantage of the controversial week Kanye West put us all through with his "slavery is a choice" commentary. The Kanye skit was inspired by the recently released horror move A Quiet Place.
Quick backstory if you haven't seen the film…
The characters in A Quiet Place had to remain quiet and couldn't make a sound as they went about their daily routines to keep from being eaten by monsters. The monsters can't see them, but they can hear them. And once anyone makes a sound, the monsters swoop in and take the person making noise away.
In the "SNL" clip, Donald and group of friends attempt to stay quiet as they make their way through the woods, but that task became difficult once Donald came across Kanye West's recent tweets about Trump. As he shares the nonsense Ye is tweeting (the signed Make America Great Again hat, attending Chrissy Teigen's baby shower and his new "poopity scoop" track "Lift Yourself"), his friends are being captured by the monsters due to their loud reactions to the tweets.
Everyone dies and Donald is left alone in a bunker, listening to "Lift Yourself" as video of his rant, where he explains why he had liposuction done, is displayed on the television where he made the controversial comments about slavery. Soon after, the monster nabs Donald too.
In another sketch, Donald flexed his acting skills as a a non-musical sketch, lawyer defending Jurassic World in a wrongful death suit.
Check it:
In his opening monologue...
The actor/rapper reminisced about his unsuccessful attempts at joining the show's cast. Check it out above.
In another skit, Donald joins forces with Kenan Thompson and Chris Redd for a rap group Migos parody that they dubbed "Friendos." The video treatment was stopped several times as the guys tried to work out their issues with one another in group therapy sessions. Rapper ASAP Rocky even made a cameo at the end. Check it above.
In "Lando's Summit," Donald calls out Hollywood's lack of using black characters in Star Wars movies. Donald appeared as his upcoming Solo: A Star Wars Story character, a young Lando Calrissian. Peep the clip above.
For another funny skit, Donald plays a new intern pitching captions for Barbie's Instagram account. Get your laugh on above.
In "Dirty Talk," Donald played a boyfriend who tries to get freaky with his girlfriend in bed, but it's obvious she doesn't understand how talking dirty works. She said the most inappropriate things in bed like reminding him his father is dead. She even did a Bill Cosby impersonation. See the clip above.
For his last skit, Donald and Kenan played inmates working as customer service representatives from prison. Ha! Check it above.
And here's a clip of Childish Gambino rocking the stage:
While Mr. Glover was hosting the show...
The rapper/actor/writer released a new video titled "This Is America," that he also debuted on "SNL" last night.
"This Is America," directed by Hiro Murai, tells the story of how a black person can die in America and everyone just goes back to being carefree. We see young folks busting out popular dance moves while police violence takes place in the background with a reference to the 2015 Charleston mass shooting in South Carolina.
It's some truth serum we all need to see. Take a look above.
Now, Donald is being praised as the "genius" Kanye West wishes he was. Peep the tweets:
.@donaldglover is the genius @kanyewest thinks he is. #ThisIsAmerica#SNL

— Mariana F. (@LaRuca3) May 6, 2018
This might sound weird but Donald Glover is the man we need instead of the eccentric Mr West. Kanye really needs to go cool off.

Thank you Donald Glover! You are a genius! Don't change one bit!

— Olamidé Adédeji (@OlamideAdedeji) May 6, 2018
@kanyewest, I'mma let you finish but... This is what a real artist looks like. @donaldglover#ThisIsAmericapic.twitter.com/XxhFa9WfJW

— Stephanie (@SGaleReport) May 6, 2018
@donaldglover has so graciously shown brother @kanyewest what "free thought" looks like. Appreciate both contributions, but.. #ThisIsAmerica

— Quinn (@quinnmusic) May 6, 2018
Donald Glover's "This is America" song and video is our reward for surviving Kanye West's week of white supremacy.

— Myles E. Johnson (@hausmuva) May 6, 2018
Thoughts?
Photo: NBC