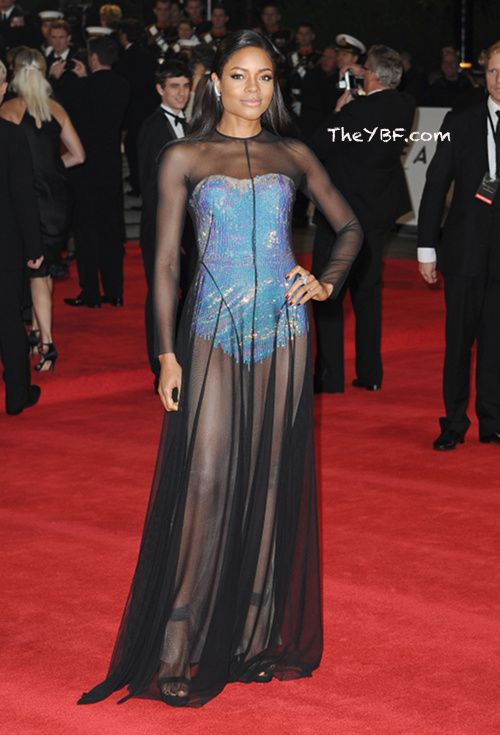 Bond "woman" Naomie Harris talked about her role in the upcoming Skyfall flick to our friends over at Huffington Post Black Voices.  And she revealed how she crafted her gun-happy character and why soon there will likely be a black James Bond! Deets inside.....
Naomie Harris, shown above arriving at the Royal world premiere Skyfall at the Royal Albert Hall in London today, turned heads and raised eyebrows in a sheer & corseted Marios Schwab Spring 2012 gown.  Her gown, with a blue & silver sequined bodice, was paired with black heels and Jessica McCormack's earrings.
While on her promo tour, Naomie, who plays "Miss Moneypenny", chatted with the Huff Post where she hinted that one day there could be a black James Bond -- and Mr. Idris Elba would be the perfect choice. Here are the highlights:
While reading the script, did you find yourself going back to take any notes from previous Bond girls?

No, in fact I really tried to do the opposite. I really felt like I didn't want to be straight jacketed by knowing too much about what was done in the past. I didn't want to try and make my character similar to someone in the past. I was specifically asked by the producers and director to come in and add a modern character. And that was really important to me to make her original.

How would you describe your character, Eve, as the latest Bond Girl?

She's very independent, very playful. And what's really exciting for me about the role is that you see her going toe to toe with Bond. She's out in the field as a field agent, sees herself just as capable as him firing sniper rifles, Walther MPKs, and just having a blast at the beginning of the movie. Things go a bit wrong and she begins to question whether or not she's right for the field work.


In recent years there's been talks of the possibility of fans seeing a black James Bond at some point. Do you have any personal favorites that you would consider for the role?

I didn't realize that there was this talk and then I did a film with Idris [Elba] and he said that he met Barbara Broccoli [James Bond producer] and that it does seem like there is a possibility in the future that there could very well be a black James Bond. And I would have to vote for Idris because I just finished working with him and he's a great guy. [Laughs]

He's also a fellow London native, as well.

That's right. I didn't even realize that until I started to work with him. I thought he was an American based on his role on "The Wire." [Laughs]
Check out the full interview over at Huff Post.
Skyfall hits theaters November 9th.  Will you be watching?
Photo via Zak Hussein/INFphoto.com