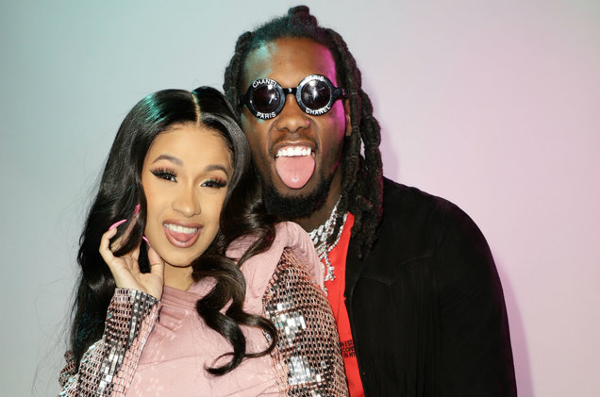 Cardi B is dragging Celina Powell after she was exposed for altering the DNA results of Offset's alleged baby. Peep the receipts, plus deets on how Trey Songz got off in that domestic violence case inside…
Cardi B is relishing in the fact that Celina Powell was exposed for her lying ways.
Insta-thot model Celina Powell came out with claims that Offset was the father of her daughter back in December. Cardi and Offset responded to the rumors saying Celina was lying about the Migos rapper being her baby's daddy because he doesn't even know her. Yes, he got caught cheating, but it apparently wasn't with her.
After Celina's baby was born, she took it a step further by allegedly giving the baby Offset's legal last name. She said on Twitter she gave the baby the last name, but we've never seen an official birth certificate. However, she did try to prove he's the father by sharing paternity test paperwork that she altered:
Well, Celina's secret was safe until she got into it with her best friend. Her bestie friend exposed her on Twitter for altering DNA documents to falsely accuse the Migos rapper as the father of her child. Two separate videos of phone calls were uploaded to Twitter where a woman who is believed to be Celina can be heard revealing how she doctored the paperwork to get people to believe her story.
"I think I'm just gonna alter those for these papers and I think that'll be good enough," the voice can be heard saying," she said in the video."I swear, I will fight her... This is like my credibility on the line and if I can just get people to at like least believe it and then like leave me the fuck alone, that's fine," the voice believed to be Celina continued.
Take a listen for yourself below:
Lol #CelinaPowell got caught slipping saying she copied her best friends dna papers pic.twitter.com/SCG5SmNa9d

— B (@brookherrera) May 4, 2018
Here's the rest of the video btw pic.twitter.com/NATxBLZRnm

— B (@brookherrera) May 4, 2018
Here's Celina apologizing to pissing her bestie off: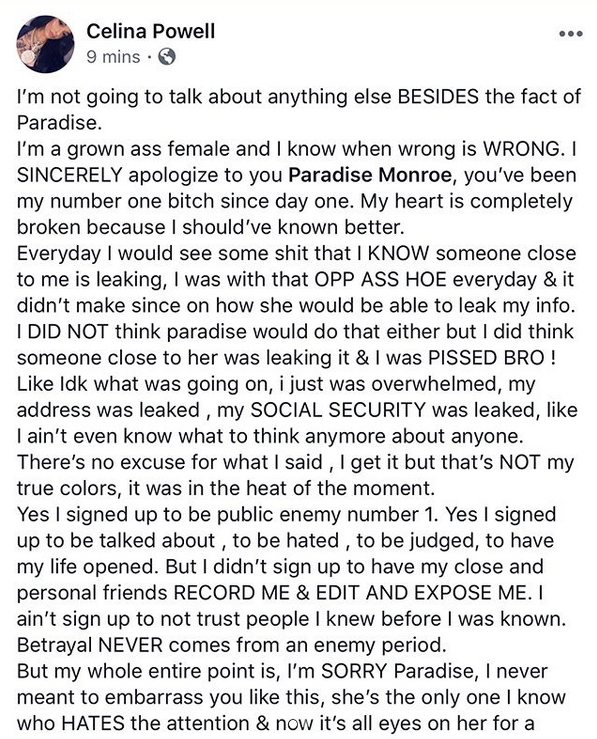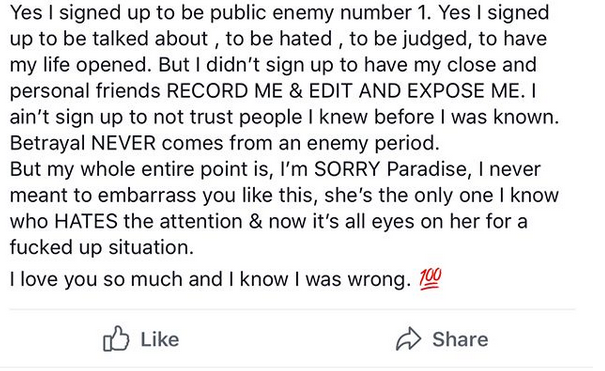 Once the pregnant "Bodak Yellow" rapper came across the videos, she commenced dragging:
Lmaaaaaaoooooooooooooooo Wow people are really crazy https://t.co/GsgA6YYoam

— iamcardib (@iamcardib) May 4, 2018
Exactly .They CAN SUCK MY DICK! https://t.co/J1oKhlLQAB

— iamcardib (@iamcardib) May 4, 2018
Sighs...
Celina has a record for lying as she did almost the exact same thing to rapper Chief Keef around this time last year. She doesn't quit does she?
Amid all of this drama, Celina now claims rapper Tekashi69 is her man. He better run for the hills. This chick is obviously unstable.
In other news...
Trey Songz is thanking his lucky stars after he was cleared in a domestic violence case.
The charge stems from accuser Andrea Buera who says Trey punched her repeatedly during All Star Weekend when he became upset with her for allegedly talking to another man at a Hollywood Hills party. She did apress conference with famed attorney Lisa Bloom to show off her bruises and said Trey beat her so bad she ended up with a concussion. Trigga was then brought up on felony charges, so he turned himself in. Later, the L.A. District Attorney announced he wouldn't be charged with a felony.
Apparently, there wasn't enough evidence to prosecute the R&B crooner. It also helped that Trey's attorney was able to get witnesses that told a totally different story as to what happened that night.
TMZ reports:
The L.A. City Attorney rejected the case Friday citing insufficient evidence and will not slap the singer with a misdemeanor domestic violence charge. The news comes less than a month after the L.A. District Attorney said Trey wouldn't face a felony criminal charge for allegedly hitting a woman, and kicked the case to the City Attorney's office.
There's that. He's still not out of the woods though.
In December 2017, a Philly woman sued the singer for $50,000 for allegedly attacking her outside of a strip club he made in appearance in May 2017.
She claims she tried to snap a picture of him in the parking lot and that's when he smacked the phone out of her hand, which flew onto her face, breaking her glasses. Now, she wants him (and the venue) to pay up.
Photos: Getty/Trey's IG