Tristan Thompson put up his first social media post since news about him cheating on Khloe Kardashian leaked. Find out what he posted, plus get the rumors about Tristan allegedly giving his "side chick" Lani Blair NBA Playoff tickets inside…
Tristan Thompson has been radio silent on all social media accounts for the last two weeks. And we all know why. The Cleveland Cavaliers player was exposed in several videosof him cheating on his then pregnant fiancée Khloe Kardashianwith several different women.
They've since welcomed the baby (a girl named True Thompson). Khloe made the birth announcement on her Instagram account. However, Tristan hasn't posted anything since the beginning of this month, which was around the time he got busted.
Well, he recently made his social media debut, and as expected, it didn't go over well. After the Cavaliers beat the Pacers on Sunday night to advance to the 2nd round of NBA playoff games, Tristan hopped on Instagram to share his excitement.
"WHAT AN ATMOSPHERE IN THE Q!! GREAT WIN #OnToTheNextOne," he wrote in the caption accompanying a picture of himself holding a basketball.
Maybe he thought with all the Kanye West controversy going on folks may have forgotten. Nope. They didn't. And he's getting dragged in the comments of the post: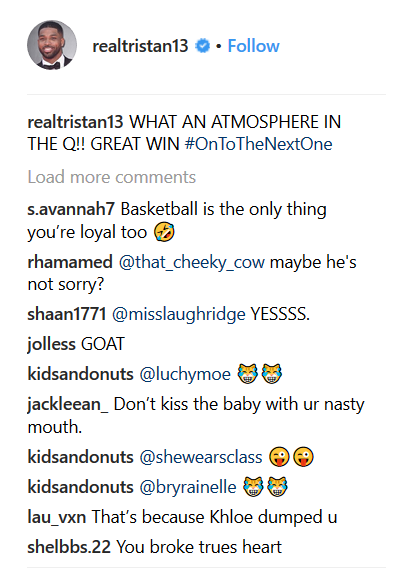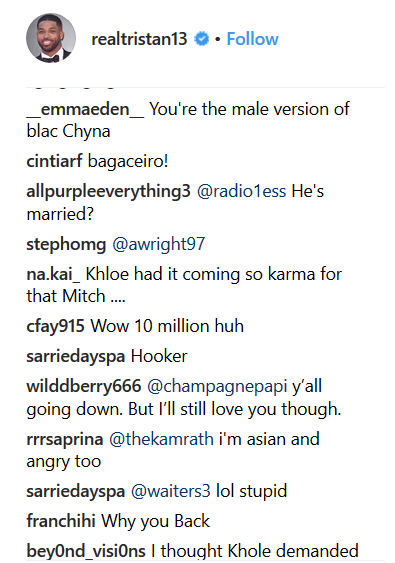 That's even a fraction of what is being said in his comments. He should just throw this whole account away as folks have been flooding all of his pics.
Speaking of the playoffs...
Rumor has it, Tristan Thompson is still out here being a f*ck boi in these streets while his baby mother stays home to care for their daughter, True. According to In Touch Weekly, Khloe gave Tristan all of her home playoff box seat tickets and he supposedly gave them to his "side chick" Lani Blair.
Here's what a source tells the site about the ticket exchange:
"Khloé told him she isn't going to any of his playoff games in Cleveland and gave him back his four box seat tickets," the insider explained. "So Tristan gave the tickets to his sidepiece Lani!" Um, seriously? Tristan was clearly pretty careless when it came to cheating on Khloé with Lani, and there were even hints on Lani's Instagram that something was going on, but this is a whole new level of disrespect. And guess what? Tristan doesn't give an eff.

"He's crazy, crazy about Lani and isn't trying to hide her," the source continued. "Lani's been asking to come to his games to cheer him on for the longest time but Tristan always wanted to keep her in the background, until now. Khloé has no idea that Tristan did this and it seems like Tristan doesn't care about her knowing either."
Hmm...do we believe it?
The Cavs will hit the court against the Toronto Raptors (Drake's favorite team) to kick off the 2nd round of playoff games at Air Canada Centre tonight in Toronto at 8pm EST. You can watch the game on TNT.
Photos: Getty/Lani's IG