Sasha Obama is 16 and she's living it up. The blue haired teen linked up with Cardi B and Offset during the Broccoli City Festival in D.C. over the weekend. Also, Bardi is responding to that $10 million lawsuit launched by her ex-manager. Pics and deets inside…
It feels like just a few days ago Sasha Obama was the 10-year-old kid living in the White House with her dad President Barack Obama, mom First Lady Michelle Obama, and her sister First Daughter Malia Obama.
Now, she's out of the White House with a little more freedom to enjoy the things that teens enjoy.
While her big sister Malia gets her study on at Harvard (but is certainly no stranger to getting lit AF at a festival), the 16-year-old former First Daughter trekked it to the Broccoli City Festival in D.C. to party it up VIP status with her friends. And we noticed she is now loving being able to do fun stuff like color her hair. The blue streaked beauty was spotted vibing out to H.E.R.'s performance wearing a white crop top, high waisted jeans and 'The Last Lolita' shades from the Le Specs X Adam Selman collaboration.
"She looked as though she had no care in the world. She was in a big group and was partying to the music," said photographer Dee Dwyer. "She was loose and having a good time."
As she made her rounds at the festival, Sasha got the chance to meet Cardi B, her baby bump and her fiancé Offset backstage.
We usually see Malia out partying, but now that Sasha is getting older, we may start seeing her out more on the party scene. But we doubt her friends will leak pics that need to stay in the group thread. See more pics of Sasha having fun here.
In Bardi news...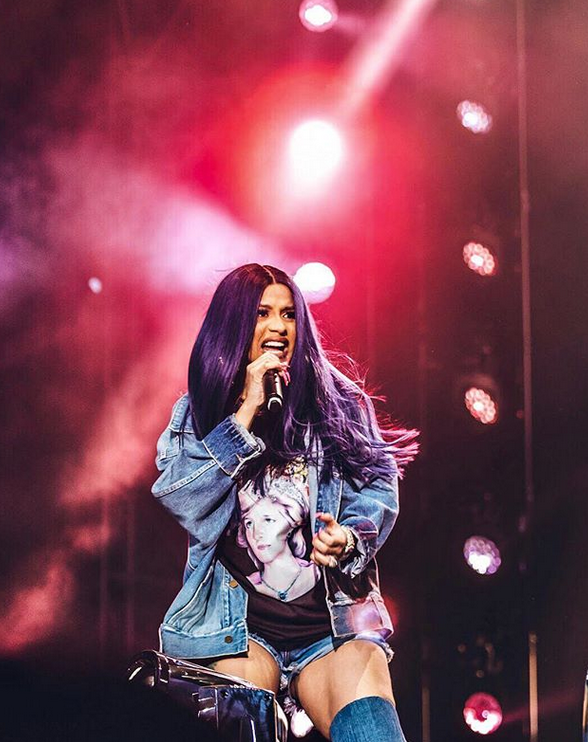 The "Bartier Cardi" rapper hit the stage during the festival after announcing this was her last scheduled performance until she has the baby. However, she did pop up on stage and performed with Ozuna during the 2018 Latin Billboard Awards.
While performing, Cardi said ever since she announced she's pregnant, b*tches have been popping up left and right with new "beefs." "Everyday, b*tches got something to say. Wait till I drop this baby. What's good?," she said.
Check it below:
Speaking of BEEF, let's talk about this $10 million lawsuit her ex-manager filed against her.
We previously told you that Cardi's former manager Shaft (real name Klenord Raphael) had filed a $10 million lawsuit against her for breach of contract. He claims he discovered her, nabbed her the "Love & Hip Hop" deal, AND he (and his team) supposedly wrote and produced her hit single, "Bodak Yellow." He claims she sought him out in 2015 to help catapult her career from Instagram star to rap superstar.
Now, Cardi is responding via her attorney Paul LiCalsi, a partner at Robins Kaplan LLP, confirming she signed a 360 deal.
She explained to Page Six:
"After a full investigation of the facts, we will be responding to these allegations in detail in court. But even on its face, Shaft's claim raises a huge question. For a hefty commission, a manager promises to carefully counsel and guide an artist in her or his career. In exchange, the law imposes a high fiduciary duty on the manager to always act in the artist's best interest, not engage in conflicts of interest, not overreach, and not self-deal."

LiCalsi suggests that Shaft signed on as Cardi B's manager for a 20 percent commission, then signed her up through a different company in a "deal that takes 50 percent of her music royalties from Atlantic Records, 50 percent of her music copyrights, and 25 percent of her other earnings." He asked, "How does that comport with his fiduciary duty as her manager?"
It was previously reported Cardi is accusing Shaft of stealing money from her by telling her she was being paid less than she actually was.
Amid the lawsuit, Cardi hopped on Instagram to talk about losing people in life:
She also was on Instagram Live recently where she talked about about how easy it is for people to believe all the negative things about her but never believe or praise her for the positive as easily. Hey, that's called life.
In Migos news...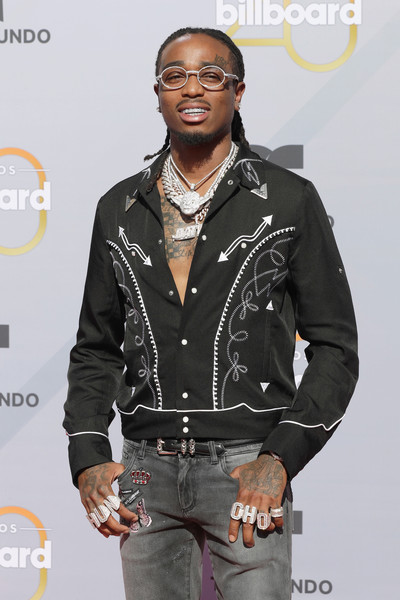 Rapper Quavo has been charged with battery after a physical altercation with a hotel valet in Las Vegas.
TMZ reports:
Quavo got into a scuffle with a hotel valet this weekend in Vegas -- and we just found out the Migos member was slapped with a battery charge.

Law enforcement sources tell us ... Quavo and his entourage rolled into the Encore Hotel & Casino with an envoy of SUVs early Saturday morning after performing in town earlier that night. They were told by a valet that they had to move their car because of an ambulance that was set to arrive.

We're told the valet's order pissed off Quavo, and he and 3 other guys got into a scuffle with the guy. Chaos ensued, and hotel security detained the men -- one of whom you see being hauled inside. Cops were eventually called ... but nobody was arrested. All 4 guys were cited and released -- Quavo included.

The rest of Migos and Cardi B were present, but weren't involved in the altercation.
Here's a video of the aftermath:
Hmm...if the rumors about Quavo and Nicki Minaj are true, she may want to leave this one alone before she does a Meek Mill instant replay. Just sayin...
Photos: @ iam_kingpee/@madenchynna/Getty