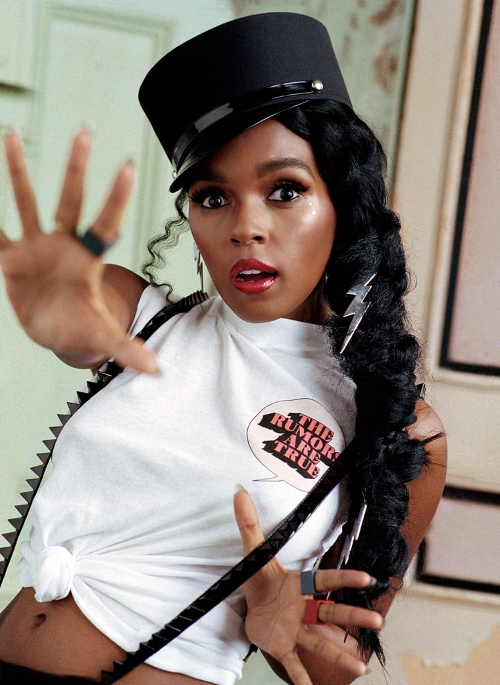 Janelle Monae's Dirty Computer just dropped today. And before it landed, she opened up about her sexuality and what this album has to do with it. Deets inside…
Janelle Monae's third studio album Dirty Computer descended on her FANdroids today. With the album's release, she also shared a 44-minute "emotion picture" that's visually stunning and though provoking. We'll get into that in a bit.
Before she unleashed Dirty Computer to the masses, the "Electric Lady" chopped it up with Rolling Stone magazine where she put a long running rumor to rest. Since popping up on the music scene with her androgynous steez, some folks wondered if she played for the other team or not. Turns out, it's a bit more complicated than that.
"Being a queer black woman in America," she says, taking a breath as she comes out, "someone who has been in relationships with both men and women – I consider myself to be a free-ass motherfucker." She initially identified as bisexual, she clarifies, "but then later I read about pansexuality and was like, 'Oh, these are things that I identify with too.' I'm open to learning more about who I am."
So, there you have it. According to Webster's dictionary a pansexual is a person not limited in sexual choice with regard to biological sex, gender, or gender identity.
And everyone has been researching it:
 'Pansexual' is our top search today. https://t.co/DJ8gUex3qs

— Merriam-Webster (@MerriamWebster) April 26, 2018
It's unclear who Janelle is currently dating, but the rumor mill is buzzing that she could be in a romantic relationship with Tessa Thompson after she starred in Janelle's "Make Me Feel" and "PYNK" videos. The chemistry between them is quite intense. Remember that lollipop scene?
The future is bright. https://t.co/xuzKt97vQq

— Tessa Thompson (@TessaThompson_x) April 27, 2018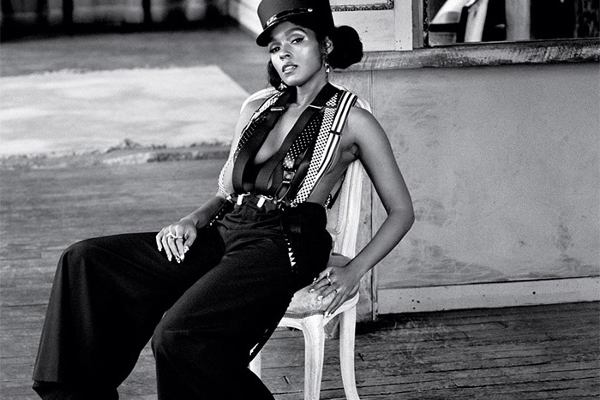 Growing up in a devoutly Baptist family in Kansas City, Kansas, it's clear why Janelle wasn't as open with her family about who's she dating and hooking up with. We all know how devout Baptists feel about homosexuality. She said the album is like a reaction to homophobic people.
"I literally do not have time," she says, laughing, "to hold a town-hall meeting with my big-ass family and be like, 'Hey, news flash!' " She worries that when we visit Kansas City tomorrow, they'll bring it up: "There are people in my life that love me and they have questions, and I guess when I get there, I'll have to answer those questions."

Over the years, she's heard some members of her family, mostly distant ones, say certain upsetting things. "A lot of this album," she says, "is a reaction to the sting of what it means to hear people in my family say, 'All gay people are going to hell.' "

She began questioning the Bible and her family's Baptist faith early on. Now, she says, "I serve the God of love" – love, she's determined, is the common factor among all religions, an idea Stevie Wonder expanded on in a Dirty Computer interlude.
The WONDALAND chief (yes she runs her own record label) says she want others to gain courage to be "dirty computers" and not be concerned with fitting into society's norms.
"I want young girls, young boys, nonbinary, gay, straight, queer people who are having a hard time dealing with their sexuality, dealing with feeling ostracized or bullied for just being their unique selves, to know that I see you," she says in a tone befitting the "commander" patch on her arm. "This album is for you. Be proud."
You can read her full interview here.
To accompany her new album, Janelle also released a 44-minute "emotion picture" with contributions from Zoe Kravitz, Pharrell Williams, Brian Wilson and Grimes. The piece debuted on BET last night. Check it out below:
Photos: Matt Jones via Rolling Stone