The first round of the 2018 NFL draft when down last night and we've rounded up all of the YBF hotties, their fashions and several inspirational stories to get you through the day. Get it all inside…
It's that time of year again when the NFL selects its newest class of rookies. And the rookies have captured our undivided attention. There are several fine a** zaddies who just made it to the NFL, and now we'll be semi-stalking them during the season. We kid.
We spied cutie Alabama baller Rashaan Evans when he hit the carpet at the AT&T Stadium in Arlington, Texas for the 2018 NFL Draft. That tailored suit, that bald head and those white teeth did us in.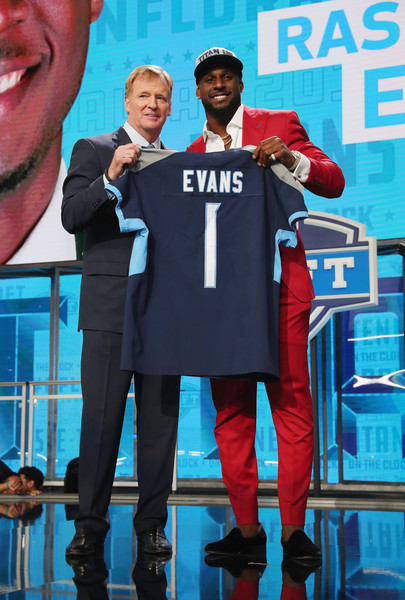 The 21-year-old linebacker comes from a football & well educated family. His father, Alan Evans, played football for Alabama. However, Rashaan wanted to make his own legacy and decided to pick a scholarship with the Crimson Tide over his father's Auburn Tigers. By the way, his mother Chenavis Evans has four degrees from Auburn.
Fine and smart genes.
Now, he'll be flexing his talents for the Tennessee Titans. He was the 22nd pick overall.
This is family business. #TitanUp#NFLDraft (: Eric Espino/@NFL) pic.twitter.com/BblAruTcPx

— Tennessee Titans (@Titans) April 27, 2018
He's on his way to Nashville. #TitanUp#RashaanEvans + Titans = "Match Made in Heaven" pic.twitter.com/TdEDs6rvHq

— Tennessee Titans (@Titans) April 27, 2018
Let us start looking up Tennessee Titants ticket prices...for a friend.
Another hottie we noticed...
NC State cutie Bradley Chubb was the #5 overall pick who's heading to play for the Denver Broncos. He'll be helping out the defense as a defensive end.
Welcome to the family, #BradleyChubb@astronaut's #BroncosDraft night in 's » https://t.co/ClQgDRWWnhpic.twitter.com/Tz8J8jWEdJ

— Denver Broncos (@Broncos) April 27, 2018
Bradley is on his way to Denver right now:
.@astronaut is headed home, #BroncosCountry! pic.twitter.com/j9vK0A6P2V

— Denver Broncos (@Broncos) April 27, 2018
Another hottie we noticed...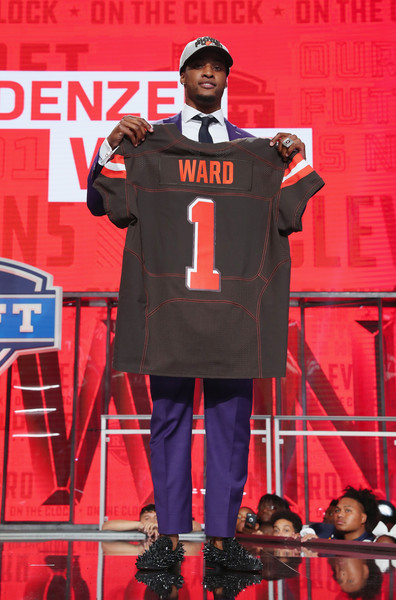 Ohio State cornerback Denzel Ward, picked #4 overall, will be taking his talents to the Cleveland Browns. And he's ready to get to work:
"I'm ready to get to work!"@denzelward with a shout out for the fans: pic.twitter.com/UPu1OqxnjS

— Cleveland Browns (@Browns) April 27, 2018
Also...
Penn State running back Saquon Barkley snapped it up with NFL Commissioner Roger Goodell after being picked #2 overall by the New York Giants.
His teammate Odell Beckham Jr. can't wait to get out on the field with him:
Btw 26 in the big blue jersey WILLL be the number one sellin Jersey in America next year. Takin all bets!!!? @saquon can't wait Lil brudda

— Odell Beckham Jr (@OBJ_3) April 27, 2018
Not only did he make it in the NFL, but two days prior he became a first time dad.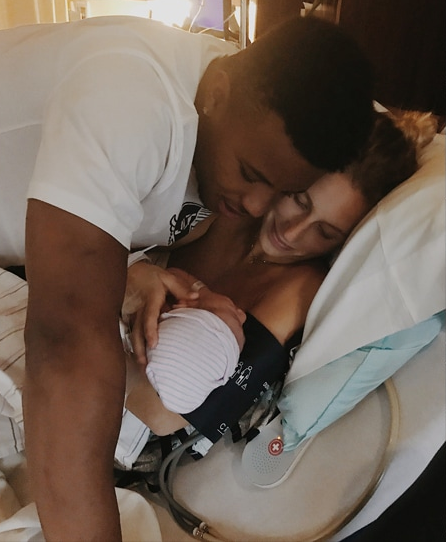 He and his girlfriend Anna Congdonwelcomed a bouncing baby girl, named Jada Clare Barkley, on April 24th. 
Hmph.
Congrats.
As for the evening's fashions....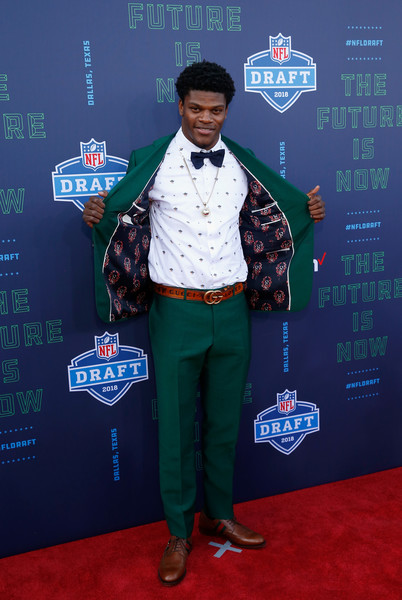 The draftees always love to show out.
Lamar Jackson of Louisville was Gucci'd down to the shoes. We're not sure why he chose a shirt with UFOs on it, but we love that he's not afraid to play fashion.
He was picked at #32 overall to play QB for the Balitmore Ravens and he's super optimistic about the upcoming season:
"Y'all gonna get a lot of wins. I'm coming." -@Lj_era8pic.twitter.com/lcOQ2gL3Me

— Baltimore Ravens (@Ravens) April 27, 2018
Another fashionable hottie on the carpet...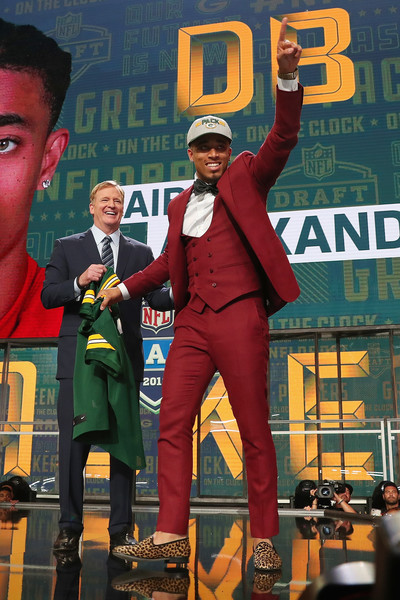 Jaire Alexander of Louisville kept it dapper in a maroon suit with cheetah print loafers. The cornerback was the #18 overall pick and he's headed to Green Bay Packers.
Now, grab your tissues...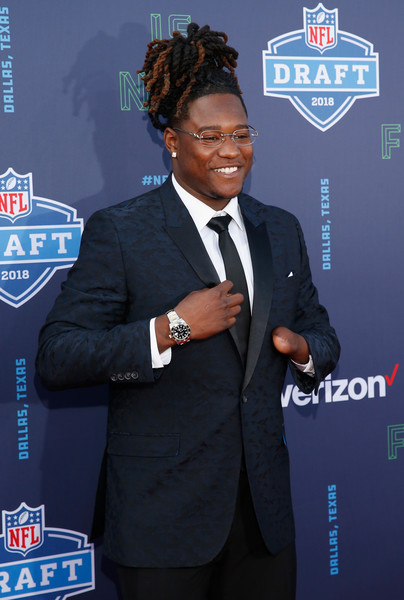 There were several inspirational stories told about the rookies headed into the NFL, but Shaquem Griffin's story had us almost in the ugly cry.
The UCF linebacker doesn't have a left hand, yet, he was able to become a standout player for the Knights. He reportedly bench pressed 225lbs at least 20 times during the Combine and then ran the 40-yard dash in 4.38 seconds. Shaquem, who's brother was picked by the Seahawks in round 3 last year, insists he can go out there and play just as good as any other professional athlete.
"I don't see it as a handicap and I have never looked at it that way," Griffin says. "I hope I am an inspiration for people, to see I can do whatever I want. I haven't seen anything I couldn't do. I'm never going to let someone put a label on me."
Yes!
Unfortunately, Shaquem wasn't picked in the first round as NFL teams are leery about players with any kind of physical issues. However, we feel like someone is going to pick him up. We're keeping our fingers crossed.
Another inspiring story we learned...
When Marcus Davenport was born, we doubt his parents were thinking they had a NFL baller on their hands. The UTSA grad was born prematurely and only weighed in at 3lbs.
TexasFootball.com reports:
Doctors were forced to deliver him through dry birth.
"They had to basically pull him out," his mother, Ronnetta Davenport, said. "And when he came out, he looked like Mike Tyson got a hold of him."

The parts of his body that weren't yellow with jaundice were black and blue with bruises. At just three pounds and 14 ounces, he easily fit inside the palm of either parent's hands. For the first day and a half of his life, machines breathed for him while his lungs developed. He spent the first 10 days of his life with a tube shoved down his throat, reliant on Ron Davenport to provide valuable, invigorating nutrients through a feeding tube.
Now, the 6′ 7″, 256 pounds baller is heading to play defensive end for the New Orleans Saints after they scooped him up as the #14 overall pick. Nice!
This never happened before in NFL Draft history...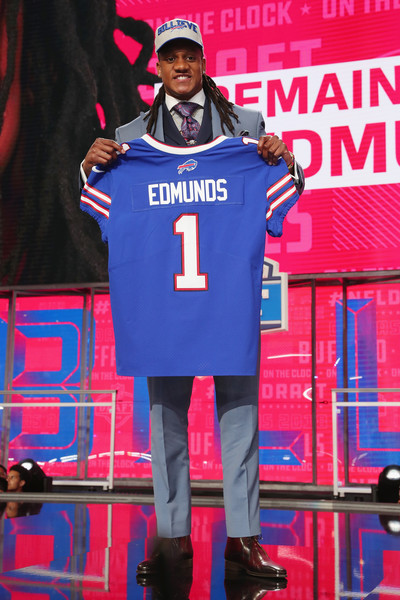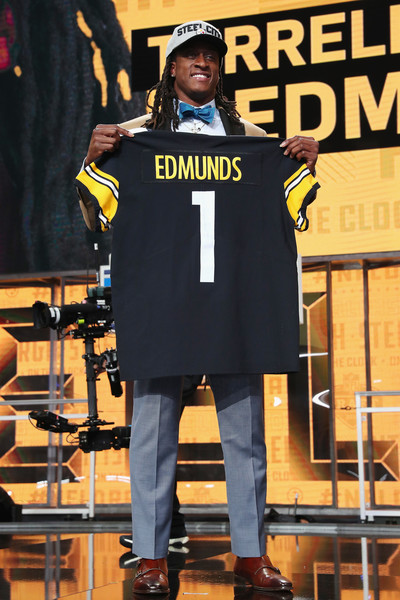 Tremaine and Terrell Edmunds made history last night as the first brothers to be selected in the same first round NFL Draft. Linebacker Tremaine is going to the Buffalo Bill after he was picked at #16, while his brother/safety Terrell will be going to the Pittsburgh Steelers, picked at #28. They both went to Virginia Tech and are 16 months apart.
"I honestly don't know how I'm doing this interview right now because I'm so filled up with joy, first for my brother," Terrell Edmunds said. "I was so excited for him. … Then hearing my name called, I can't speak enough for my family."
Awww!  At 19 years old, Tremaine became the first teenager drafted since Amobi Okoye in 2007.
Can you imagine how their parents are feeling right now?!
By the way, they come from a football family. Their oldest brother, Trey Edmunds, is a running back for the New Orleans Saints. Their dad, Ferrell Edmunds, was a Pro Bowl tight end with the Miami Dolphins.
"It's a huge blessing for my family," Terrell said. "Having all three brothers in the NFL at one time, that's what we're really looking forward to."
Nice!
BONUS:
Steelers linebacker Ryan Shazier walked out on stage with his wife Michelle at the NFL Draft to announce the team's pick, Terrell Edmonds. This past December, he was hauled off the field on a stretcher after suffering a serious spinal injury. He promised he would walk again, and here he is. He also said he plans on getting his job back in the NFL.
We wish him nothing but the best!
Photos: Getty/Saquon's IG