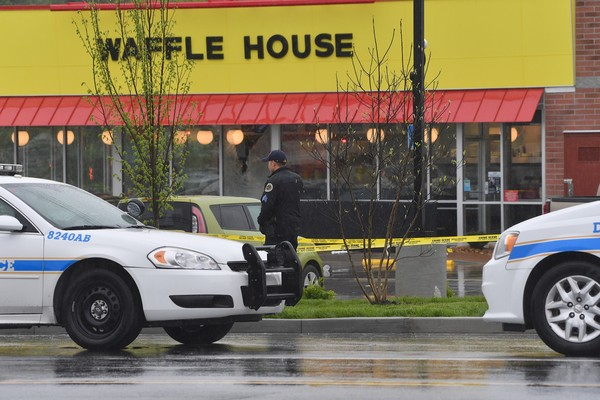 Accused Waffle House gunman Travis Reinking has been captured by Nashville police! Deets inside…
29-year-old Travis Reinking, Waffle House shooting suspect, who fatally shot four people with an assault rifle, has been caught! Thankfully.
According to the Nashville police department, the suspected shooter was picked up moments ago in a wooded area near Old Hickory Blvd & Hobson Pk.
BREAKING: Travis Reinking apprehended moments ago in a wooded area near Old Hickory Blvd & Hobson Pk. pic.twitter.com/00ukga37s6

— Metro Nashville PD (@MNPDNashville) April 23, 2018
Earlier today, police found an empty laptop bag they believe belongs to the suspected shooter. A Nashville resident found it near a road. Police didn't find anything in the bag except a handwritten ID card with Travis Reinking's name. It's unclear if the shooter threw it out before or after the shooting.
This laptop bag, empty except for a handwritten ID card bearing the name Travis Reinking, was found by a citizen near the I-24 Old Hickory Blvd interchange. Unknown whether it was discarded before or after the shooting. Reinking is believed to have been in that area Sat. night. pic.twitter.com/yduQlXvAFE

— Metro Nashville PD (@MNPDNashville) April 23, 2018
Law enforcement had been looking for the alleged shooter since he walked into a Waffle House in Antioch around 3:25AM Sunday morning partially naked and let off rounds from an AR-15 assault rifle, killing four people and injuring six. We can thank #WaffleHouseHeroBae (real name James Shaw Jr.) for his brave move disarming the shooter as he tried to reload his weapon.
Before cops got a hold of the suspected shooter, they expressed concern for the people in the area. "He shows signs of significant instability," Don Aaron, a spokesman for the Metro Nashville Police Department, said, citing news that Reinking breached a White House security barrier in July. "We are concerned for the citizenry, not just here but anywhere else he may go."
During the manhunt, police went door-to-door on patrol in neighborhoods close to the Waffle House to complete wellness checks.
No motive yet. "We don't know why he went into the Waffle House," police say https://t.co/V4s864ZYPc

— Meg Wagner (@megwagner) April 23, 2018
The motive behind the shooting is still unclear at this time.
Shockingly, White House press secretary Sarah Sanders praised #WaffleHouseHeroBae for stopping the gunman.
"I also want to commend the heroic actions of James Shaw Jr.," Sanders said, crediting him with saving lives. She added that Trump "offers condolences to the victims and their families" and is "monitoring the ongoing situation. Hmph.
We're SO glad this sap sucker was caught!!
Photos: Getty