Lamar Odom wants to get you high. But not just any high, a healthy one. Get the deets on his new cannabis venture inside. Also, Wendy Williams is backtracking after throwing shade at the Clark Sisters! Find out how the gospel singers' fans had to humble her inside…
If you were ever in doubt if marijuana has healing powers, let Lamar Odom convince you it does.
The former NBA player credits the green leaf's beneficial effects for his recovery after his near fatal drug overdose in October 2015. Lamar is SO sure about the positive effects from marijuana that he has started his own cannabis company called "Rich Soil." And this isn't no any old "reggie" weed. This is the cream of the crop. LO wants to help people like Rich Soil has helped him with a constant flow of "healthy highs." He's perfect proof that it works, dubbing himself a "walking miracle."
The brand offers "luxury organic cannabis" and "high end wellness cannabis products." So it sounds like you can get your smoke on without worrying about inhaling/digesting added chemicals.
"I want to get people better, bro," Lamar told TMZ photogs. "If I can get 'em high, I can get 'em better." He shared he has been working on the cannabis company for about a year and now, all of his hard work has paid off.
The former Lakers baller also mentioned an NBA comeback. Oh?
Peep the clip below:
Just be careful with the edibles. We hear they give you a different type of high if you're not careful.
In shady news...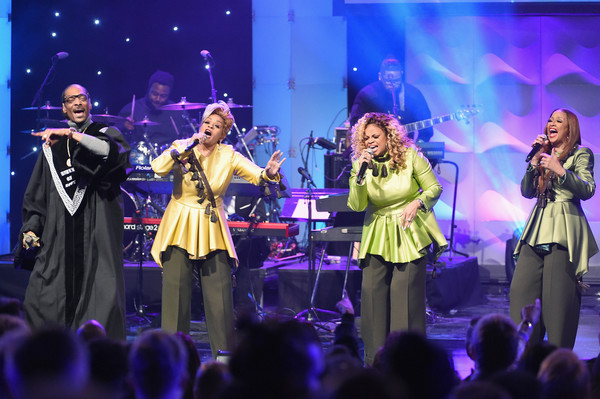 Y'all! The other day Wendy Williams TRIED it while dishing on The Clark Sisters, a legendary gospel singing group, during her "Hot Topics" segment. The daytime talk show host talked about Snoop Dogg's gospel album, titled Snoop Dogg Presents: Bible of Love, success and mentioned the LP had reached No. 1 on the Billboard Gospel charts.
The 53-year-old host took that moment to shade the Clark Sisters, who are featured on the album, saying they should feel some type of way since they haven't topped any music charts during their 40+ years career. Say what now?
"If I were the Clark Sisters, would I be mad that Snoop got No. 1?" Wendy asked. "You know the Clark Sisters, they've been doing gospel forever. Have they gotten No. 1?"

"Well, step your game up," she answered.
Really, Wendy? Peep the clip below:
Wow, so @WendyWilliams dissed the Clark Sisters and clearly didn't realize how legendary they truly are. Or how many #1 hits they actually DO have. Lord, she needed to do a little more research before speaking on them smh pic.twitter.com/tzlHxksoBD

— DaLaun Dillard (@DDillardTV) April 18, 2018
As expected, Black Twitter, and several YBF celebs, got to work to gather Wendy's wiggery:
I would be nothing without the CLARK SISTERS. I'm not even in the same category. I'm just now getting to where they started. Salute.

— Kirk Franklin (@kirkfranklin) April 18, 2018
The Clark Sisters......one of thee most INFLUENTIAL groups of ALL TIME!!!!! Sampled, borrowed from, imitated by groups and singers of alllllllll genres!!! Most recently sampled by Jay Z on the album 4:44 on the song Family Feud. #FACTS

— Michelle Williams (@RealMichelleW) April 18, 2018
Celebrating The Clark Sisters today, whose last album (released by us in April 2007) DEFINITELY hit #1 at Billboard. #WeAllWin#GospelMusic#TheClarkSisters#BringOutTheClarkSisterspic.twitter.com/CkzZ3wav8B

— Motown Gospel (@MotownGospel) April 19, 2018
Kierra Sheard, the daughter of gospel singer Karen Clark Sheard, also spoke out...with receipts:
Gotta do your research Wendy!
After the backlash, Wendy responded. It wasn't an official apology, but she did mention how much she likes the Clark Sisters and then offered to have them come on the show:
Eventually the Clark Sisters addressed the drama, thanking all of their fans and friends for the support:
They never mentioned if they would go on the "Wendy Show" though. Hmmm...do you think they should?
Photos: @campgreenorganicsofficialpage/Getty