Meghan Markle has a major "Jackie O" fashion moment one month before she's set to tie the knot with Prince Harry. Meanwhile, her half-sister Samantha Grant is still talking. Get the latest on the royal wedding, plus peep pics of Sofia Richie practicing her step mommy duties inside…
Meghan Markle is on everyone's radar as we're one month away from her trekking it down the isle to to live happily ever after with Prince Harry. It's going to be the wedding of the century as we will gain our first American princess. Yes, we know she will not OFFICIALLY be labeled as a princess, but we love the idea of her being our American princess.
The royal bride-to-be had a huge fashion moment when she popped up at Commonwealth Women's Empowerment reception, hosted by the Foreign Secretary, at the Royal Aeronautical Society in London yesterday. It's likely her most iconic look to date. Why? Well, the 36-year-old took a page from former First Lady Jackie Kennedy's fashion book.  And y'all know THEY love ish like that. 
The former "Suits" star rocked a black 'Jackie o' dress from Black Halo, paired with a black Gucci mini Dionysus bag, and she accessorized her look with diamond earrings and jewelry from Canadian brand Birks.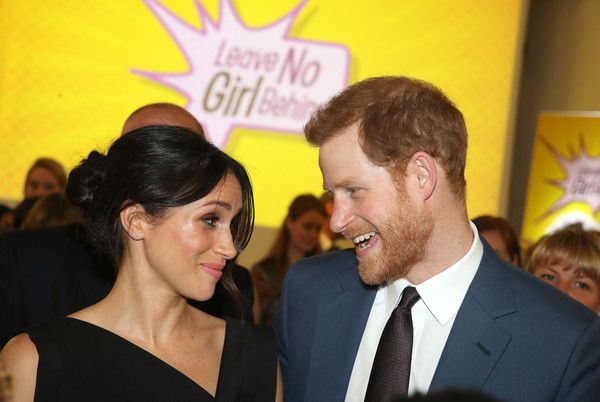 Prince Harry approved!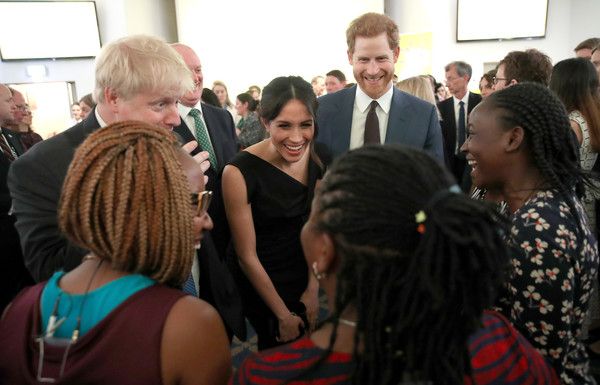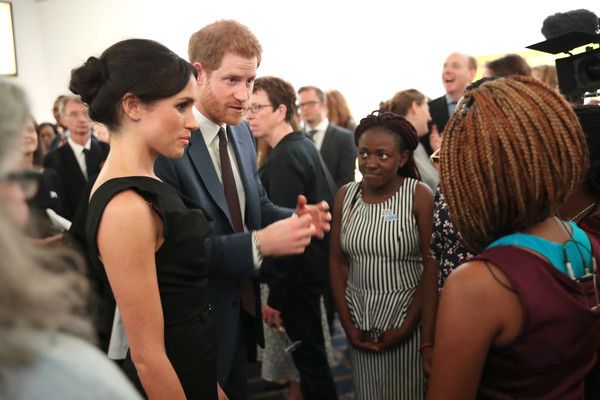 And so do we.
Before this spotting...
Meghan and her Prince attended a reception with delegates from the Commonwealth Youth Forum at the Queen Elizabeth II conference Centre on Wednesday. For the royal appearance, Meghan chose to the Audrey Pinstriped Stretch-Cotton Trench Dress from Altuzarra paired with a black blazer from Australian label Camilla and Marc and a monochrome Avalon Zip Top Crossbody handbag from Oroton, an Australian accessories brand.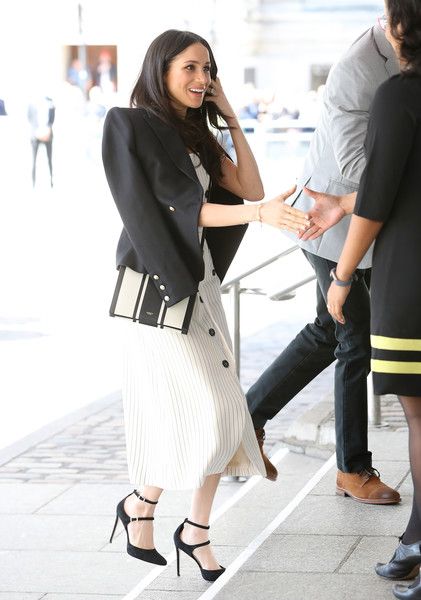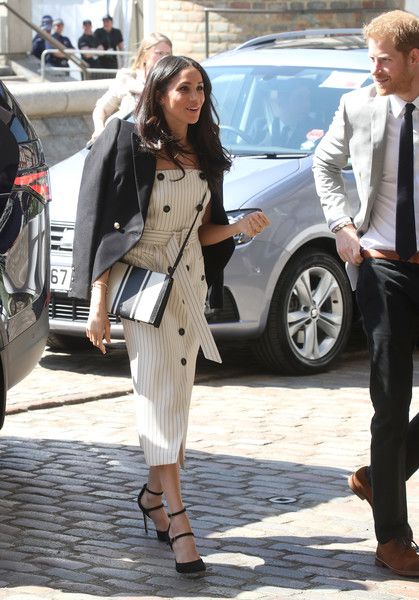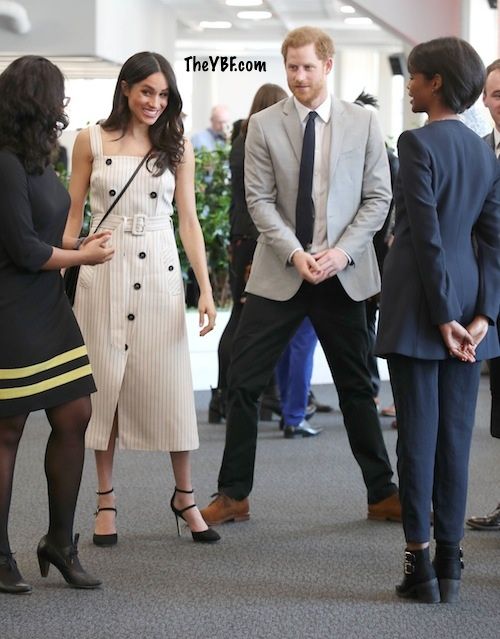 Meghan and Prince Harry were on official royal business as the Prince was recently given the new role as Commonwealth Youth Ambassador by the Queen. Since then, he opened the Youth Forum, which aims to give young people across the Commonwealth the chance to build cross-cultural connections and networks.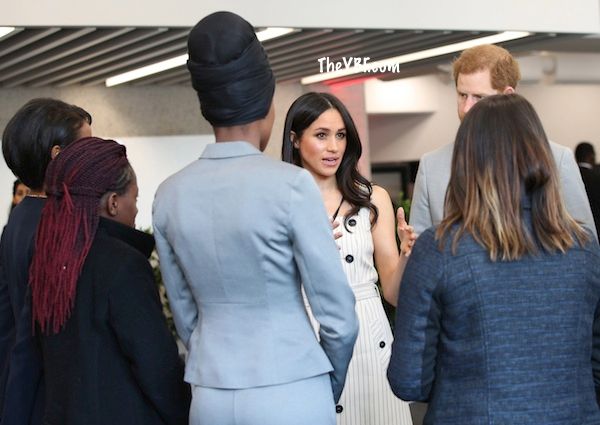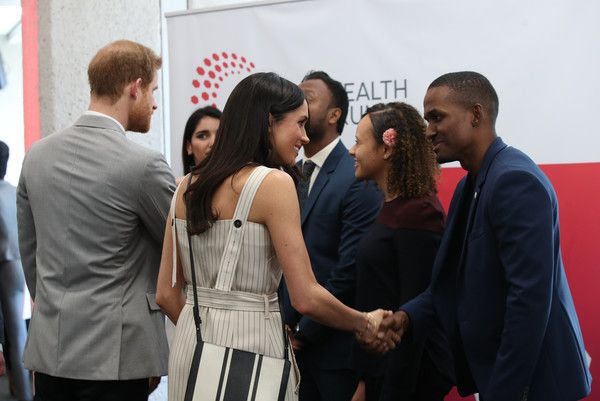 Speaking before guests, Prince Harry gushed about Meghan joining him
"In my new role I will work to support The Queen, my father The Prince of Wales, and my brother William, all of whom know that young people are the answer to the challenges of today," the Prince said. 
"I am also incredibly grateful that the woman I am about to marry, Meghan, will be joining me in this work, of which she too is hugely excited to take part in."
Aww!
Meanwhile...
Meghan's half sister Samantha Grant is STILL talking. Girl, really?
Well she is. And she had a message for daytime talk show host Wendy Williams.
British journalist Andrew Morton, who published Princess Diana's "Diana: Her True Story," stopped by the "Wendy Williams Show" to chat about his new unauthorized biography about the life of Meghan Markle titled, "Meghan: A Hollywood Princess."
While working on the book, the biographer spoke with Meghan's half-sister Samantha Grant and she wanted everyone to know they are NOT from Crenshaw, which has been previously reported. However, Crenshaw and Woodland Hills is literally miles away.
"Tell Wendy Williams we are not from Crenshaw in Los Angeles. We're from Woodland Hills. So, Meghan is a Valley girl," she said.
Oh. OK, girl.By the way, Samantha didn't receive an invitation to the wedding and she's pissed. So, she'll likely keep talking to keep her 15 minutes of fame going a little longer.
Peep the interview above.
As for another relationship...
Sofia Richie, daughter of singer Lionel Richie, is getting in some step-mommy practice. And she's not just easing into it. She's already tackling step-mommy life by looking after all three of her boyfriend Scott Disick's kids he shares with Kourtney Kardashian.
The 19-year-old and her 34-year-old boyfriend (who celebrates a birthday next month) took Scott's kids – Mason, Penelope and Reign– toy shopping at Toy Crazy in Malibu. A much different "outing" than she's used to, especially while all her friends were living their best lives at Coachella this same weekend.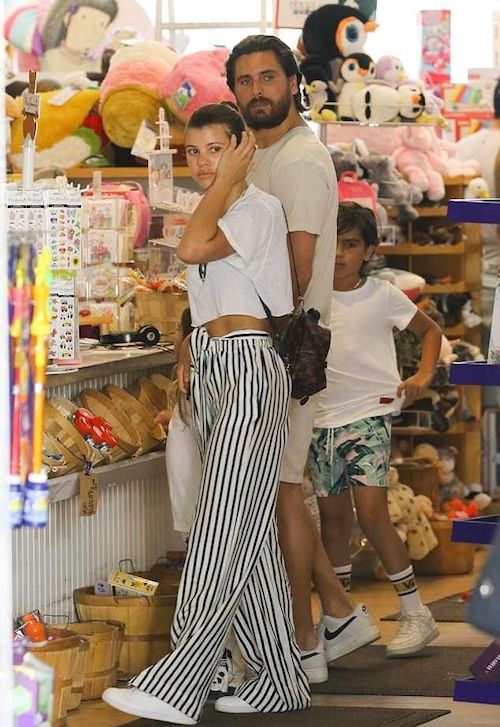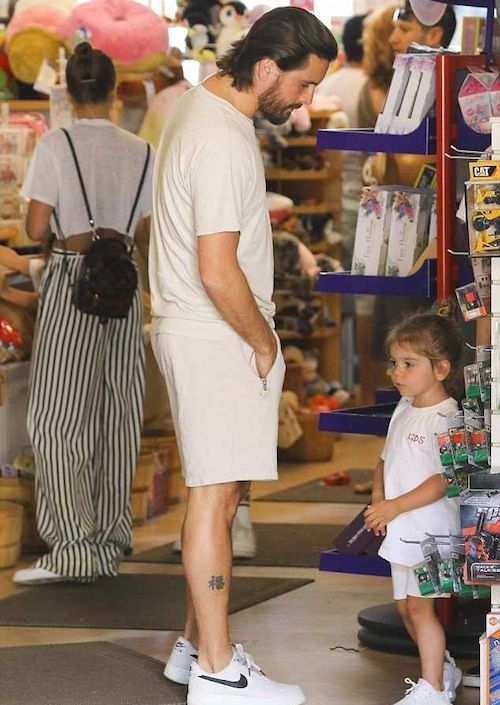 However, Scott's ex-girlfriend/children's mother Kourtney Kardashian WAS there at Coachella, so it could have gotten awkward.
Also...
Sofia made a grocery run at Erehwon Organic for stock up the fridge. She's going to need all the snacks for her when her boyfriend's kids visits. Apparently, the shirt she was wearing is the same shirt she wore during a sushi date with Scott earlier in the week.
So, how long do you think it will take before Sofia is over playing step mommy?  We give it three months (two of which will be her just trying to prove folks wrong).
Photos: Getty/Instar/Backgrid/Kensington's Palace Twitter