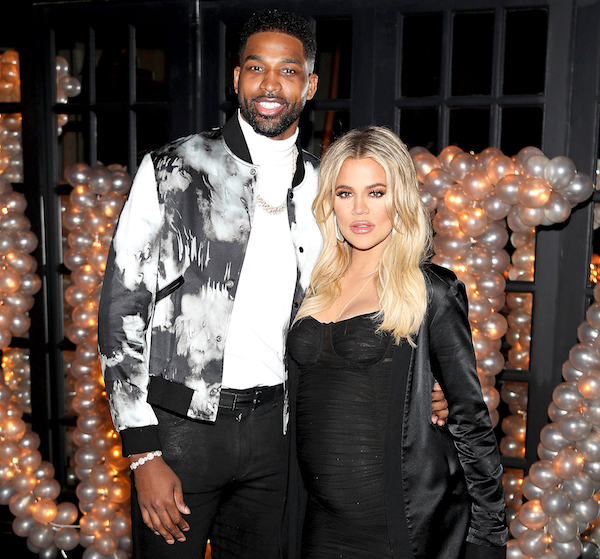 Savagery! Tristan Thompson's baby girl almost carried the Kardashian last name amid his cheating scandal that came to light days before Khloe Kardashian gave birth. Get the deets, plus everything else you need to know about the scandal inside…
Last week, the Internet EXPLODED when receipts of Tristan Thompson cheating on his then pregnant girlfriend Khloe Kardashian hit the fan days before she gave birth. He wasn't caught with just one girl. There are several. And there is video footage to back up the cheating accusations. Not getting out of this one easy.
With so much noise about Tristan's cheating ways, it apparently affected Khloe's decision on the last name of her daughter with the Cleveland Cavaliers baller.
Sources tell TMZ, Tristan and Khloe decided on their daughter's name, True Thompson, about a month ago. However, when news broke that Tristan was cheating (with videos of him tonguing down other chicks), Khloe started having a change of heart. She didn't know if she wanted to give the baby Kardashian or Thompson as the last name when it was time to fill out the baby's birth certificate.
After a few days of thinking it over, the "Keeping Up With The Kardashians" star decided to give the baby Tristan's surname.
The site also noted someone close to Khloe placed an order for blankets and other baby stuff to be embroidered at Petit Tresor in Beverly Hills. It's reported the order was made at the same time the scandal broke and the store was told to hold off stitching "TT" on the items. Once Khloe made her decision, the call was made to use the initials "TT" instead of "TK."
Oop.
After news broke about Tristan's infidelity and right before Khloe gave birth, there were reports that Khloe was experiencing "early contractions." It could have just been a coincidence since her due date was in late April, or the stress of finding out her man was cheating could have sent her into labor. A whole mess.
When Khloe started having contractions, the Kardashian Klan jetted to Cleveland to be by her side. Sources say Khloe believes Tristan was set up. Really, girl?
A source told the Sun Online:
"Khloe knew about the first video taken months ago and was somehow convinced by Tristan that it was a set up.

"They did fight about it but she wanted so much to trust him and she was already pregnant with his baby.

"She thought they were the aggressors and took the video. She wanted to believe it was all a set up.

"She only just learned yesterday about the latest videos and pictures taken on Saturday that included him taking Lani into a hotel room twice and she is devastated. This was an incredibly painful blow for Khloe."
OK, girl.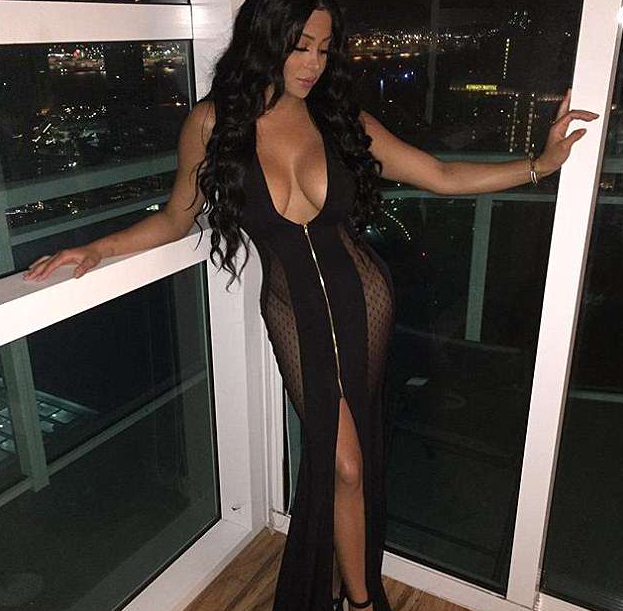 One of the chicks Tristan was slobbing down in the club back in October came forward to address the scandal. The woman caught kissing Tristan on the surveillance video (that was captured in October 2017 in a D.C. club) name is Marie (above). She claims she thought Tristan's relationship with Khloe wasn't that serious and she had no idea he had a baby on the way. Hmm…does she not get on the Internet?
Unfortunately for Khloe, it gets worse.
There's a fifth woman linked to the Cavaliers player. According to The Daily Mail, a woman named Tania had been getting cozy with Tristan while Khloe was pregnant. Hours after Tristan and Khloe welcomed baby True, the site got their hands on flicks of the baller meeting up with the high-end sales associate at the Four Seasons Downtown in Manhattan back in November. In fact, they were spotted at the same hotel multiple times over the last few months, dined together and hit up the club together.
It's reported, Tania hopped on a flight back in February to watch Tristan and the Cavaliers hit the court against the Boston Celtics. As for their latest spotting, they were photographed together on March 24th at Pergola, a NYC nightclub. Damn. Weeks before the baby was born. Trash!
See flicks of the fifth woman here.
Also...
Cardi B, who recently went through her own cheating scandal involving her fiance Offset, has some words of advice for Khole.
During an interview with "Big Boy Neighborhood," the soon-to-be first time mom, who took her fiance back, dropped some encouraging words for Khloe:
"Just do what your heart feel like doing, just do what your heart feels like is right," she said. "At the end of the day, everybody wanna act like they deacons and pastors and they relationships is perfect," she said.

"You don't know what type of things are happening in their relationship." "You don't know how old certain receipts are," she continued. "People like to make things seem like 'This happened two weeks ago!' … Let them work things out."
Peep the full interview above.
We also hear Khloe is still deciding on whether she will stay with Tristan, as her whole family has now made it clear to her that he is a serial cheater.  And they allegedly told her this before they got serious as well.
"The Kardashian family has been very cold towards Tristan since the scandal broke. They aren't pleased with him at all and are heartbroken for Khloe. Everyone has remained civil this past week for the sake of the baby, but deep down they are all furious. They feel Tristan was deceitful and are ashamed that he was lying to all of them," the source tells E! News.

"Loyalty is huge in their family, and once the trust is lost, it's hard to get everyone on board again. The family has Khloe's back and are only worried about making sure True is taken care of on all fronts. They are urging her to do what's best for True."
So, do you think Khloe is going to work things out with Tristan or nah?
Photos: Instagram