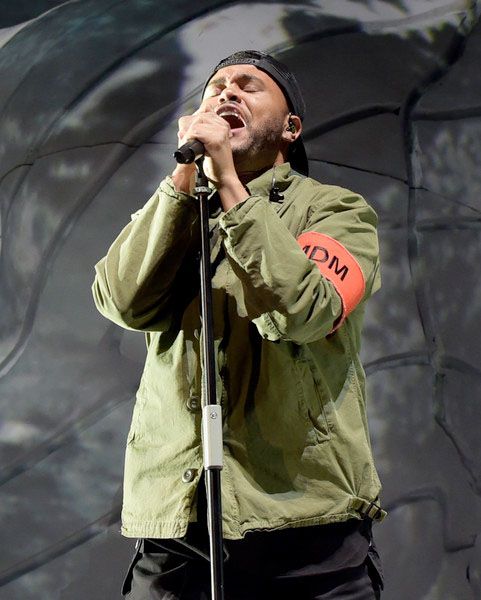 R&B singer The Weeknd hit the stage at Coachella and had everybody in their feelings.  Including himself.  Watch him breakdown seemingly over his ex Selena Gomez, then pick up the pieces hours later with his other ex and Chantel Jeffries....
Emo Canadian crooner served up an emotional set, breaking down in tears while performing "Call Out My Name" and "Privilege" while headlining Coachella night one.  the tracks are from his new six-song EP My Dear Melancholy.  And he may have just proved what everybody was thinking: Certain songs are def about his ex Selena Gomez.
The R&B crooner couldn't hold back his emotions and left it all out on the stage.
Since The Weeknd's new EP is all about heartache and relationships, its no wonder fans speculated he got all emotional over his failed relationship with Selena Gomez. It was the first musical offering since they split. The couple dated for 10 months after calling it quits in October 2017.
On "Call Out My Name," he says a line about almost cutting a piece of himself for a lover, and she was simply using him as a placeholder.  Folkls swear this is about him giving a kidney or something esle to Selena (she got one from a friend instead) and the she quickly moved on back her ex, Justin Bieber.
See his emotional performance below:
However, The Weeknd isn't THAT heartbroken.  He was all up on Justin's other ex Chantel Jeffries, who now says she's a DJ.  Chile...
The Weeknd x Chantel Jeffries pic.twitter.com/elM4TR7jBj

— Hype And Power (@hypeandpower) April 15, 2018
They were seen hugging each other and she "put her head on his shoulder" and that may even be a kiss in one of the pics.
Everybod'ys got to have a hustle these days, we guess.
Not only that, The Weeknd ran into his ex-Bella Hadid and was reportedly real touchy, feely with her.  Sources say they were spotted kissing all night at the festival one night.  We wonder if they mistook Chantel - who has changed her appearance once again - for Bella. Hmph. 
Photos: Getty