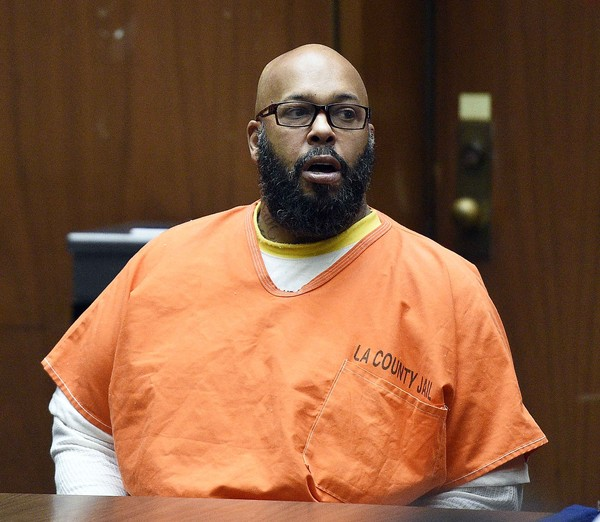 Suge Knight doesn't appear to be doing well and was sent to the hospital right before he was set to stand trial for murder. Get the latest, plus what Russell Simmons had to say about his newest rape allegation inside…
It's STILL not looking good for Suge Knight.
It's no secret Suge Knight isn't doing the best while behind bars. Now, he's in the hospital.
According to TMZ, the former Death Row Records honcho, who's waiting to go on trial for murder, was rushed to the hospital from the L.A. County jail on Tuesday around 11AM. And he's not doing well. He's been there for two days. It's unclear what exactly sent him to the hospital.
As you may know, Suge has been treated for blood clots since his incarceration in 2015 after he wascharged with murder and attempted murder following his hit-and-run incident where he ran over two men in a Compton parking lot, killing 55-year-old Terry Carter. He pleaded not guilty and said he acted in self-defense. As for his deteriorating health, he also underwent emergency appendix surgery in March 2016 and there was that one time he passed out during a court hearing.
The founder of Death Row Records, who copped his 16th lawyer last month, was due to face trial on April 9th, but it was postponed two weeks ago amid his legal team shakeup. He'll be due back in court on April 23rd. God willing.
In other legal woes...
A few months ago, we told you Russell Simmons was being sued for $5 million after aspiring filmmaker Jennifer Jarosik came forward with claims that he raped her inside of his Beverly Hills home in exchange to fund her project. You can read all of the paperwork here.
Now, the Hip Hop mogul is responding to her lawsuit. He says ALL of their encounters were consensual and that she's only looking for a quick come up. Not only that, he bashed her parenting skills and said she has mental issuesas well.
The Blast reports:
Simmons claims Jennifer Jarosik is lying about the accusation the Def Jam mogul raped her because she has allegedly been found by a court to have a "propensity to exaggerate." They say she suffers from "16 untreated mental health issues," and has even been found "unfit to properly parent her young 17 [sic] son."

The filing claims those "same qualities" are evident in Jarosik's complaint, which they claim is filled with lies against Simmons who "has only ever tried to help her."

He has admitted the two had a consensual relationship over the years, but Simmons says Jarosik regularly sent him e-mails and messages pursuing a serious relationship, and that she confided in him about her "abandonment issue caused by her father." After the alleged incident in 2016 where Jarosik claims Simmons raped her, he says she sent "unsolicited nude photos."
Perry C. Wander, Jennifer's attorney, responded to Russell's claiming telling the site, "Ms. Jarosik is a loving mother and a good parent and her parenting abilities have no relevance in this matter."
Russell has his hands full these days. Outside of this lawsuit, he's also beinginvestigated by the NYPD after two other women came forward with rape and sexual assault allegations. As of now, about 14 women have come forward with sexual assault allegations, resulting in Russell stepping down from his own company, Def Jam.
Photos: Getty