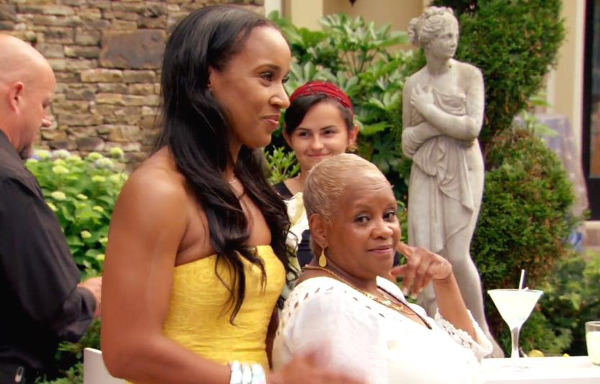 "Married To Medicine" star Miss Renee is putting all of the fakery from her "friend" Dr. Contessa Metacalfe on front street. Sip the tea inside…
"Married To Medicine" star Miss Renee (aka Renee Byrd) is spilling all the tea about her relationship with her "boss"/"friend" Dr. Contessa Metcalfe. Y'all know these two have gone through it on the show.
Miss Renee, singer/mother of singer Donell Jones, claims the only reason Dr. Contessa is even on the show is because of her. She said Dr. Contessa tried to get on "Married To Medicine" in the past, but producers said she was too boring. Once Contessa told producers about Miss Renee, they were interested in bringing her on the show. Her words.
"The lady [Married To Medicine production] told me that I was the one that got Contessa on the show," Miss Renee told AllAboutTheTea.com. "I was told I wouldn't be on contract," began Renee. "I only did the show FOR HER because I knew she wanted the show BADLY. She told me she wanted to be a screenwriter."
Miss Renee made claims that she was never paid to be on the show and felt like her "friend" Dr. Contessa used her.
"I told Contessa I would do one show, but it ended up that I was doing more than one. They kept calling me to film several scenes but no one was doing my make up and I wasn't being paid," Renee said. "I'm doing everything for her and getting nothing, so I started to feel used & abused."
Apparently, Miss Renee assumed she would come on the show and be presented as a friend of Dr. Contessa's, but that was not the case. She was introduced as the nanny even though Miss Renee was no longer working as Contessa's nanny.
"I was presented as her nanny that did not do what she told me to do, but I was not her nanny. When they (Contessa and production) called me I hadn't been her nanny for a very long time, because she was staying at home a lot," Renee spilled.
"Contessa called me from New Orleans pretending to act like I was at her house babysitting the kids, but she had hired another babysitter and was pretending while they filmed her," Renee revealed.
As they got into filming, Renee claims Contessa became jealous of her because producers wanted to film her more.
"Contessa wanted to be in the spotlight but the producers wanted to film me more, and Contessa became jealous of me. Contessa told the producers they're taping me too much. They were a lot of times Contessa didn't know I was coming to her house to film," Renee said.
While Renee didn't have a contract with the show, Contessa assured her she would pay her some of what she was making. But, once Contessa got mad at her, she said she wasn't giving her a dime.
"Contessa told me, they're only paying her $2,000 an episode but that she would give me something. But I was never paid," Ms. Renee said
She continued: "I filmed about 8 scenes and I haven't gotten a dime. After she got mad at me about the social media stuff, she texted me, 'get your money from Bravo because I ain't paying you nothing.' But she knows I wasn't under contract with Bravo, so they can't pay me."
Damn.
We wonder why Contessa never addressed this during the reunion. So many questions that need answers….
Photo: Reality Blurb