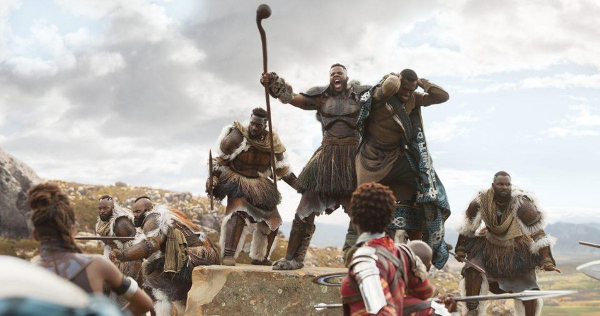 Black Panther is STILL booming at the box office becoming the highest grossing Marvel movie ever at the domestic box office. Get the official numbers inside…
All this winning at the box office!
We knew Ryan Coogler's Black Panther would be a force to be reckoned with, but we had no idea the superhero film would dominate the box office like it has.
By the close of its sixth weekend at the box office, the Marvel film will become the highest grossing superhero film in the U.S.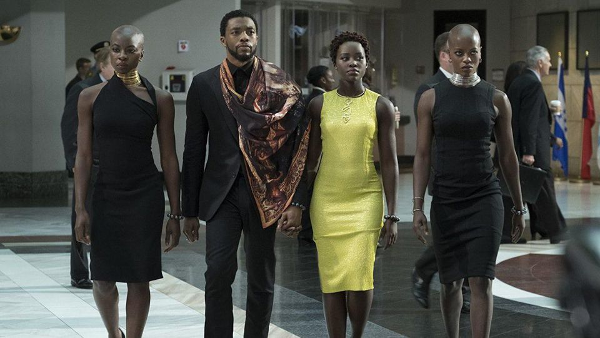 As of the time of this post, Black Panther has raked in a total $ $618.6 million at the domestic box office. By the end of the weekend, it's expected to surpass 2012's The Avengers' $623 million. Once they do that, Black Panther will be the top-performing domestic release in the Marvel Cinematic Universe. NICE!
The film is only one of seven films to ever earn $600 million or more domestically (it currently sits at No. 6 on the list).
On the global front, Black Panther has earned north of $1.2 billion. By the close of the weekend, it's expected to pass Iron Man 3 ($1.214 billion) to become the third-highest grossing superhero movie ever made behind The Avengers ($1.5 billion) and Avengers: Age of Ultron ($1.4 billion). Black Panther is the biggest solo superhero movie of all time in North America and worldwide. How you love that #BlackExcellence?
With all of the success of the film, lead star Chadwick Boseman has displaced Robert Downey Jr.'s Tony Stark as Earth's Mightiest Hero, and rightfully so.
Wakanda FOREVER! And ever, ever…
Avengers: Infinity War will hit theater in five weeks where T'Challa and Wakanda will play a major role. Peep the trailer below:
BONUS:
Black Panther breakout star Letitia Wright recently opened up about how she almost quit actin to focus on her Christian faith.
"I was going through a lot, a very difficult time in my life and I just needed to take a break from acting because I really idolized it. So I came off from it and I went on a journey to discover God and my relationship with God and I became a Christian," the Guyanese-born British actress told U.K. ITV show "This Morning." "It really just gave me so much love and light within myself. I felt secure and I felt like I didn't need validation from anyone else or from getting a part. My happiness wasn't dependent on that, it was dependent on my relationship with God."
She continued:
"I'm centered in who I am and I'm really grateful. I'm not perfect," she said. "Especially as a Christian you're not perfect. But you're walking everyday and trying to just stay connected and yeah it's helped me a lot so I'm really grateful." And look at her now.
Peep the clip above.
Photos: Marvel/Disney