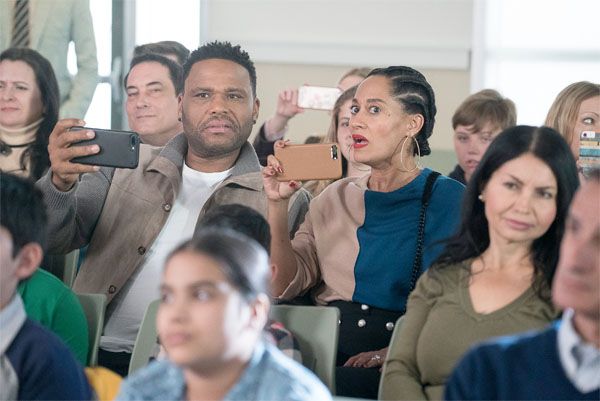 There's a "black-ish" episode ABC doesn't want you to see. Find out why, plus why "Stranger Things" may end earlier than expected…
It's hard to believe ABC is censoring one of its most socially conscious shows, "black-ish" after three successful seasons. But, the day has come.
Apparently, show runner Kenya Barris created an episode, set to air February 27th that was too real for ABC, so they collectively decided to pull the episode over "creative differences" between the network and the show runner.
According to Variety, the episode titled "Please, Baby, Please" was set to air February 27th, featuring Anthony Anderson's character Dre trying to get his infant son to sleep during an intense thunderstorm that kept the entire family awake. Dre attempts to read the baby a bedtime story, but ditches the plan when the baby keeps crying. He then began to improvise a bedtime story that touched on many of Dre's concerns about the current state of the country.
The episode covers several political and social issues, one of them being an argument between Dre and his oldest son Junior (Marcus Scribner) over whether athletes should kneel during the national anthem at football games.
"Given our creative difference, neither ABC nor I were happy with the direction of the episode and mutually agreed not to air it," Kenya said in a statement to Variety. "'black-ish' is a show that has spoken to all different types of people and brought them closer as a community and I'm so proud of the series," he continued.
"One of the things that has always made 'black-ish' so special is how it deftly examines delicate social issues in a way that simultaneously entertains and educates. However, on this episode there were creative differences we were unable to resolve," an ABC spokesperson told Variety.
On February 22nd, five days before the show was set to air, ABC announced the episode would be replaced with a rerun, but did not give any additional details as to why at the time.
We wonder if ABC decided to pull the plug on the episode about professional athletes players kneeling during the national anthem due to the fact that the network airs NBA games often, and folks at the time were wondering if the kneeling would also happen in the NBA.
Also, ABC is owned by Disney and they are a partner of the NFL (via ESPN), so we're sure they don't want an episode airing bashing the NFL.
Sounds like they don't want the political dialogue to mess up their cash flow.
What's more is that the "Rosanne" reboot is about to premiere and its going to be full force pro-Trump foolery...with a black child thrown in the mix. Hmph.
Michael Harriot, a writer at The Root, wrote an open letter addressed to Kenya Barris BEGGING him to "leak" the episode for the culture.  We guess those types of plitics are OK though.
Here's some of what he said below:
Dear Mr. Barris:

I bring you greetings from Dem Cut Boyz barbershop in Birmingham, Ala. where the honorable Lamont Brinson is my barber. I send this letter after a delegation from my haircuttery elected me to speak on their behalf, and presumably, for all of our people.

Yesterday, during our busiest time of the day, we hosted a discussion about the recent Variety article revealing that the February 27 installment of Black-ish entitled "Please, Baby, Please" had been shelved and replaced with a re-run. According to the report, the episode was canned because it dealt with the NFL kneeling issue and other political and social issues. We wanted to speak directly to you, Mr. Barris, because you are the creator of the show.

When we read that the episode featured Anthony Anderson's character Dre telling a bedtime story about his fears and concerns over the state of the country, we all agreed that it was a brilliant idea. We all realize we that America can only accept black truths if the revelations are embedded in dream sequences, superhero movie overtones or set to a beat that causes Caucasians to dance.

After an emergency meeting using Roberts Rules of Order (Robert is one of our barbers who a struggles with the bald fade, but he keeps very good order) we passed a motion passed to ask you for one favor:

You have to leak the episode, bruh.

I'm sure you know that any request punctuated with the word "bruh" is very serious. We even took into account your quote in the article when you said: "Given our creative differences, neither ABC nor I were happy with the direction of the episode and mutually agreed not to air it."

Even though you directed the episode and the show is one of the highest-rated and most awarded comedies on network television, we know that "mutually agreed," in black parlance, means: "These white folks made the decision," We mutually agreed to pick cotton for 400 years. We "mutually agreed" to Jim Crow. We "mutually agreed" to systematic inequality. We are tired of mutual agreements.

We are not asking you to do anything illegal or even immoral. We would never ask you to violate your contract because we need more seasons of Black-ish.

As such, here is our offer:

Dem Cut Boyz barbershop offers free haircuts for life to Mr. Kenya Barris. During one of your appointments, I predict that you will fall asleep during a hot shave. Somehow, LaTrice Briscoe's bad-ass son, Deonte, will somehow "find" the DVD or flash drive with the "Please, Baby, Please" episode in your pocket. (Trust me, lil' Deonte is good at finding shit in people's pockets.)

The episode will somehow end up being uploaded to YouTube, Facebook and Black America's favorite streaming service: World Star Hip Hop. I'm not saying this was planned. I'm just saying...

We make this offer with no strings attached, and hope you will consider our proposal. If not, we will still watch Black-ish with the same loyal admiration knowing that you were unable to comply because of your "mutual agreement."

Sincerely,

Dem Cut Boyz
Ha! You can read the full letter here. We SO want to see this episode!
In other TV news…
"Stranger Things" creators/brother Ross and Matt Duffer are speaking out after they were accused by a crewmember of verbally abusing women on the set. The duo issued a statement saying they were "deeply upset" by the allegations. While they did say that sometimes tempers can flare on the set, they always treat everyone fairly regardless of who they are.
"We are deeply upset to learn that someone felt uncomfortable on our set. Due to the high-stress nature of production, tempers occasionally get frayed, and for that, we apologize. However, we think it is important not to mischaracterize our set, where we believe strongly in treating everyone fairly regardless of gender, orientation, race, religion, or anything else. We remain totally committed to providing a safe and collaborative working environment for everyone on our productions."
Following their statement, Netflix followed up with a statement addressing the claims.
"We looked into the concern that was raised when we heard of the allegation on Thursday, and found no wrongdoing. Maintaining a safe, respectful atmosphere on set is important to us, and we know it is to the Duffer Brothers as well."
So here's what allegedly went down…
Crew member Peyton Brown hopped on Instagram to blast the Duffer Brothers for allegedly seeking out and verbally abusing multiple women on set. And she posted it on International Women's Day. She said she would NOT be returning to work on Season 3 because of their actions.
"I personally witnessed two men in high positions of power on that set seek out and verbally abuse multiple women," she wrote in the Instagram post. "I promised myself that if I were ever in a situation to say something that I would. I have 11.5 thousand followers who can hear me say this, TIME IS UP," she continued.
She said the Duffer Brothers yelled often on the set and would also issue threats to the crew, which in turn caused several crew members to quit.
In the post, she didn't name the Duffer Brothers, however, she did confirm she was talking about them when responding to commenter.
Peep her post below: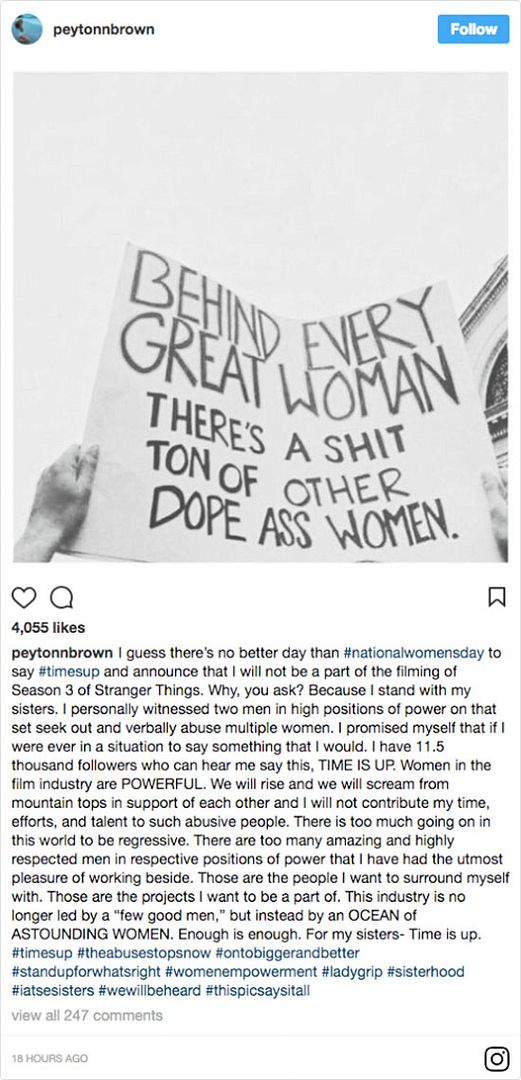 Is this the beginning of the end of the award-winning show "Stranger Things?"  We're just here for Caleb McLaughlin and the possible spinoff his on-screen little sister is getting.
Photos: ABC/Getty