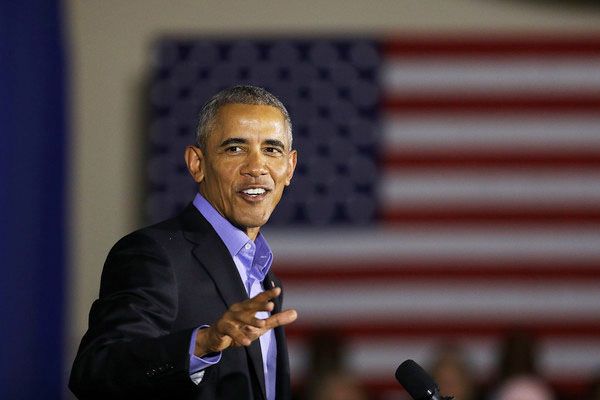 There's talk Barack Obama could be producing a series of shows for Netflix. U hype or nah? Also, Michael Smith chucks the deuces to "SC6" and is joining his former co-host Jemele Hill on "The Undefeated." Get all the deets inside…
Back in January, we were gifted with an hour-long conversation between President Barack Obama and David Letterman for his "My Guest Needs No Introduction" series.
Now, it's being reported, No. 44 is returning to the streaming giant…but in a different capacity.
According to the NY Times, the former president is currently in advanced negotiations with the streaming platform to produce a series of high-profile shows that will provide him with a GLOBAL platform following his White House stint. Of course, all of the shows will be geared toward inspirational messages for the masses.
And get this, former First Lady Michelle Obama is also said to be in on the alleged deal.
The site reports:
Under terms of a proposed deal, which is not yet final, Netflix would pay Mr. Obama and his wife, Michelle, for exclusive content that would be available only on the streaming service, which has nearly 118 million subscribers around the world. The number of episodes and the formats for the shows have not been decided.

Mr. Obama does not intend to use his Netflix shows to directly respond to President Trump or conservative critics, according to people familiar with discussions about the programming. They said the Obamas had talked about producing shows that highlight inspirational stories.

"President and Mrs. Obama have always believed in the power of storytelling to inspire," Eric Schultz, a senior adviser to the former president, said Thursday. "Throughout their lives, they have lifted up stories of people whose efforts to make a difference are quietly changing the world for the better. As they consider their future personal plans, they continue to explore new ways to help others tell and share their stories."

In one possible show idea, Mr. Obama could moderate conversations on topics that dominated his presidency — health care, voting rights, immigration, foreign policy, climate change — and that have continued to divide a polarized American electorate during President Trump's time in office.
This is the perfect example that shows how in tune President Obama is. IF this Netflix deal goes through, it would be a powerful tool for POTUS and FLOTUS to spread whatever message they want to convey. As expected, we're here for it. Are you?
In other TV news….
We can't say we didn't see this one coming.
A little over a month after sports analyst Jemele Hill left ESPN's "SC6," her former Sports Center co-host Michael Smith is now making his exit, according to SportsCenter.
You'll recall, he hosted the show solo after Jemele's exit on the 1st of February, but he's done. And just like Jemele, he's heading over to ESPN's digital platform "The Undefeated." He will host his last "SC6" show on Friday.
Since Michael and Jemele have several years left on their contracts, they won't be going anywhere anytime soon.
We're still not convinced Jemele wasn't forced off "SC6" and maybe the same thing happened to Michael. OR, he could have decided to leave based on how he saw producers and network execs handle Jemele following her anti-Trump tweets that caused some controversy.
Either way, they're back together again. We hope they do another "His & Hers" type show again.
Photos: Getty