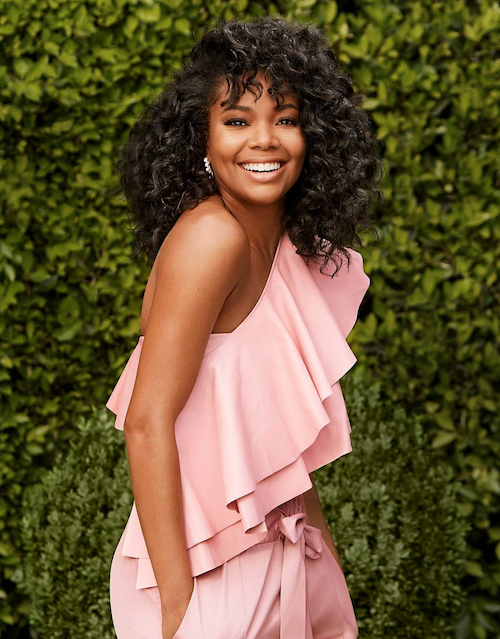 Gabrielle Union wants us all to be happy, so she's sharing some nuggets that'll have you living your best life. She also just released the 2nd season to her NY&Co clothing collection. Get it all inside…
Gabrielle Union makes it her business to be happy despite what obstacles life throws her way.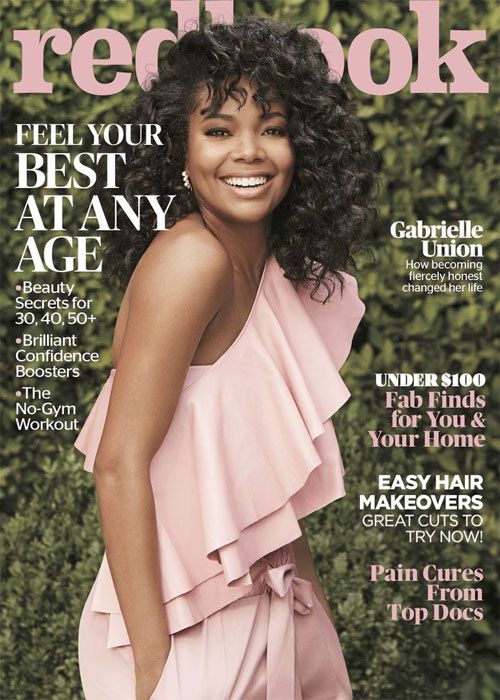 Gracing the March 2018 issue of Redbook magazine, the "Being Mary Jane" star opens up about how she remains happy and how you can too. She breaks it down with a few guidelines you should follow for your own breakthrough.
The 45-year-old star has had her share of ups and downs throughout her life and career. She was sexually assaulted before she became an actress, she found love and married her husband Dwyane Wade, but she also had to deal with D. Wade having a "break baby" when they were broken up and 9 heartbreaking miscarriages.
Still, she's smiling and living her best life. And here's how she does it:
CREATE A HAPPY LIST

"I started working with a life coach who asked me to list things that make me happy, and one of my top three was imi¬tation crab! You're not on the right track if you say imitation crab. So the life coach started to ask questions: 'What don't you like? What annoys you? Have you ever experienced euphoria?' Exam¬ine those moments and you'll start to figure out who you really are."

RIGHT YOUR OLD WRONGS

"Part of my homework for becoming my best self is owning up to my b.s. I have to acknowledge how I've hurt people and make amends. I started with those closest to me, but there's a line of people to get to. I was at a Janet Jackson concert and ran into an execu¬tive I used to work with and just had to say, 'I'm so sorry.' I included in the apology specifics, so they knew I under¬stood why I was wrong.... Then I lis¬tened about the thing that I did, which I didn't even realize I was doing. I'm not saying this is easy, but it's led to my being incorporated back into some peo¬ple's lives. Not everyone will make up with you, but that has to be OK."

SHOW EMPATHY WHERE IT COUNTS

"I think it's fascinating how we offer compassion to reality stars, but we don't afford it to the person in the mir¬ror or our family members. I'm not immune to it. Last night, I saw this girl from a reality show, and I was like, 'Oh my God, hi!' And I start talking to her like I know her — but it's just that there was a marathon of her show on while I was getting my hair done, so I felt like I knew her. But when someone from my family shares an issue on Facebook that they're going through, I've reacted by thinking, We've been hearing this same thing for 30 years, girl. I've had to stop myself and say, 'Have compassion. You've made tens of thou¬sands of mistakes, and hopefully people have compassion for you.' "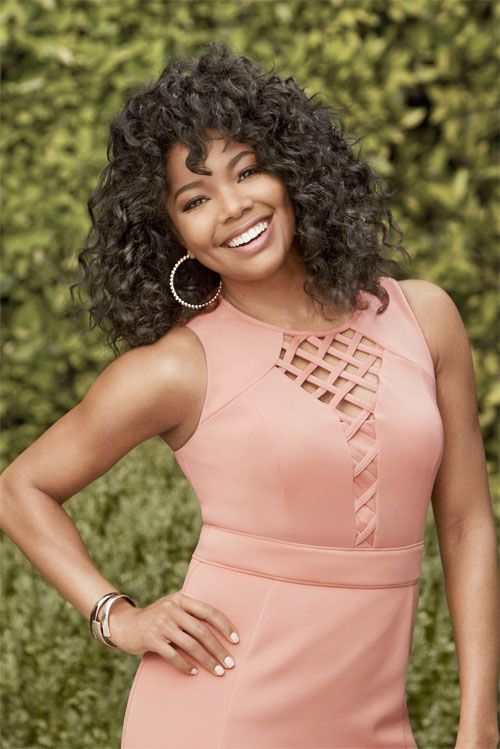 LISTEN TO SOMEONE ELSE'S STORY

"On my book tour, a lot of cities felt like a revival—there were so many disclosures of abuse during the Q&A portion of talks and during the book signing; even as I was driving away people were flagging down my car in tears. I didn't realize how big the need was for so many people to just get it out, to have someone look them in the eye and say, 'I believe you.' I cried a lot. I Skyped a lot with my life coach, because the horrors that I was taking in triggered my PTSD. But I feel a responsibility to offer that sense of safety and support. And luckily I have the means to help myself at the end of the night."

SHUT DOWN NEGATIVITY

"When someone starts gossiping, I'll be like, 'I can't.' It stops people cold. They'll ask, 'What? What can't you do?' Then I'm like, 'Listen to this. Yeah, I can't. It's sooo negative. Can we go back to your kid shitting? Because that was funny.' You have to do it with a wink and a nod, but it shuts people down. I used to just do it if the conversation was centered on a loved one—you're not talking s¬¬hit about my friends or my family members in front of me. But now it's in general, because when you let that into your space, whether or not you're going to spread it or agree with it, your silence makes you complicit in negative energy, and that comes back."

MAKE YOUR DREAMS TANGIBLE

"I make a vision board every year. Some of the pictures on my first one were of a haircare line, Kenya, and a Clearblue pregnancy test. As goals manifest, I've been able to look at my boards and say,'Damn, I put in a lot of work and deserve it.' That's helped me to stop feeling suspicious of joy. To not sabotage some¬thing before I've had a chance to do it because I assume I'll be rejected. The only things that have not come to pass are a cosmetics line, Machu Picchu, and a baby. I've had the positive stick, but also a number of miscarriages, so maybe I just have to go more specific and show a woman with a human being traveling through her orifices. I'll put those things back on this year's board and see what happens."
You should print this list out and post it up in your room to read daily. Or, cop the magazine when its released February 13th.
On another magazine front...
The gorgeous actress also landed the cover of ELLE Canada's March 2018 issue where she talked about being financially independent and not going broke over people who really could give a damn about you.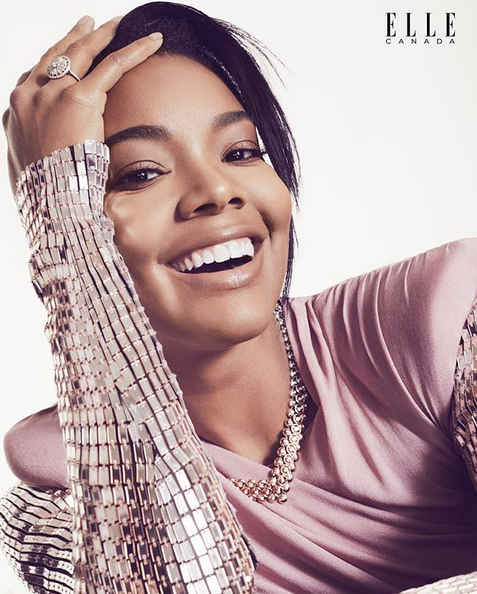 "From my first job, I've functioned like each job is my last," she said. "What can I afford if all this goes away? So I don't buy anything unless I can maintain it. Being penniless is way scarier than not having the right car." She laughed, adding:"It's L.A., we're in traffic. Who's seeing your car?"
"I don't believe anyone should put themselves in a financial bind to be something for other people who don't care about them. Your barometer should be 'Don't try to impress people who wouldn't give you a kidney.'"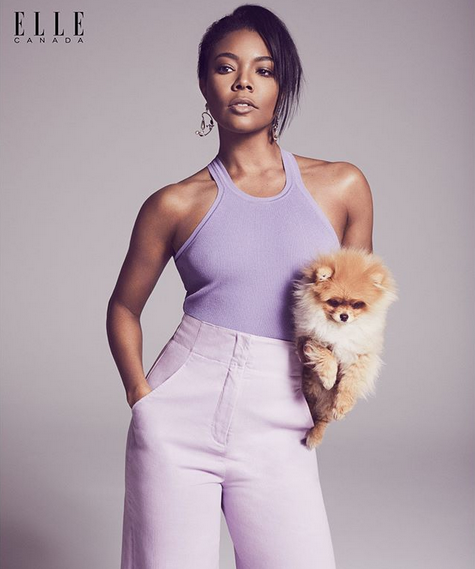 Read her full interview when it hits newsstands February 12th.
On the store front...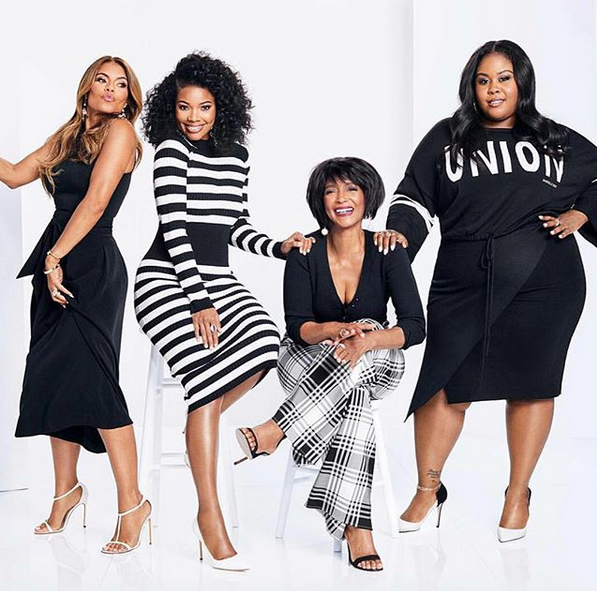 Gabby called up her "Being Mary Jane" co-stars Lisa Vidal, Margaret Avery and Raven Goodwin to flaunt their stuff in her 2nd season NY&Co. collection in a fab photoshoot. Everything you see here can be found in stores and online.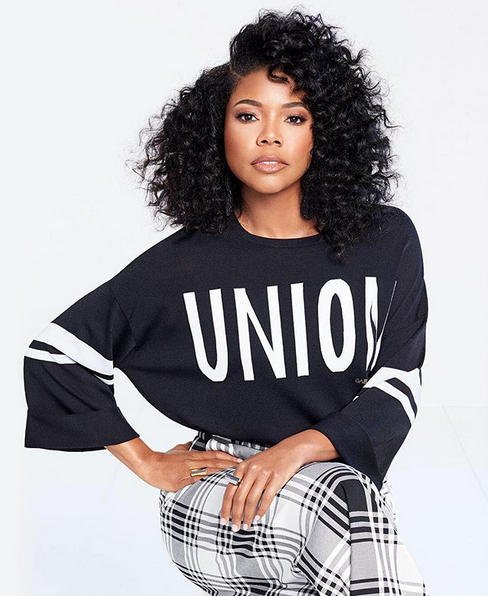 And Gabby is super excited about the new collection, captioning, "It's here!!! Time to come together and celebrate with my leading ladies of @betmaryjane the official launch of my spring collection with @nyandcompany. The theme of this collection is #alltogethernow, celebrating all shapes, sizes, ages and life experiences. Now get shopping and express your most fabulous self!"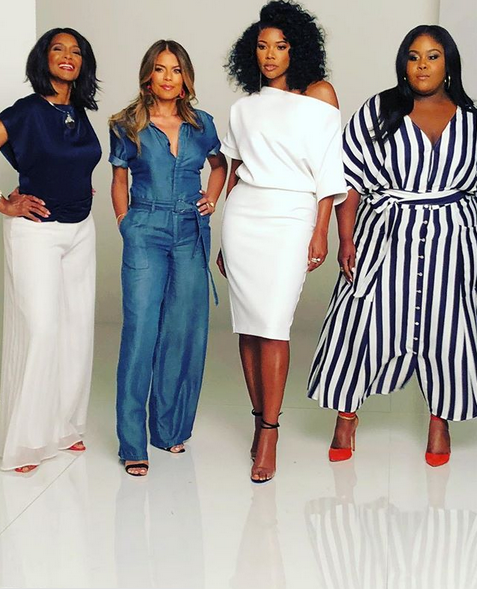 See some behind-the-scenes footage from the shoot below:
Cute.
Photos: Redbook/ELLE/Gabby's IG/NY&Co's IG