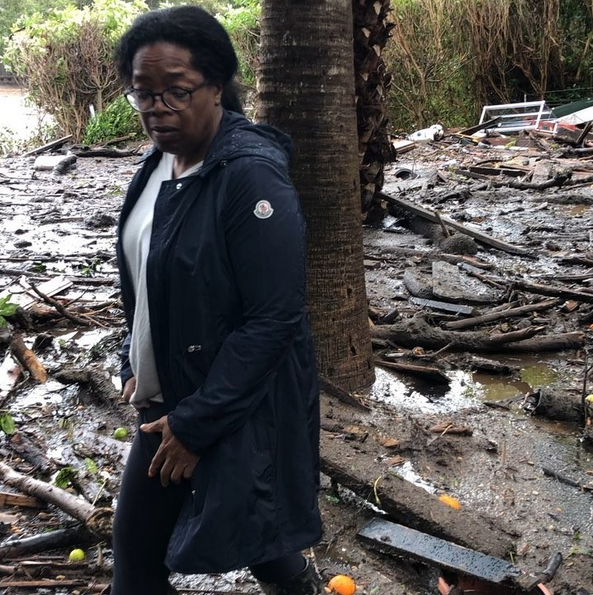 Oprah's home was affected by the Montecito mudslides and shared videos of the devastation. Meanwhile, singer Seal and Trump are at Lady O's neck about her friendship with Harvey Weinstein and rumors of a presidential run. Get those deets, plus see Oprah's new magazine covers inside…
After delivering the speech heard around the world at the 2018 Golden Globe Awards, Oprah is now dealing with devastation.
The media mogul hopped on Instagram to share the damage to her home caused by the Montecito mudslides. Her backyard is soaked with mud and debris. Luckily for her, the damage to her backyard wasn't as bad as her neighbors. They had to be rescued via helicopter.
Peep clips below:
Meanwhile...
While Oprah received tons of praise for her Golden Globe acceptance speech, there were some who had to rain on her parade.
Singer Seal took to Instagram to call out Lady O, labeling her a hypocrite over her (former?) relationship with Harvey Weinstein, the man who has been accused of sexual assault by several women, even Hollywood actresses.
He posted up a meme of Oprah kissing the fallen Hollywood producer with the statement, "When you have been part of the problem for decades but suddenly they all think you are the solution."
Then he captioned it, "Oh I forgot, that's right…..you'd heard the [rumors] but you had no idea he was actually serially assaulting young [starry]-eyed actresses who in turn had no idea what they were getting into. My bad. #SanctimoniousHollywood."
Really sir? We're blaming Oprah for Harvey's alleged sexual misconduct? Have several seats.  Especially when you were literally living in a house Harvey built, since your ex0wife heidi Klum's lingtime show is produced by Mr. Weinstein himself.  And we've def seen her kisisng and hugging him over the years.
Pregnant model Chrissy Teigen, who's never one to hold her tongue, hopped in the comments section to come to Oprah's defense.
"Hmm. Let's just say we've all heard things about each other, haven't we?," she wrote.
Spill the tea Chrissy!Hmmm…Seal coming at Oprah feels like he's just seeking attention.
Another attention seeker is also making headlines, per usual, with Oprah's name attached.
Oprah's speech also sparked rumors of a possible 2020 presidential run and y'all know Donald Trump had to respond to that.
During a meeting on immigration with member of Congress, No. 45 told reporters he would beat Oprah if she ran for president, but he doesn't think she would run in the first place.
"Yeah, I'll beat Oprah," he said. "I did one of her last shows [on the 'Oprah Winfrey Show']. She had Donald Trump -- this is before politics -- her last week and she had Donald Trump and my family, it was very nice."

"I like Oprah, I don't think she's going to run. I don't think she's going to run," he concluded.
Peep the clip here.
By the way, in 1999, Trump told CNN's Larry King that he would consider Oprah has his Vice President running mate. Ha! Check it below:
On the magazine front...
Oprah is covering all three covers for the newest issue of O, The Oprah Magazine.
Styling in a gold Marc Bouwer gown, Lady O channeled her inner Diana Ross with a voluminous head of curls for one cover.
For her other two looks, the media mogul rocked a textured ponytail with pink, magenta, and purple accents and then she copped a textured bob for the third cover.  She looks snatched and fab.
Peep the pics and behind-the-scenes videos below:
Werk!
Photos: Oprah's IG/Oprah Magazine's IG