Taraji P. Henson is happy in love and her career is flourishing. Get the deets on the Proud Mary star's upcoming Emmett Till film, plus get your laugh on at Lena Waithe explaining how she came out inside….
Taraji P. Henson is hot on the promo trail, making her rounds in NYC (above) before her new movie Proud Mary hits theaters this Friday.
And her movie train isn't slowing down anytime soon. The "Empire" star is gearing up to bring one of her passion projects to life on the big screen. The star and produce a film about the life and death of Emmett Till.
During a recent interview with Global Grind, Taraji confirmed she has sealed the deal to bring the project to life. Taraji's production company, TPH Productions, will produce the Emmett Till Story and she has joined forces with John Singleton to direct. Taraji will play Emmett's mother Mamie Till-Mobley. It'll be a mini Baby Boy reunion for sure.
A production date hasn't been set just yet, but the "deal has been made," she told the website.
As you know, 14-year-old Emmett Till was brutally killed by two white men for whistling at a white woman. His body was so badly beaten he was unrecognizable, but his mother decided on an open casket funeral to show the world the face of hate and racism.
Last year, Carolyn Bryant Donham – the white woman who claimed he whistled at her – admitted that she LIED about the Chicago teen whistling at her.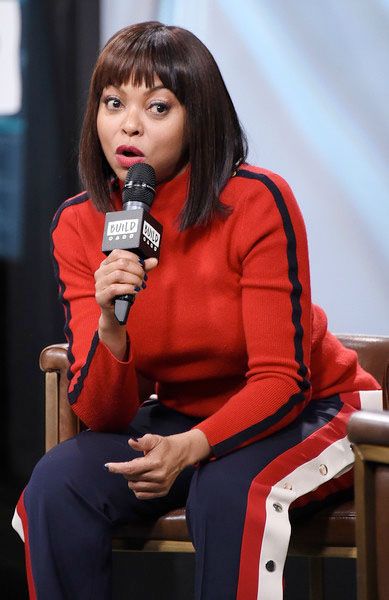 Taraji's career is flourishing and so is her love life.
We've been talking about her relationship with former NFL player Kelvin Hayden for quite some time. Now, she's finally confirming it.
The hot mom confirmed on Essence's Yes, Girl! podcast that she has been dating Kelvin for two years.
"I'm happy in my personal life. Finally it has happened to me!," she told hosts and editors Cori Murray, Charli Penn and Yolanda Sangweni.
While she did drop that relationship nugget, she doesn't plan on sharing every little detail of her drama-filled relationship.
"It was all over The Shade Room anyway," she said. "You know, I'm not the type to blast my personal business, but you know, I think that it's important for people to know that I'm happy. I'm very very happy. I just am. We've been together for two years. And no one would really know that because I don't blast my info like that but I'm very happy."
If you follow her on Instagram, she's definitely letting fans in a bit more on her personal life. She shared this cute flick of Kelvin brushing his teeth with the new Frenchie bull dog in his hoodie that he gifted her for Christmas:
Too cute!
While Taraji does seem to be happy in love, we have to note that there have been countless rumors (and pictures) of Kelvin getting cozy with other women. Sip that tea HERE and HERE.
Either way, congrats Taraji!
Speaking of relationships....
Screenwriter/actress Lena Waithe is also busy on the promo trail promoting her new SHOWTIME series, "The Chi" in NYC.
Lena, who made history as the first black woman to win an EMMY for comedy writing, stopped by the "Wendy Williams Show" to talk about her new show and she even dropped a few nuggets about her love life.
The EMMY winner, who is engaged, revealed she came out to her a family by writing a "Master Of None" episode about coming out. She then talked about how she has to constantly educate her family about her lifestyle, and it was quite funny.
Check it at the 5:20 mark below:
Catch new episodes of "The Chi" on Sundays at 10pm EST on SHOWTIME.
Photos: Getty