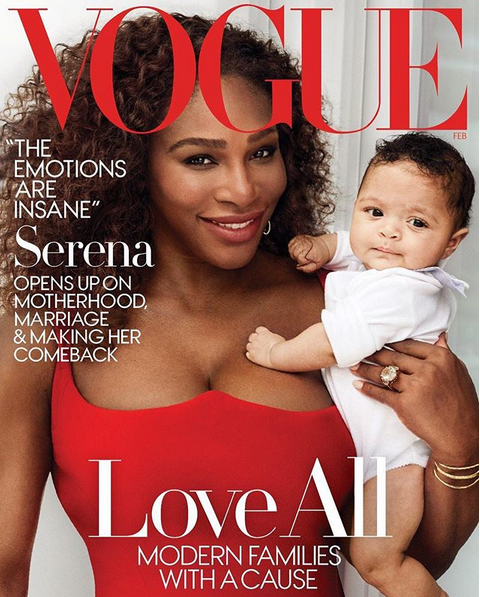 Serena Williams opens up for the first time about the complications she went through after giving birth to her daughter Alexis Olympia Ohanian Jr. And she was tested like never before. Peep the mother-daughter cover and get the details inside…
2017 proved to be a huge year for Serena Williams as she won a Grand Slam while pregnant, gave birth to her beautiful daughter Alexis Olympia Ohanian Jr., tied the knot to her daughter's father Alexis Ohanian and she got a Nike building (the biggest one) named after her.
2018 is already set up to be just as great. Now that she's settling into motherhood and being a new wife, Serena is ready to reclaim her No. 1 spot in the tennis world. But, before we get into that, the 36-year-old opened up in VOGUE magazine's February 2018 issue (that she covers with her baby girl) about the medical complications she endured after welcoming her daughter, Olympia, in September.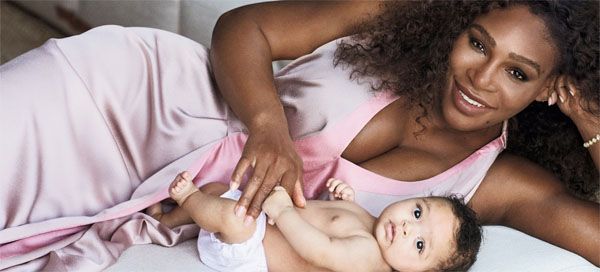 First, the new mom had to undergo an emergency C-section after Baby Olympia's heart rate started going down. But, that was just the beginning. The tennis super star had some medical emergencies flare up after Olympia's birth and she could have died.
The next day, while recovering in the hospital, Serena suddenly felt short of breath. Because of her history of blood clots, and because she was off her daily anticoagulant regimen due to the recent surgery, she immediately assumed she was having another pulmonary embolism. (Serena lives in fear of blood clots.) She walked out of the hospital room so her mother wouldn't worry and told the nearest nurse, between gasps, that she needed a CT scan with contrast and IV heparin (a blood thinner) right away. The nurse thought her pain medicine might be making her confused. But Serena insisted, and soon enough a doctor was performing an ultrasound of her legs. "I was like, a Doppler? I told you, I need a CT scan and a heparin drip," she remembers telling the team. The ultrasound revealed nothing, so they sent her for the CT, and sure enough, several small blood clots had settled in her lungs. Minutes later she was on the drip. "I was like, listen to Dr. Williams!"

But this was just the first chapter of a six-day drama. Her fresh C-section wound popped open from the intense coughing spells caused by the pulmonary embolism, and when she returned to surgery, they found that a large hematoma had flooded her abdomen, the result of a medical catch-22 in which the potentially lifesaving blood thinner caused hemorrhaging at the site of her C-section. She returned yet again to the OR to have a filter inserted into a major vein, in order to prevent more clots from dislodging and traveling into her lungs. Serena came home a week later only to find that the night nurse had fallen through, and she spent the first six weeks of motherhood unable to get out of bed.
Yikes. C-sections are very scary being that they're considered to be major surgery. There has been much talk recently and disturbing, heart wrenching articles about the rising death rate of black mothers immediately after birth.  We can't help but wonder what would have happened to a mother whose name wasn't Serena, seeing that doctors barely listened to Serena herself.
We're just glad 'Rena and baby are OK.
"Sometimes I get really down and feel like, Man, I can't do this," she said about her first months of motherhood. "It's that same negative attitude I have on the court sometimes. I guess that's just who I am. No one talks about the low moments—the pressure you feel, the incredible letdown every time you hear the baby cry. I've broken down I don't know how many times. Or I'll get angry about the crying, then sad about being angry, and then guilty, like, Why do I feel so sad when I have a beautiful baby? The emotions are insane."
We're sure our YBF moms (and even dads) out there can relate to the post-pregnancy emotions that have you out of wack as your hormones try to stabilize.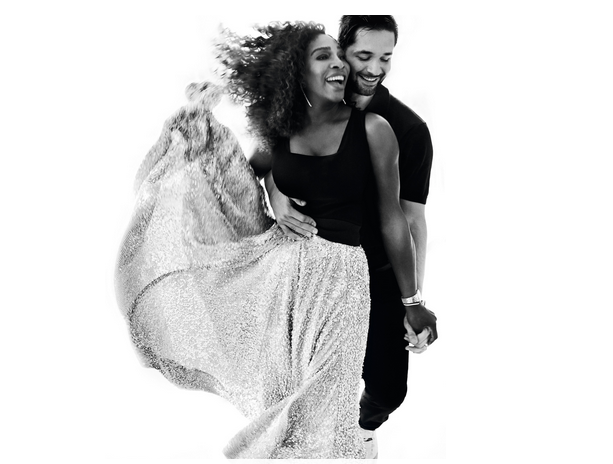 In the cover story, the new mom and wife talked about how she's stopping at nothing to reach the golden number of 25 Grand Slams, how motherhood has changed her outlook on life and being a role model for her daughter.
Here ar the standout bits you need to see:
On making sure her names goes down as the greatest to ever did it:
"To be honest, there's something really attractive about the idea of moving to San Francisco and just being a mom," she says. Reddit, the news aggregator of which Alexis is a cofounder, is based there, and they've just found a house in Silicon Valley. "But not yet. Maybe this goes without saying, but it needs to be said in a powerful way: I absolutely want more Grand Slams. I'm well aware of the record books, unfortunately. It's not a secret that I have my sights on 25." She means 25 Grand Slam victories, which would surpass the record of 24 held by the Australian tennis legend Margaret Court and make her the undisputed greatest of all time. (Serena, already widely regarded as the best there ever was, currently owns 23.)
On reclaiming the No. 1 spot:
The truth is that dominant number ones like Serena are rare, and no one has made a bold declaration during her absence. "It's interesting," she muses. "There hasn't been a clear number one since I was there. It will be cool to see if I get there again, to what I call my spot—where I feel I belong. I don't play to be the second best or the third best. If there's no clear number one, it's like, yeah, I can get my spot back. But if there is a clear number one, that's cool, too, because it's like, yeah, I'm gonna come for you."
On how motherhood has changed her outlook on life:
"And actually, I think having a baby might help. When I'm too anxious I lose matches, and I feel like a lot of that anxiety disappeared when Olympia was born. Knowing I've got this beautiful baby to go home to makes me feel like I don't have to play another match. I don't need the money or the titles or the prestige. I want them, but I don't need them. That's a different feeling for me."
On she and baby Alexis (whom she likes to Olympia) being inseparable:
"We're not spending a day apart until she's eighteen," Serena says, only half-joking. "Now that I'm 36 and I look at my baby, I remember that this was also one of my goals when I was little, before tennis took over, when I was still kind of a normal girl who played with dolls. Oh, my God, I loved my dolls."
On teaching her daughter she can be whatever she chooses:
"I think sometimes women limit themselves. I'm not sure why we think that way, but I know that we're sometimes taught to not dream as big as men, not to believe we can be a president or a CEO, when in the same household, a male child is told he can be anything he wants. I'm so glad I had a daughter. I want to teach her that there are no limits."
You can read her full interview here.
Recently, Serena decided NOT to defend her Australian Open title because she said she's not exactly where she wants to be. She ended up losing an exhibition match to Jelena Ostapenko in her first match back. Don't rule out ya girl just yet, though. She's coming back when she's at 100%!
Road to Grand Slam #24 has commenced!
Photos: Mario Testino vis VOGUE