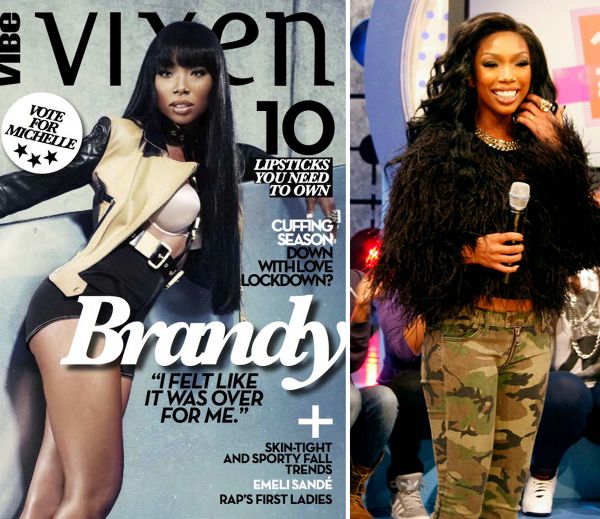 Brandy covers the latest issue of VIBE Vixen where she talks about her obsession with Lauren London, getting back to her fans and the bittersweetness of Two Eleven.  Check the cover and watch her stop by "106 & Park" inside.....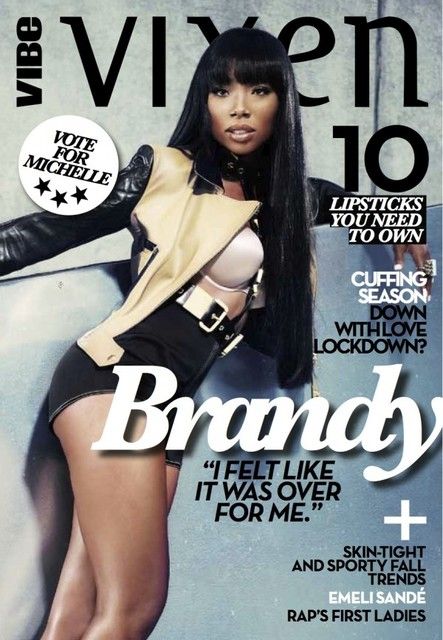 In the lastest isssue of VIBE Vixen, Brandy talks about returning to acting, the bittersweet date of 2/11 and the music she loves.  She said, "It's amazing that people still have a love for me and still feel like they can relate to me. It really does keep me on my toes, just being a role model for young girls, but I am grown. I gotta sing for the grown people sometimes."
Here are the highlights:
What was the realization that you were ready to make a strictly R&B album?
That's what my fans wanted from me. I felt like that was my way to reintroduce myself to them and introduce myself to people that don't even know me. They're supporting me and it feels good. I took my daughter to the Mindless Behavior concert and 10- to 16-year-olds are screaming to the top of their lungs when I'm walking in. I started doing music before they were born! I just remember asking some little girl, 'How do you know me?'
It's widely known that Two Eleven means a lot to you. It's your birth date but also the date of Whitney Houston's passing. What runs through your mind when you recall that day?
February 11th will never be the same. I think about her everyday but that day in particular, it's different. I didn't understand. I had just seen her the day before; I just spoke to her a couple days before she passed. It just didn't seem right the way she passed. I was angry, I was confused, but as I started to process it all, I just started to feel like there was a responsibility that she passed on to me to stay true to [the music]. She gave me the dream and possibility, and I have to do that same thing for other people. This music thing is not just about me anymore. It's about the people that I'm relating to. People need music.
Not only have you stepped back in the music realm, you've been exercising your acting chops as of late. How was the transition back?
It was scary and natural. When I impressed my acting coach [Tasha Smith], I felt like I could go forward. She really helped me rediscover that confidence in my acting. I was blessed with "Drop Dead Diva" then Chardonnay for "The Game." I really had to get in there and do my thing if I was going to fit in with them. I just trusted my instincts, the same way I did with "Moesha." To be able to trust that again was great, and I'm happy I get a chance to possibly go back to "The Game" full-time.
Are you excited to work with Lauren London?
Yes! I'm obsessed with Lauren London because she's so damn cute. I'm excited to work with her and to see her new character, but I'm going to miss Tia [Mowry]. She was such the anchor and backbone of that show.
And yesterday.......
The songstress stopped by "106 & Park" in a shaggy sweater and camo jeans and chatted with Bow Wow and Miss Mykie.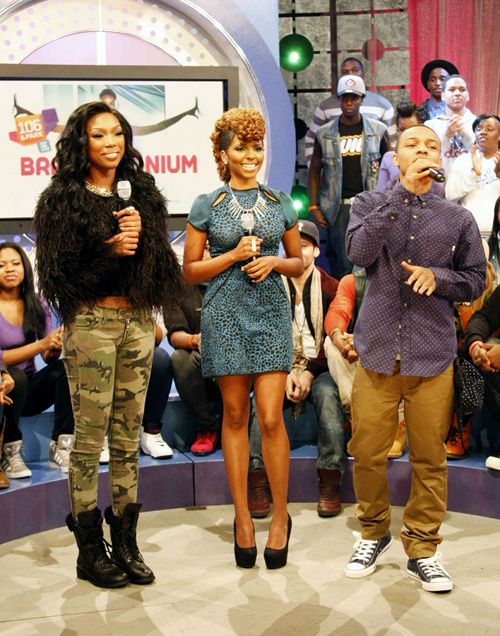 During the chat, Brandy mentioned that one of her favorite tracks on the album is called "Scared of Beautiful" which was written by Frank Ocean. The track is about being afraid to be your best self.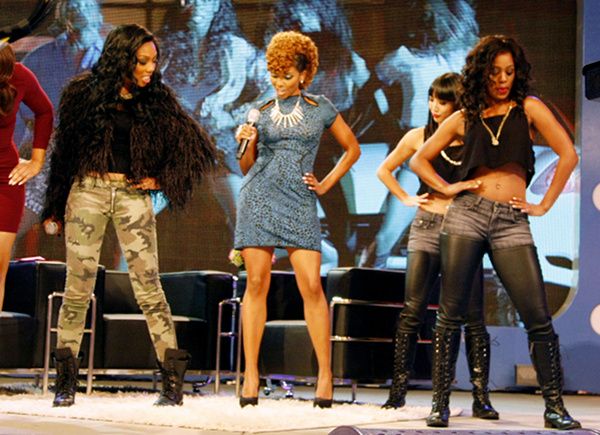 She also showed the hosts her dance moves.  Loves her.
Watch Brandy's interview segment here:
Watch Brandy give relationship advice:
Brandy talks about returning to the industry:
Photos via John Ricard/Courtesy of BET Networks