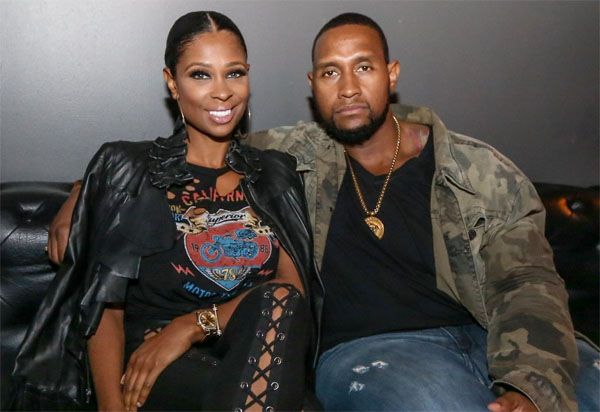 Jennifer Williams and Tim Norman are airing out their dirty laundry on social media regarding these alleged restraining orders being filed against one another. See the receipts, plus find out what Bernice Burgos has to say about becoming a young grandmother inside…
It was all good a few months ago. But, that doesn't seem to be the case now.
Former "Basketball Wives" star Jennifer Williams and "Sweetie Pie's" star James "Tim" Norman have called it quits. And apparently, it's not even close to an amicable split.
Tim claims Jennifer's violent behavior almost cost him his life, so he filed a restraining order to keep her FAR away. And a judge agreed.
TMZ got their hands on the paper work and it details what allegedly went down between the two that caused Tim to fear for his life. Jennifer supposedly tried to run him down with her car and has allegedly been stalking him. He said she's mad because he has moved on with another woman. Oop. He also said she has been sending him harassing text messages with threats saying he's "playing with the wrong one."
Below are the deets:
James says he was driving around Sunday afternoon in L.A. when he spotted Jennifer tailing him. According to the docs, James parked at home and an hour later went outside to find 2 of his tires slashed. He reported it to cops, and says this was just the latest incident. In the docs, he says last summer -- when they were still dating, mind you -- Jennifer got behind the wheel of HIS car, and tried to run him down. James -- who's on the reality show "Welcome to Sweetie Pie's" -- says he had to dive out of the way or die.

He also claims she's broken into his pad, sent him harassing texts and threatened he's "playing with the wrong one." James says they broke up in September, and Jen's just angry he's moved on with a new gf.
The restraining order was granted, and Jennifer has to stay 100 yards away.
The two went public with their relationship last November and were seen all smiles (above) in September 2017.
Sounds like some "Thin Line Between Love & Hate" ish if you believe what he's saying. But Jennifer is singing a different tune. She claims HE's the one harassing her and she whipped out some receipts of her own. Check it:
The former reality star also hopped on Twitter to air out her frustrations:
Imagine that! I have no desire, I wish people would move on. I was sleeping with the enemy unbeknownst to me https://t.co/wiT4N198wz

— Jennifer Williams (@iamjennifer) December 20, 2017
It's really sad because you don't want to be with someone they slander your name and make up false stories. Looking forward to my day in court so everyone can see the psycho shit I'm dealing with.

— Jennifer Williams (@iamjennifer) December 20, 2017
Never ignore red flags... SMH

— Jennifer Williams (@iamjennifer) December 20, 2017
Well, Tim didn't waste any time to BLAST Jennifer over her receipts, pointing out that his name isn't on the documentation she shared. And in another post said she didn't file this paperwork until AFTER she learned about the restraining order. Check it out below:
Chile....
This is tooo much. Is it us, or does it seem like Tim stays involved in some drama?
In other news...
T.I.'s alleged former fling is about to be a grandmother!
Bernice Burgos has a message for all the "haters" who have something to say about her gearing up to become a grandmother at the age of 37.
The IG model hopped on SnapChat to address the rumors that her 21-year-old daughter Ashley is pregnant. And it's true. She is and Bernice is about to become a grandmother. She said her daughter is happy and she supports
"I was a young mom and now I'm going to be a young grandmother. And I'm going to be a BAD grandmother," she said.
She tried to keep it a secret, but the gossip got to her so that's why she decided to address it. Peep the clip above.
EXTRAS:
1. Rapper XXXTENTACION is being released from jail after copping umpteen new charges stemming from his 2016 domestic violence case. He's being placed on 60-day house arrest. STORY
Photos: Thaddaeus McAdams / Getty