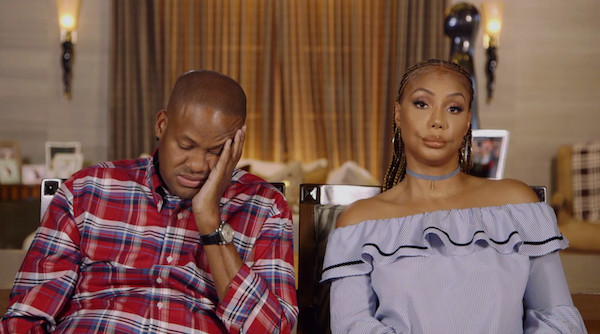 Before tonight's season premiere of "Tamar & Vince," we've got an exclusive sneak peek at what to expect.  Clearly, this divorce was coming faster than winter...
We've seen tonight's season 5 premiere (9p/8c on WE tv), and this whole season will be a doozy.
Tonight's episode kicks off three month before Tamar Braxtonfiled for divorce from her husbandger Vincent Herbert. When Tamar's show goes awry, she feels unsupported by Vince and fears their business relationship is affecting their marriage. Plus, Vince shows off his new look to friends back in New Jersey after discussing a pretty risky skin removal surgery with his wife that Tamar is NOT here for.
Tamar revealed in the first few minutes that she and Vince have been living a lie - the image of a perfect couple top a castle in the Hills.  But, she says, "that's not real life."
Yeah, we figured.
Check out an exclusive sneak peek where we see Tamar and Vince discussing the future of her album with her new label E One. And it's pretty clear Tamar is ready to do things differently, by any means necessary...
The "Bluebird" singer has also been making her rounds in NYC, including a stop at "TRL."
By the way, we hear Tamar is livid at her own mother for talking about Vince possibly getting physcially violent. Apparently, she's now refusing to film with her.