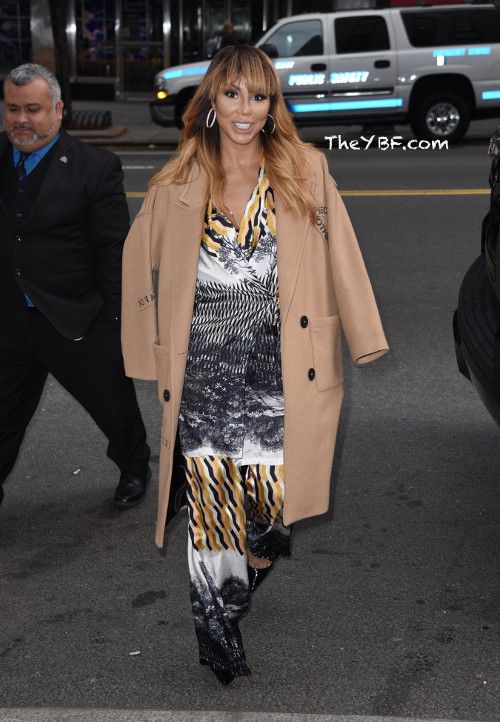 Tamar Braxton is spilling tea on why she decided to file for divorce from her husband Vince Herbert. And she's serving up the real reasons straight talk, no chaser. Find out all she said inside….
Since filing for divorce from her husband Vince Herbet two weeks ago, Tamar Braxton is speaking out about the uncoupling for the very first time. In a lengthy Instagram post, the 40-year-old singer shared a list of reasons as to why she decided to call it quits with her husband after nearly 9 years of marriage.
"I told myself I would do whatever it took to keep my family together, to see a smile on someone who has seen us smile on their face hoping we could offer them hope, faith, love & dignity that I once possessed," she wrote. ""But the truth is all of those things are NOT within the marriage of Tamar & Vince …at least not anymore."
She said she's tired of staying married for the sake of saying so or to say "we did it" when in reality the relationship is broken.
"Sometimes we stay 'married' for face value or to say 'we did it' but the truth is… it couldn't be more broken & further apart than we are NOW," Braxton added. "I decided I didn't want to be married for the sake of saying so. I wanted to have a relationship. Someone to share my/our dreams, our successes, our failures, our past, present & future with."
The mom-of-one mentioned about finding out things online and someone living a lie. We wonder if she's referring to that alleged daughter Vince supposedly had during their marriage. You'll recall, Tamar was accused of making the story up. Catch those deets http://theybf.com/2017/03/09/messy-tamar-braxton-alleges-a-woman-is-clai... ">HERE.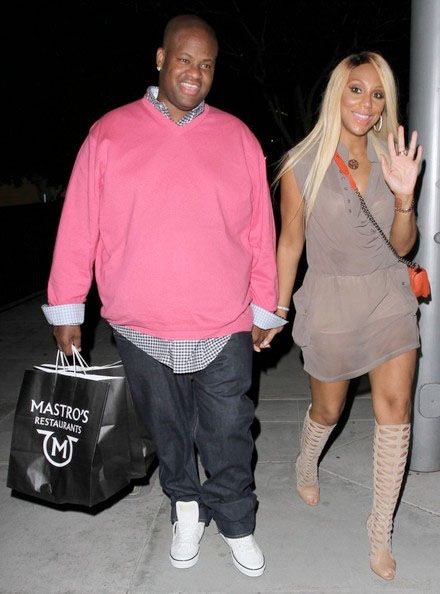 The former "The Real" host went on to hint at Vince having "several girlfriends" and complained about him being "so busy."
"What's NOT being surface is that he has one or several girlfriends, or she's never home, or he's very general when he speaks, or 'this doesn't sound like him,' or he's so busy lately!! Etc..etc..You have to yourself? When is enough enough? Is it ok that he checks up on you when his phone(s) R stuck to him like glue? Is it ok that his friends are HIS friends but my friends are 'our' friends? Or, we fight but that's 'passion.' We can argue and you can tell me to gtf (get the f***) out of 'your' house when I'm the house of cards? None of this is ok."
She concluded her post writing, "That LAST time was the LAST time."
Read her full explanation below: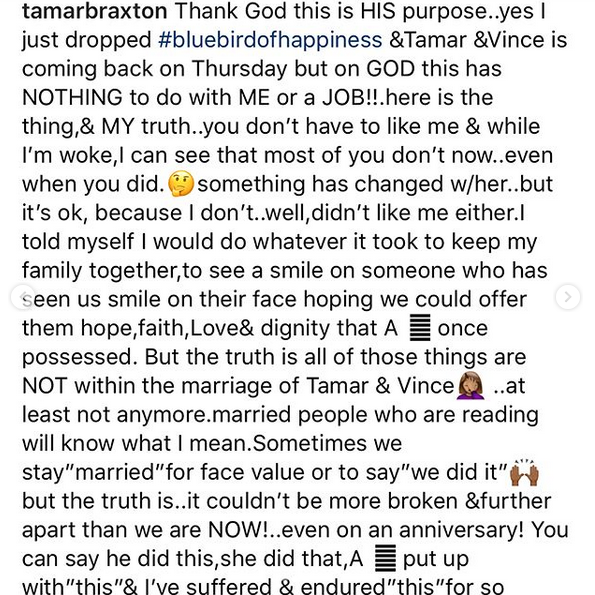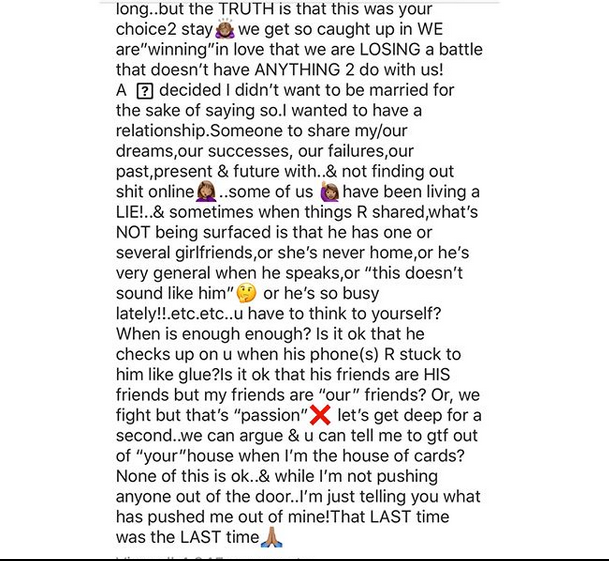 Not long after Tamar filed for divorce, her mother Evelyn Braxton opened up about her concern that Vince might literally kill her due to his abusive ways. On Sunday, Tamar made her first public appearance at the 2017 Soul Train Awards and she wasn't wearing her wedding ring.
Tay Tay (above at PIX11 Morning News) also spoke about her divorce for the first time while on the promo trail for the upcoming season of "Tamar & Vince." Peep the clip below:
Wow. Keep your head up Tamar.
Photos: Splash