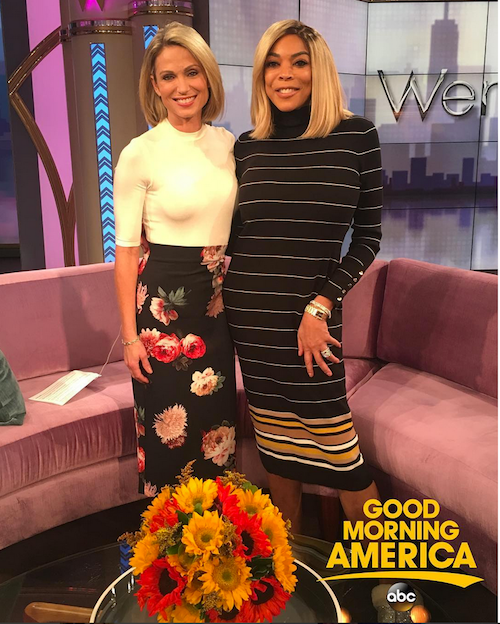 Wendy Williams gave her first interview since her live on-air health scare, and she revealed what's (not) going to change.  Plus, Paris Jackson came for her with a vengeance after this week's incident...
Wendy Williams sat down with Amy Robach for her first interview since fainting on live TV.  In the "Good Morning America" segment that aired this today, Wendy revealed a few things about what happened.
Her Statue of Liberty costume, which everyone thought was a dress, was actually a catsuit with extra fabric.  She said if it was a dress, she would have been able to get some air.
And yes, she knew she was going to faint.  She revealed:
"When we came back from the break, I felt it. It felt like I was in the middle of a fire. Started down at my feet, and coming all the way up."
As for what she was most concerned about: Cracking her skull when she fell.
Wendy said she did go to her own doctors after paramedics checked her out, she did blood work, and she's fine.
When asked if this was a sign she needs to slow down, she says maybe, but she still has work to do and tries to prove herself daily. She's never missed a day of work in 9 seasons. But, she does take time for herself."That's what weekends are for," she said.
By the way, she's about to celebrate her 1500th episode on November 13th.
Not everybody was so comforting after the incident.  Paris Jackson still isn't here for the talk show host, and accuses her of being obsessed with her family:
your obsession is a little unhealthy, maybe even toxic. i'm sure there are plenty of qualified professional psychiatrists you can seek out.

— Paris-Michael K. J. (@ParisJackson) November 2, 2017
looks like someone from above had enough of her bullshit and decided to clock her for not keeping his kids' names outta her mouth o well pic.twitter.com/kwLGI2hCTy

— Paris-Michael K. J. (@ParisJackson) November 2, 2017
Oop.
BONUS: In related Jackson news, Paris' brother Prince Jackson is recovering from a horrible motorbike crash.  Apparently, he lost control of his bike while riding in L.A. yesterday when rain started to fall.
Glad he's ok!
Photo: Instagram