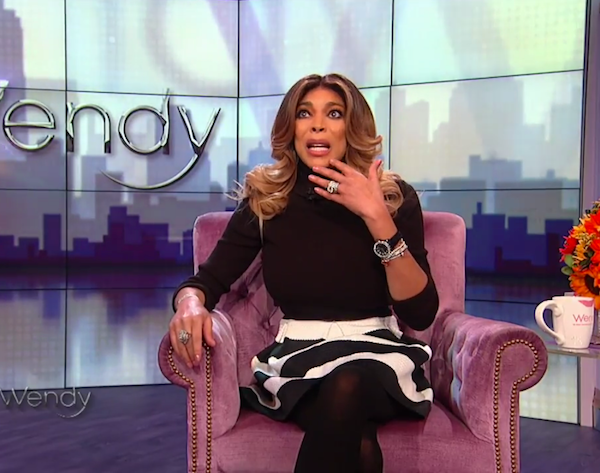 Wendy's back!  She's ok, but she's still pretty shaken up over yesterday MAJOR health scare that played out on live tv.  Watch her 8 minute explanation inside...
She said she would return the next day, and that she did.
Talk show host Wendy Williams was back in her purple chair this morning, and she says she did it despite what haters who want her purple chair said.  Bloop.
The 53-year-old gave an emotional explanation as to what caused her to completely pass out toward the end of her live Halloween show yesterday.  She chocks it up to age, menopause, and being overheated in her custom made costume.
She revealed she knew something was wring right before the last segment began and she couldn't understand anything her producer was telling her.  then she got extremely hot and lightheaded, and collapsed.  She claims she was checked out by medical professionals and it was not a stroke like many are saying it looked like.
Watch her explanation below:
Yesterday, just hours after the incident, she took to her Instagram to say she was resting with her strategically placed Gatorade and Pedialyte.
We're sure all the stress - both personally and professionally - and long work hours aren't helping. 
Take care, Wendy!
Photo: Wendy Show