Cardi B.'s TMI steez is exactly why we love her.  And she didn't hold back in Rolling Stone.  Get it all inside, plus the bid for her and Offset's live tv wedding, inside...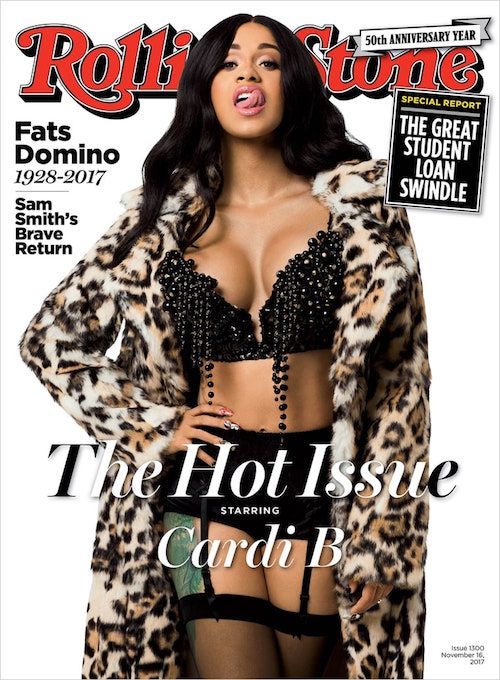 Just a few days after she got engaged, Cardi's extra lit once again thanks to nabbing this Rolling Stonecover.  She said:
Issa DREAM COME TRUE !!!! I can't believe it!! I can't believe when I got the call, and I still can't believe I'm seeing it now!! The cover of ROLLING STONE!!!! WOW!!! Thank you sooo much for choosing me!! I'm so blessed and honor 

 
The opening paragraph of her cover story tells you everything you need to know about Belcalis Almanzar:
Cardi B is butt-naked in the doorway of her hotel bathroom, yelling about her vagina. On a mid-October evening, she's readying herself for a college show in Baltimore, and the toiletries provided by the hotel aren't to her liking. "That soap gave me the yeast infection of 2017!" she hollers in her thick Bronx accent. "My pussy was burnin' like a Mexican taco!"
Lordt!
And there's a few surprise nuggets thrown in.
She doesn't smoke and rarely drinks:  
She stopped smoking weed at 21 because it interfered with her increasing fame and accompanying schedule. She had taken Molly as a confidence booster before stripping but doesn't need it anymore. She rarely drinks. "If I drink," she says, "it's like, my man is gonna be around, and I'm gonna have sex."
She and her Migos fiance Offset actually do have business conversations:
"We polish each other," she says, noting they confer on music-biz questions. "I could always ask him, 'Do you think this is OK to do? Do you think I'm getting tricked?'"
She REALLY has no qualms giving TMI when talking abut missing Offset when he was in Australia on her birthday:
"I was sad, because it's like, 'Oh, my gosh, I'm not getting no dick on my birthday,'" says Cardi, whose bedazzled acrylic nails are decorated with tiny reproductions of Offset paparazzi shots. "But I wasn't going to get dick on my birthday anyway, because I got my period."
She fears failure, a lot:
"If you go broke and lose your career, it's bad – and everybody is talkin' shit about it! At least if you lose your 9-to-5 you don't got millions of people judging you and talking shit while you lost your job."
No worries Cardi. You'll always have a reality show or two to keep your ish poppin'. BET and Mona Scott Young are already battling it out for the opportunity to air Cardi & Offset's wedding:
Offset and Cardi B just got engaged. On God, if they don't have a tv special for the wedding and call it "Never Let Migo", Ima be pissed

— Skepta Out Now (@hlalalamsaveni) October 28, 2017
Both responded to this tweet with their live wedding aspirations:

Here we go....
So about that proposal, Cardi's been on cloud 9 ever since Offset tapped her on the shoulder on stage in Philly the other night and said "You gon marry a n*gga or what?"  She's been gushing about how it all went down ever since, and we can't even front.  It has us in our hood-love feelings:
And so does that 8 carat teardrop (raindrop, droptop) diamond ring.
But it doesn't seem like one of Offset's baby's mother Oriel Jamie (a rapper who is the mother to his son Kody) is 100% here for it.  And if she is, she still made sure she threw a little shade in on her IG story:
Congrats again Cardi & Offset!
Photos: Rolling Stone