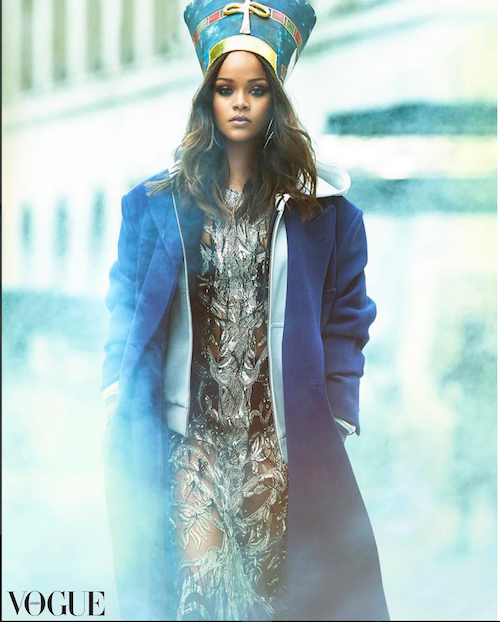 It's a damn good week to be Rihanna. It's good to be a queen any day, but especially when you hit the $72 million sales mark just one month after the snatching the beauty industry's wig. Get into Queen Rih's latest accomplishments, plus her bomb VOGUE Arabia covers inside...
Rihanna's no stranger to the cover of VOGUE, but these Greg Kadel-shot VOGUE Arabia covers may be her most stunning ones yet.
The November 2017 cover girl is rocking Gucci threads paired with a custom Faeth Millinery-designed headpiece and gorgeous makeup (which looks like it's from her uber successful FENTY Beauty line) for the ethereal shots as she pays homage to Queen Nefertiti.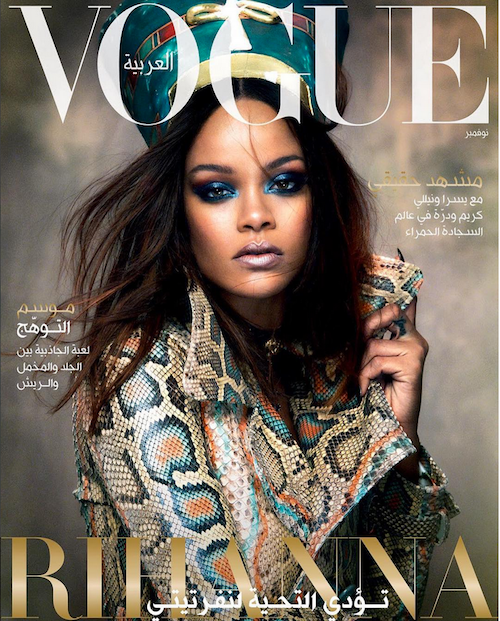 It sounds like the issue was a doozy to pull off.  Editor Alexandria Gouveia said:
Take a Bow. Finally our @voguearabia November issue is complete. Never thought it was going to happen. Here's the fierce Arabic cover.
Also, not everybody is here for a Bajan woman representing an Egyptian queen:
Y'all flipped shit when Gigi Hadid (an ARAB) was on the cover. Rihana is not Arab. This is culture appropriation

— FUCK TRUMP (@hillary_for_USA) October 27, 2017
Cultural appropriation, damn.

— Dan (@megadrivedan) October 27, 2017
isn't this culture appropriation?

— hayley (@hayleymaraj) October 18, 2017
The Nefertiti theme came from Rihanna's love for one of Egypt's most beloved queens.
The mag says:
The singer's reverence for the legendary Queen is unsurprising. Ruling in Ancient Egypt next to her husband Pharaoh Akhenaten almost 3,500 years ago, Nefertiti still reigns as one of the most beloved figures from the Middle East. Known for her unmatched beauty — Nefertiti means "the beautiful one has come" — the Ancient Egyptian queen, who had a very active role in the country's political sphere, is the picture of women's empowerment.
Rihanna's for sure earning the queen title in the beauty and fashion sectors. Her FENTYxPUMA line was just nominated for the Urban Luxe Brand Award at the British Fashion Council's 2017 Fashion Awards.
The "Work" singer also just hit that $72M mark in sales with her holy grail cosmetics line Fenty Beauty.
We've said "Take all my money!" multiple times this last month while watching those products roll out, so it's no surprise there.
Following in the footsteps of Iman Cosmetics with the release of a WIDE range of foundations and other products that cater to dark skin tones, Rihanna brought more much needed diversity to the mainstream beauty forefront.
Using mainly social channels, events and word of mouth, Fenty Beauty brought in a reported $72 million after launching in September.  That's more than mainstay beauty brands like NYX, Benefit and Urban Decay.  In its debut social media marketing valuation, the brand was ranked third in terms of revenue, this according to BET.
Chick is nobody's Trophy Wife...even with that bomb ass highlighter.
Photos: VOGUE Arabia