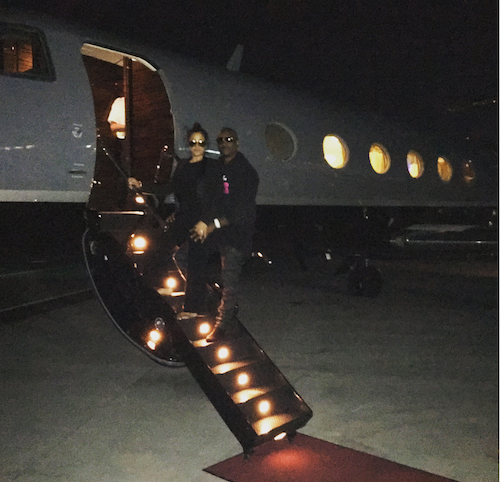 Yo, this Tyrese saga has us tired af on a Friday.  This man created an entire soap opera by himself in one week's time.  Everything you need to know about the custody, legal and Instagram drama of your fave IG drama king inside....
So Tyrese checked himself into the hospital yesterday for alleged chest pains, anxiety and dehydration.  He looked quite down in the dumps, which has been his usual steez on the Gram lately. 
He's been vocal about how hurt he is by not only his Fast & The Furious franchise co-star The Rock for getting his own spinoff, but his ex and child's mother who has been dragging him over custody and alleged abuse issues.
After Norma Gibson filed papers to get a permanent restraining order against Tyrese for allegedly beating their 10-year-old daughter Shayla, Ty has been on a mission to get sympathy from the masses.  Or something.
Last night, he was seen leaving Cedars-Sanai hospital. He apparently had a rough day in court earlier battling his ex-wife and it took a toll on him. So he checked into the hospital and received fluids and care for dehydration and anxiety contributing to his chest pains. He actually said he wore all black to court because "it was a funeral for abuse allegations against him." No lie.
In addition, in court on Thursday, Norma accused him of spying on her and has made it known she's scared of him at times. She also previously said he suffers from bipolar disorder, all allegations Tyrese denies.
It must have been some quick treatment, because he checked right out of the hospital - wearing a sweatshirt that reads 'Shayla Rocks' - and hopped on a whole private jet with his wife Samantha Gibson.  Why?  Because it was her birthday.  Samantha posted about his birthday surprise saying:
Interestingly, Tyrese had just talked about how a banner he flew over Shayla's school to tell her how much he loves her was "too expensive" to make longer. By the way, that banner got him into even more ish this week.
Ty claims Norma is trying to alienate his daughter from him, so he's been unable to see her in a pretty long time. So he wanted Shayla to know he loves her, and flew a sign over her school earlier this week, just before she had to testify in court yesterday.
According to Norma Gibson's legal team, Tyrese hired the plane Monday to fly above a high-profile elementary school in Van Nuys, where Tyrese's 10-year-old daughter Shayla attends.

The banner read: "NO MATTER WHAT, DADDY LOVES YOU SHAYLA."
It backfired on him in court, though. Shayla was reportedly frightened by the whole ordeal.
Those involved in the case believe Tyrese was trying to influence his daughter before court.

Norma's team says Tyrese also had deliveries sent to the school for Shayla: Balloons, flowers, teddy bear, fruit arrangement and a card. It got to be so much, we're told the school did not even inform Shayla her father was sending them.

We're told Shayla was "mortified" when she saw the plane's message, and burst into tears. She ended up staying in the Principal's office away from the other children and school officials did not allow other children to play outside while the plane was overhead.
Tyrese wrote multiple Instagram dissertations this week to describe what's going on, and to claim the powers that be simply want to make black fathers disappear. Here's a few of the ones he didn't delete (yet):
By the way, Black Ty, folks are only "in your private business" because you continue handing out ALL your business hourly like a professor handing out notes from a power point presentation. Keep it, and have a whole seat.
Photos: Instagram/The Blast