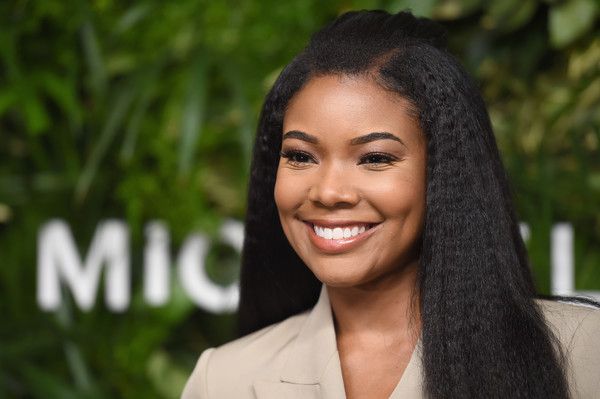 Gabrielle Union has had it with people's victim-blaming in response to sexual harassment. So she let everybody HAVE IT. Find out what the rape survivor herself had to say, plus what she's now saying about her infertility struggles.
Oh, and rapper Khia is completely out of line for what she said about Gabby's 9 miscarriages.
Mrs. Union-Wade, pictured above at the 11th Annual Golden Heart Awards benefiting God's Love We Deliver last night in NYC, has had it with folks victim blaming.  She's been open about her rape as a young teen working at Payless shoe store.  So she has a first hand perspective on how rape and the aftermath truly affects victims for the rest of their lives.
With the Harvey Weinstein sexual assault fall-out reaching epic proportions, some folks are making a point to say they were never harrassed because they carried themselves properly.  Oh?!
"Blossom" turned "The Big Bang Theory" star Mayim Bialik wrote an op-ed for the NY Times recently.  She's an outspoken conservative (meaning she is vocal about dressing and parenting a certain way) child star turn adult actor.  And her views on parenting and feminism have always been a bit...interesting.
Now, even though she makes it clear women "can wear whatever they want," her comments in the op-ed seem to still victim blame.
She said:
"...I always made conservative choices as a young actress, largely informed by my first-generation American parents who were highly skeptical of this industry in general...

I have also experienced the upside of not being a "perfect ten." As a proud feminist with little desire to diet, get plastic surgery or hire a personal trainer, I have almost no personal experience with men asking me to meetings in their hotel rooms. Those of us in Hollywood who don't represent an impossible standard of beauty have the "luxury" of being overlooked and, in many cases, ignored by men in power unless we can make them money."
This is where she messed up:
"I still make choices every day as a 41-year-old actress that I think of as self-protecting and wise. I have decided that my sexual self is best reserved for private situations with those I am most intimate with. I dress modestly. I don't act flirtatiously with men as a policy."
Folks took this "i don't act flirtatious with men or dress provacatively" statement to mean those who were assaulted did, and therefore brought it on themselves.  Why even mention this?
She seemingly recognized how this would be intepreted, and continued in her essay saying we can'tbe naive about the culture we live in.  So she seemingly still puts the onus on women to police their own assaults:
"I am entirely aware that these types of choices might feel oppressive to many young feminists. Women should be able to wear whatever they want. They should be able to flirt however they want with whomever they want. Why are we the ones who have to police our behavior?

In a perfect world, women should be free to act however they want. But our world isn't perfect. Nothing — absolutely nothing — excuses men for assaulting or abusing women. But we can't be naïve about the culture we live in.

I believe that we can change our culture, but it won't be something that happens overnight. We live in a society that has treated women as disposable playmates for far longer than Mr. Weinstein has been meeting ingénues in luxury hotel rooms."
Gabrielle Union isn't here for this.  At all.  She responded about her own rape, saying she was attacked while working at a Payless shoe store.  So, she was wearing a tunic and pants.  And was still raped.
Ugh.
She continued: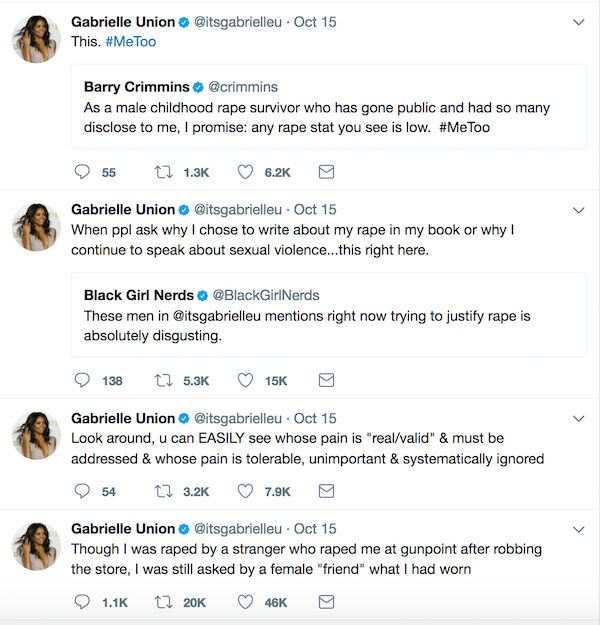 Preach Gabby!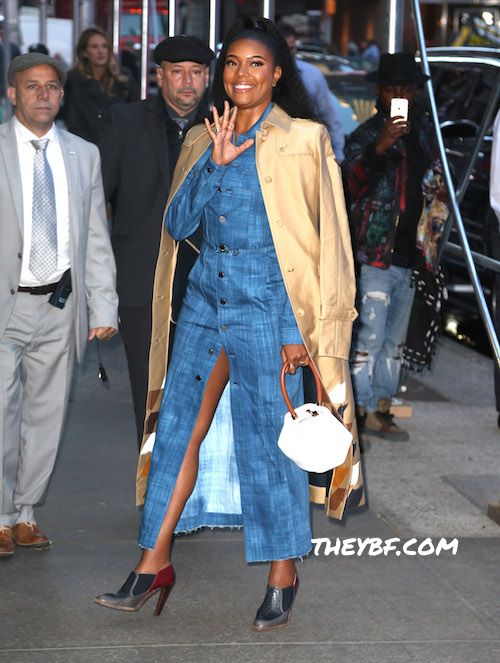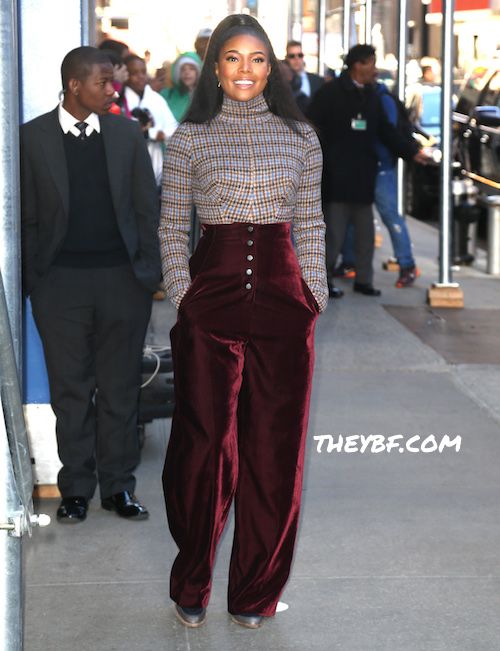 The We're Going To Need More Wine author also hit "Good Morning America" today (pictured above making her entrance and leaving in different looks) to discuss her fertility struggles, harassment and more with Robin Roberts:
WATCH: @itsgabrielleu opens up to @RobinRoberts about #MeToo movement, personal stories about fertility, IVF & more: https://t.co/jGJ0mfxdGDpic.twitter.com/a36ExbPJDa

— Good Morning America (@GMA) October 17, 2017
When Gabby first spoke on her struggles with fertility, she revealed she has had about 9 miscarriages. Leave it to rapper Khia to say some foul ish about her in response.
SMDH...
Photos: Getty/InStar