Cardi B says she was yanked up by a white NYC cop and put in a choke hold and her boo Offset is reacting. Find out what he said, plus deets on Cardi's alleged new deal with Steve Madden inside…
Cardi B took to Twitter to reveal a New York City cop put her in a choke hold and slammed her up against her brand new Bentley SUV.
Sources on the scene tell TMZ that Cardi was riding in her Bentley SUV when another driver hit her near Columbus Circle around 6pm EST on Tuesday (September 19th). It's reported the "Bodak Yellow" rapper wasn't driving, but when the person hit the car they were in, Cardi and her cousin got out and were engaged in a verbal argument with the driver.
NYPD made it to the scene and the former "Love & Hip Hop" star said a white police officer grabbed her around her neck into a choke hold and pinned her against her vehicle.
The officer eventually let her go, reportedly leaving the scene "without taking a report or issuing any citations." After the incident, Cardi hopped on Twitter to recount the incident, but then she deleted her tweets.
Of course, the Internet always has a finger on the screenshot button: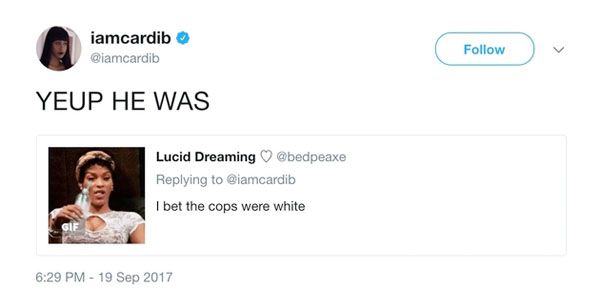 Now, the NYPD is speaking out and they believe Cardi's accusations are false. Why? Well, they claim they don't have any evidence that the situation happened the way she claims it did and she won't speak to them about it.
TMZ explains:
NYPD Assistant Commissioner Peter Donald tells us ... NYPD conducted a full investigation into the Bronx rapper's allegation an officer put her in a choke hold Tuesday and slammed her up against her SUV. He says they can't find any proof it happened.

Donald says commanders in each precinct around Columbus Circle, where Cardi claims the choke hold went down, looked into all records and surveillance video of the area and could not find a thing to support her account.
After the incident, Cardi called up her boyfriend Offset to share with him what happened. He told media he thought she was joking at first, but when he saw her face he realized she was being truthful. It wasn't too far fetched as the Migos rapper said cops kill people everyday. When asked if they were "Hip Hop Cops," Offset said he believes they're real, but he doesn't want to talk about them.
Peep the clip below:
In lighter news...
Looks like Cardi B could be cooking up a collection with shoe designer Steve Madden.Before Cardi's alleged run in with the law, she was busy meeting with Steve Madden and former Murda Inc. honco/businessman Irv Gotti Tuesday afternoon.  He said, "Y'all ready for this Collabo?? Steve Madden and Cardi B!! Cardi's Shoes!! Powered by Visionary Ideas."
Hmm... "bloody shoes"?
Photos: Cardi's Twitter