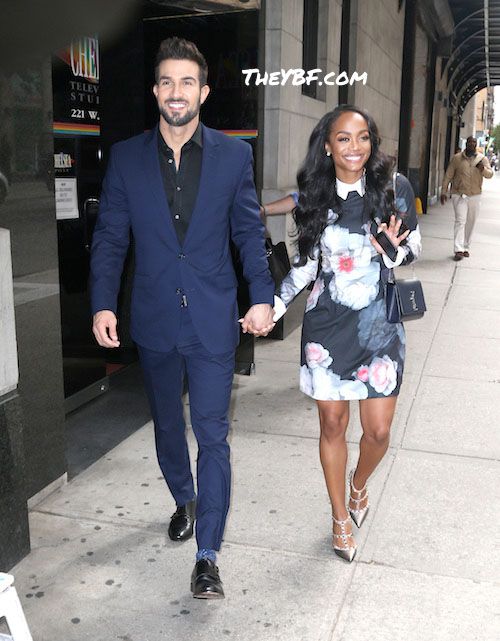 "Bachelorette" Rachel Lindsay and her fiancé Bryan Abasolo are still on the promo trail since the show wrapped up. Meanwhile, Jhene Aiko is paying tribute to her late brother in her new short film, Trip. Get it all inside…
Hello gorgeous!
"Bachelorette" star Rachel Lindsay, stepping in her Valentino's, and her fiancé Bryan Abasolo are still making their TV rounds since the show wrapped up.
However, everyone isn't convinced they're a REAL couple, including daytime TV host Wendy Williams. The couple appeared on the show to try and convince Wendy that their love is real even if she wasn't buying it.
The civil defense litigation attorney, who still works at her firm in Dallas, and her chiropractic physician fiancé (who's Columbian, not white) say they're madly in love, but they're not rushing into getting married. They're looking to trek down the aisle next fall or winter. So will we get to see it on television?
"We don't know yet," said Rachel. "It's definitely a possibility," Bryan responded.
So, will they be the lucky ones and nab a spinoff?
"No spinoff," Rachel revealed. "No spinoff, we just want to focus on our relationship," said Bryan.
However, they did say they're moving to California where they plan to build their life together.
As for meeting the parents, Rachel said she and Bryan's mom get along great. As for Bryan's relationship with Rachel's dad (who is a judge), he said,
"It's a work in progress. [Laughs] He's a great guy and we're slowly getting to know each other. We've had lunch several times, so it's in the works."
Yeah...good luck with that!
The 32-year-old also talked about being the middle child, how she got on the "Bachelorette," and more.  And she;s also gearing up to move to L.A. 
Peep the interview below:
Do we think they'll make it down the aisle?
In other news...
Jhene Aiko pays tribute to her late brother Miyahi in a newly released autobiographical short film titled, Trip. The piece will accompany the singer's forthcoming 2017 album of the same name.
The cinematic clip, written by the singer and Girl's Trip writer Tracy Oliver, pulls on your heart strings as viewers follow poet Penny (played by Jhene) and how she copes with life after the death of her brother. She meets a stranger named Dante on the beach and embarks on a day full of spontaneous activities. Penny and Dante form a romance in the process.
Eventually, Penny turns to drugs and ends up pushing Dante away.
"I am looking for a brother's love in every single man but you'll never see me like my brother did, you'll never need me like my brother did," Penny says in the film. "There's a black hole in my soul. It's beginning to show through my dilated pupils behind lids half-closed. I thought that I would be fine by now, but suffering doesn't die, it grows."
In the end, Penny's brother meets her in her bedroom and encourages her to finally let him go so that she can heal and go with her life.
Peep the short film above.
Photos: Instar