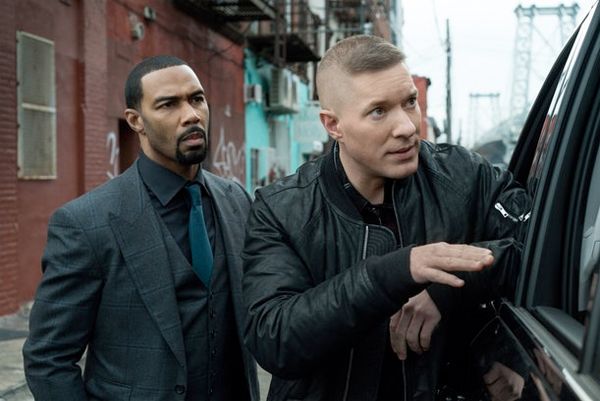 The season 4 season finale of "Power" left us stressed out, cursing everybody out, and ready for bloodshed when we saw the most gangsta trio on tv link up at the end. Showrunner Courtney Kemp drops a few nuggets on what we can expect from season 5. Plus those "Power" reaction memes that had us ROTFL…
SPOILER ALERT!  Read below at your own risk.
Season 4 of "Power" sent us all on a wave of emotions as Ghost worked his ass off for redemption. He eventually got it, but it cost him the life of his daughter, Raina.  Now, he said EF going clean.
After Raina was killed, we see how Ghost, Tommy and Tariq were in RARE form while seeking revenge on Ray Ray, the dirty undercover cop who killed Raina. Then, we were left with the biggest cliffhanger.
After wrapping up season 4 last night, showrunner Courtney Kemp chopped it up with Deadline to give fans a sneak peek into what season 5 will bring us.
While the details are vague, it sounds like fans will be in for several shocking moments in the upcoming season.
"That's up to STARZ, but you know, I think I would like to make some really big moves. The plan is to make some huge moves and some huge cast changes in Season 5, for sure. So the show, at the very least, is going to transform into something slightly different as we go forward," Courtney revealed to the site.
We all know no one is safe from getting killed on "Power" (y'all saw how they did the church's Father?!) and based on what Courtney has said, more lead characters may be taken out. However, a rekindled love may also be in the works (and it BETTER not be Jamie and Angela either).
"Look, no one's been safe on our show for quite some time, but obviously, the main characters have had longer lives," she said. "We are reaching the end of this journey, so the main characters are less safe than they have ever been before." "So, of course, it can get worse, because no one's been caught for anything yet. You know, there's always another way that things can go badly on Power, but then also there might be some great joy and some great success. People might come out ahead. I don't know. Maybe two of our characters are going to fall back in love. Who knows?"
Courtney also revealed the devastation she felt when the last three episodes leaked online.
"I was devastated — absolutely devastated, and really struggled with those feelings. Watching all these people who are fans of the show tweet, spoilers or put up images from the last three episodes, it was like having your house broken into, for me. Then having your TV stolen, and then going over to your neighbor's house the next day and seeing him watch your TV."
Damn.
But there's good news: They're already working on Season 5. The first episode has already been turned in.
You can read the full interview here.
Meanwhile, the reaction memes to season 4's finale episode has us in tears. Peep a few of them below:
When you hear Kanan, Tommy, and Ghost concocting a plan to kill Dre but can't carry it out til next season #PowerFinale#PowerStarz#PowerTVpic.twitter.com/wyp3qbqExB

— MaxineWatersTime (@ScorpioThomas91) September 3, 2017
Preparing myself for the final "They say this is a big Rich Town" of 2017 #PowerTV#PowerFinalepic.twitter.com/G0WqBuKNAH

— Issa Ye(@Yandi__) September 4, 2017
Ghost Tommy & Kanan Pullin Up On Dre Like... #Power#PowerFinale#PowerTv#PowerStarzpic.twitter.com/LK03I0nhxr

— COOL AL (@SoCoolAl) September 3, 2017
When kanan was in the back seat wit ghost and tommy that's when I knew DRE really about to die now #PowerFinalepic.twitter.com/WQKweN91aY

— (@kushVeins) September 3, 2017
when u gotta wait til mid of next year for the new season of Power #PowerFinalepic.twitter.com/2HXKeGcigH

— BBGS (@bombblackgirlss) September 3, 2017
Sighs, a whole year before we get the next season.   Why Jesus....WHY?!
Photos: STARZ