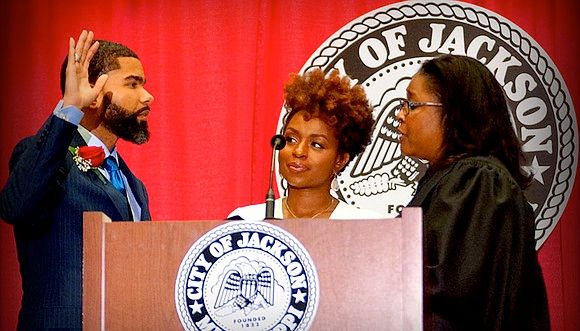 Chokwe Antar Lumumba proves if at first you don't succeed, you'll still get yours if you keep trying. He just made history as the youngest mayor elected in Jackson, Mississippi. More inside…..
Here's a testament to not giving up. Things don't always go the way you planned the first go around, but sometimes when you give it another try, your heart's desires can come into fruition.
Chokwe Antar Lumumba became the youngest (and quite possibly the hottest, TBH) mayor in the history of Jackson, Mississippi after being sworn in at the Jackson's Convention Center Complex last month. #RealLifeYBF
The 34-year-old beat incumbent Mayor Tony Yarber after losing to him in a special election in 2014. It was a tough loss - Chokwe's father left the mayor seat vacant after he passed away after serving less than a year in office.
By the way, that's his beautiful wife Ebony Lumumba looking on as Court of Appeals Judge Latrice Westbrooks administered the oath of office. Come thru black love!
During the swearing in, the new mayor became overcome with emotion speaking about his late father, standing in the same place his father did when he was sworn in as mayor years before.
"A son only holds his father's hand for a short while, but he holds his heart forever," he said. "I can't help, but to be emotional today."
Aww! Such a full circle moment.
As devastating as it was that he did not get that seat in 2014, he said it was a blessing in disguise.
"I'm actually grateful that we lost the election in 2014, not because the sincerity was not there, not because we didn't believe we would have done a good job, but, we've been able to appreciate far more what's going on with the city of Jackson, and I've been able to appreciate more within myself," Lumumba shared during an interview with "Democracy Now!"
He continued, "People have to remember, in 2014, not only did I bury my father in a two-month time span and then enter into an election, my wife was pregnant with our first child. And so there was a world of change. You had a first-time candidate, who had not run for junior class president, much less mayor of a city. And so, we've been able to, you know, gather more information and position ourselves better."
Good for him.
Learn a little more about Mayor Lumumba, including his advocacy for humane employment and addressing racism in the south, and more below:
Major congrats to him and to the people of Jackson!
Photo: Jay Johnson/Mississippi Link